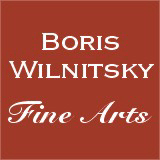 SALE!!! SAVE MONEY !! 1 EUR = 1 USD
# 43751
N.D. Sprevitch-Attrib. "Moscow architect Alexander Sergevich Kutepov (1781-1855)", watercolor, ca.1830
3200 EUR
FINAL DISCOUNT PRICE= 3200 USD
( for EUR price see date rate )
Please note: Shipping and insurance costs are not included in this promotion, ONLY ITEM PRICES!
(please note additional Austrian VAT tax applies for transactions concluded within the European Union)
We are dealing here with a portrait of a high-ranking Russian official (note his neck cross of the Russian Order of St. Anna of the 2nd class), wearing a frock-coat with gilt buttons (they are stamped with a monogram of Tsar Nikolai I - "NI". It means he served in the Ministry of the Imperial Court which was founded in 1826 (see our image nr.9). Besides the neck cross of St. Anna, he bears the chest cross of the Order of St. Vladimir of the 4th class, bronze ("dvoryanskaya") medal of 1812 and the "Badge of distinction of immaculate 20-year-long service" (introduced in 1827).

A profound search in the annual issues of the standard reference source of the early 1830s - Russian State calendar "Mesyatseslov" exposed the name of the sitter - Alexander Sergeevich Kutepov (see our image nr. 10). The latter was a well-known Moscow architect (see images nr. 11-16 and CLICK HERE, HERE and HERE), and in the aforementioned period he served in the rank of a "nadvornyi sovetnik" (court councilor) at the Moscow branch of the Court Stable Office (one of the departments of the Ministry of the Imperial Court). He possessed exactly the same set of awards that we see portrayed here.

Alexander Sergeevich Kutepov, son of a retired "praporshchik" (ensign) was born on 23rd August 1781 (i. e. in 1830 he was 49 - full accordance to our sitter's visual age!) and died on 6th April 1855. He graduated from the Architectural School at Moscow Spedition of Kremlin Buildings and became a very successful architect, working in Moscow and the area surrounding that city - he led projects of numerous town and village buildings, churches, parks etc.
It seems we are dealing with a unique representation of this man - no other portraits were to find neither online nor in the reference literature.
Moreover, with almost 100% possibility it is a work of Moscow miniaturist and watercolor portrait artist, surely acquainted with Kutepov (both graduated from the same Architectural School in Moscow), Nikolai Danilovich Sprevitch.(Sprevitch, Sprewitz; see our comparison images nr. 9-29).
It seems also that this portrait would be the earliest work of this artist known today (!).
As the matter of fact, the artist's first name was originally Bogdan (he took the name Nikolai in 1820, after converting to Orthodoxy). He was born in December of 1799 as a son of German (from Rostock) Lutheran nobleman Daniel von Sprewitz (in Russia -Sprevitch), Doctor of Philosophy, "master of free arts" and musician, and his wife Marie Johanna (in Russia - Maria Ivanovna), nee Hesse. In 1795, his father came to St. Petersburg to work as a music teacher (for his biography, see our image nr.8). He lived there until 1799 and then moved to Moscow, where he assumed duties of music teacher for both the "Blagorodny Pansion" (boarding school for children of nobility) at the University of Moscow and "Vospitatelny Dom" (house of education); a Russian biographer erroneously refers to the year of his arrival to Moscow as 1804.
On October 27, 1828, Sprevitch was sent into retirement "for reasons of ill health". In 1832, Sprevitch-senior and his wife Maria Ivanovna left Russia. He died in Hamburg in 1844.
While he was still living in Russia, Sprevitch became a well-known numismatist; he also held the state rank of a councilor. He was also presented with the Russian Order of St. Anna of the 3rd Class.

In 1814, one of his sons, Bogdan ("our" artist) began attending the Architectural School of "Expedition of Kremlin Buildings" (an agency that was responsible for construction and repairs at the Imperial palaces in Moscow). In 1817, he left the Architectural School, yet, three years later, filed a request for his reinstatement in this institution and, simultaneously, the position of its drawing teacher (with his request, Sprevitch included the certificate confirming his conversion to Orthodoxy (dated November 2, 1820)) and his consequently granted new name "Nikolai").
In 1826, he received the official rank of a "gubernial secretary" and, in 1835, the rank of "titularny sovetnik" (titled councilor). In 1828-1840, he taught drawing at the Lazarevski Institute of Oriental Languages in Moscow, as well as in his alma mater - the Architectural School.
While his earliest known miniatures are from the 1830s, his latest work is dated 1869. Works of Nikolai Danilovich Sprevitch are on display in most esteemed Russian museums: Tretyakov Galler, State Historical Museum, Russian Museum, Hermitage, etc. Our additional images show some of them.
Provenance: private collection, Germany

mifeb14ap18
Condition: good
Creation Year: ca 1830
Measurements: UNFRAMED:19,7x15,1cm/7,8x5,9in FRAMED: 32,6x28,4cm/12,8x11,2in
Object Type: Framed watercolor
Style: Portrait Miniatures
Technique: watercolor on card (oval)
Inscription: -
Creator: Nikolai Danilovich Sprevitch
To see other works by this artist click on the name above!
Creator Dates: 1799-after 1869 Moscow
Nationality: Russian
SHIPPING COSTS UPON REQUEST:
office@wilnitsky.net
Click here for images free of watermark!
Click on images or on

to see larger pictures!