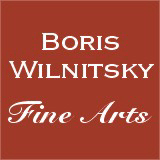 If you have a question about this item,
please contact us at: office@wilnitsky.net
# 43698
Carl Ludwig Philippot (1801-1859) "Prince Johann von Lobkowicz", fine miniature, 1831
Price: 2900 EUR
(please note additional Austrian VAT (Value Added Tax) applies for transactions concluded within the European Union)
The sitter of this high quality miniature on ivory, Prince Johann von Lobkowicz (also Lobkowitz) is depicted as a 32-year-old man, wearing the winter coat of an Austrian Uhlan officer - in this year (1831) he is 1st Rittmeister (1st cavalry captain) of the Austrian 3rd Uhlan Regiment. Four years later he will leave military service forever.

Johann Nepomuk Carl Philipp Prince von Lobkowicz (from 1807 also Duke of Raudnitz) was born in Vienna on the 14th of January, 1799, as one of the twelve children of celebrated Austrian aristocrat, major general and chiefly known as an art lover and benefactor, Prince Franz Joseph Maximilian von Lobkowicz, Duke of Raudnitz (1772-1816; see our image nr.12).
It seems that Johann started his military career around 1820 - in 1821 we meet him the first time as an officer - Unter-Lieutenant (2nd lieutenant) in the 38th Line Infantry Regiment. Promoted to Ober-Lieutenant (1st lieutenant) that year (not at the beginning of the next), he was transferred to the cavalry - to the 4th Hussar Regiment "Hessen-Homburg".
A year later, promoted to 2nd Rittmeister, he was transferred to the 3rd Uhlan Regiment.
On 16 November 1826 followed his promotion to 1st Rittmeister.
In 1830 his relative - the unmarried and childless Count Franz Joseph Wrtby - died who in his will named Prince Johann as the sole heir to all his property. The prince inherited several estates from the late count (a. o. including the one with Castle Konopiste in Bohemia (CLICK HERE), where he later settled with his family), three houses in Prague and a porcelain manufactory in Teinitz (today Tynec nad Sazvou, Czech Republic).
On 25 May 1834 the prince married Countess Karoline Wrbna und Freudenthal in Vienna. Three months later, on 31 August 1834 he was transferred (as a super-numbered 1st Rittmeister) to the 10th Hussar Regiment, but already in December 1835 he retired from military service with the rank of Major of the Reserve and devoted himself entirely to the manufacture of porcelain and ceramics (in his manufactory in Teinitz) which was in great demand in the shortest time (see our images nr.10).

Prince Johann von Lobkowicz died on 6 June 1878 at his Castle Konopiste (see our images nr.15).

This miniature is another work by the well-known Austrian artist, French-born Carl Ludwig (Charles Louis) Philippot IN OUR POSSESSION.
Carl Ludwig Philippot was born in 1801 in Champagne, France and died in 1859 in Krumau, Lower Austria. In the 1830s he was a popular portraitist of the Austrian high society. In 1839 he became a court artist of Prince Schwarzenberg for whom he also worked as a restorer of old portraits (he painted, among others, portraits of Friedrich von Amerlig and Johann Baptist Lampi) of members of Schwarzenberg family. Besides that he restored religious paintings in the Church of Krumau.
Provenance: Vienna antique trade
Condition: fairly good; in original Biedermeier frame
Creation Year: 1831
Measurements:UNFRAMED:7,3x6,5cm/2,9x2,6in FRAMED: 20,5x18,2cm/8,1x7,2in
Object Type:Framed miniature
Style: Portrait miniatures
Technique: watercolor on ivory (rectangular)
Inscription:signed and dated: C.Philippot 183; on verso: old legende
Creator: Carl Ludwig Philippot
Creator Dates: 1801 Champagne-1859 Krumau
Nationality:French / Austrian
2-3 days door-to-door shipment, professionally packed by Mail Boxes Etc and shipped with DHL (calculated for US): 96,68 EUR + insurance 1,8% of item price
Shipping cost to other destinations (worldwide) on request
Shipping price may be reduced if you dispense with the frame


Cheaper alternative (may be further reduced if you dispense with the frame): professionally packed by Mail Boxes Etc and shipped with regular Austrian mail - upon request under office@wilnitsky.net (OBS: In this case maximal refunded insurance value is EUR 500 if shipping destination was the US. In Europe sometimes more, depending on destination.)
Click here for images free of watermark!
Click on images or on

to see larger pictures!