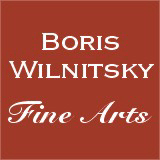 SALE!!! SAVE MONEY !! 1 EUR = 1 USD
# 43664
Lev Dmitrievich Kriukov-? "Portrait of a gentleman ", high quality Russian miniature, early 1820s
2700 EUR
FINAL DISCOUNT PRICE= 2700 USD
( for EUR price see date rate )
Please note: Shipping and insurance costs are not included in this promotion, ONLY ITEM PRICES!
(please note additional Austrian VAT tax applies for transactions concluded within the European Union)
Masterful miniature portrait of an unknown Russian gentleman.
He wears civilian clothes according to the fahion of early 1820s and bears the neck cross of St. Anna Order of the 2nd Class and the breast cross of St. Vladimir Order of the 4th Class - awards typically conferred either to (retired) military officers or superior members of official hierarchy and unthinkable for a simple private person or low-ranking clerk.
It is a work of a good Russian miniaturist, whose manner resembles this of works of 19th century artist who was active in Kazan - Lev Dmitrievich Kriukov.
Lev Dmitrievich Kriukov was born in 1783 as a serf of "poruchik's wife" Agrafena Alexandrovna Sekiotova, at one of the latter's estates in Simbirski Uezd of Simbirskaya Guberniya. In sum, Agrafena Sekiotova owned four estates (villages): Nagatkino, Mokraya Bugurna, Maloye Nagatkino and Russkaya Tsylna. In 1806, Sekiotova issued Kriukov's "volnaya" (official serf liberation certificate; see our image nr.9). In it, he was listed as a former subject of the estate Mokraya Bugurna (this village was with almost 100% certainty also his place of birth; CLICK HERE).
It was likely that A. Sekiotova also kept a Moscow house, which was probably in part serviced by serf family Kriukov. In any case, a benevolent serfholder Sekiotova recognized the young boy's draughtsmanship talent and, as a result, sent him to apprenticeship to Italo-born artist Claude, who also happened to be the owner of one of Moscow drawing schools. Additionally, one of the documents discovered in the 1980s at the library of Kazan University informs that young Kriukov also studied "at the house of painter D. Levitski" (it remains unclear whether this document referred to Dmitri Grigorievich Levitski's house in Moscow (it is known that this famous St. Petersburg artist began his career there), which could have also functioned as Claude's drawing school, or whether serf Kriukov's mistress Sekiotova sent him to study with Levitski himself).
In 1806, A.A. Sekiotova manumitted (liberated) Kriukov (once again, see our image nr.9). In the same (1806) year, he settled in the city of Kazan (ca. 200km from his native Simbirski Uezd). In Kazan, he made acquaintance with I.F. Yakovkin, director of the grammar school (gymnasia), professor and later Rector of the newly founded University of Kazan. The latter was stunned by Kriukov's talent and made it his business to promote the young artist by finding him a drawing teacher's post at the university. In order to prove his artistic knowhow, Kriukov produced several of his portrait works (among others, few miniatures that were then sent to the Minister of Education in St. Petersburg; the Minister authorized Kazan University to examine Kriukov in a peculiar manner: he was to present to Kazan University's Professor K.F. Fuchs his "painted copies of plants, as the University looked primarily not for a portraitist but for a man capable of capturing nature objects".
Kriukov's "copies of plants" performed for this "examination" were positively marked by Professor K.F. Fuchs and sent to the Minister in St. Petersburg. On January 21, 1807, in his letter to I.F. Yakovkin, the Minister gave his full approval for Kriukov's employment at Kazan University's faculty. Two weeks later, on February 6, 1807, Kriukov was officially hired as a University artist with an annual salary of 400 rubles.
One understands how self-effacing and hard-working Kriukov's professional attitude was after learning that, during his thirty five years of service at the Kazan University, he allowed himself only a single leave in 1839. During this leave, he travelled from Kazan to Viatskaya Gubernia, and was overall absent for twenty days.
During his service at the university, Kriukov also worked as a private drawing tutor at his home, yet most of his free time was dedicated to painting commissioned portraits (he mostly worked in miniature technique). These portraits brought him the wide recognition of an excellent portrait painter.
He lived in Kazan in his own great three-story house on Verkhne-Fedorovskaya Ulitsa (Street). He was married to Anna Michailovna Muraviova, with whom he had four children: Dimitri (b. 1807; he later became a well-known Moscow University Professor), Lev (b. 1816; also an artist), Vladimir (b. 1818) and daughter Nadezhda (b. 1822).
Lev Dmitrievich Kriukov died after battling a lengthy illness on May 13, 1843.
The author of (published in Kazan in 1923) book "Lev Kriukov /Materials with reference to history of portrait miniature in Russia" (CLICK HERE), P. Dulski, writes that, in spite of Kriukov's longstanding occupation as a miniaturist, "by today (1923) there exist unfortunately only about twenty registered works, barely half of which are the actual miniatures (on ivory - B.W.)".
P. Dulski further notes that stylistically Kriukov's miniatures closely echo the works of famous St. Petersburg miniaturist Pietro Rossi (it is likely that in his youth, Kriukov was allowed to study Rossi's miniatures in possession of his serfholder Sekiotova).
Similarly, he was clearly influenced by Berlin pastelist Karl Wilhelm Bardou, who - as it is known - worked in Kazan Gubernia between 1811 and 1816.
Provenance: private collection, New York

We are very grateful to well-known art historian A. B. Savinov (Moscow) for generous help

leaug0612
Condition: good; in original frame
Creation Year: early 1820s
Measurements: UNFRAMED:7,2x6,0cm/2,8x2,4in FRAMED: 15,9x14,3cm/6,3x5,6in
Object Type: Framed miniature
Style: Portrait Miniatures
Technique: watercolor on paper
Inscription: -
Creator: Lev Dmitrievich Kriukov
To see other works by this artist click on the name above!
Creator Dates: 1783 Simbirskaya Gub.-1843 Kazan
Nationality: Russian
2-3 days door-to-door shipment, professionally packed by Mail Boxes Etc and shipped with DHL (calculated for US): 80,07 EUR + insurance 1,8% of item price
Shipping cost to other destinations (worldwide) on request
Shipping price may be reduced if you dispense with the frame


Cheaper alternative (may be further reduced if you dispense with the frame): professionally packed by Mail Boxes Etc and shipped with regular Austrian mail - upon request under office@wilnitsky.net (OBS: In this case maximal refunded insurance value is EUR 500 if shipping destination was the US. In Europe sometimes more, depending on destination.)
Click here for images free of watermark!
Click on images or on

to see larger pictures!