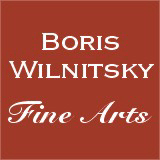 If you have a question about this item,
please contact us at: office@wilnitsky.net
# 43640
Jean-Baptiste Isabey (!) "Caroline Murat at Chateau de Fontainebleau", important miniature, 1804
Price: ON REQUEST
(please note additional Austrian VAT (Value Added Tax) applies for transactions concluded within the European Union)
THE SELLER WILL COVER SHIPPING WITH REGULAR MAIL FOR THIS ITEM!

Over the last forty years this miniature on ivory of superior quality has experienced several very strange reincarnations regarding its authorship.

Clearly signed "Chateau de Fontainebleau /1804 /Isabey" (in the typical (!) handwriting for this artist - see comparison images nr.41-42) it is still set into its original frame with the coat of arms of the French 1st Empire atop (see comparison image nr.44). This detail has to signify that the young lady, depicted in the luxurious interior of her apartment in the Imperial palace Chateau de Fontainebleau (CLICK HERE) sitting at a harpsichord, with her favourite greyhound at her feet, can only (!) be one of the members of the family of Napoleon Bonaparte, who in May of 1804 (!) was declared to Emperor of France by the Senate (correspondingly his brothers, their wives (except for the wife of Lucien Bonaparte) and his sisters obtained the titles of respectively Imperial princes and Imperial princesses.

As known, in June of 1804 Napoleon, who decided to change his permanent residence at St.Cloud for that at Fontainebleau, visited the latter and found it in a fairly deplorable state. He immediately ordered it to be put in order (a. o. to refurnish (especially the living quarters)) and do so in the shortest possible time.
By mid-November, these works were successfully completed and all members of the Emperor's family (including his brothers and sisters (and of course, the wives and husbands of the latter)) arrived on the 23rd of November at the new residence, where Napoleon was to meet the newcomer Pope Pius VII two days later (on 25th of November) who had to perform the coronation ceremony in Notre-Dame de Paris on the 2nd of December (CLICK HERE).

The Pope was guest of the Emperor at Fontainebleau for three days. In the memoirs of Mme de Remusat we read: "...at that time the Palace offered a strange sight, so colorful was the mixture of its guests: princes and princesses, officers, priests, all mixed up in the different rooms in which they met at the appointed hour. From 26th to 28th November His Holiness received from the court all those who wanted to pay respect to him".

On 27th November Napoleon and the Pope were rehearsing (!) the upcoming coronation ceremony, and on the next day both (and, respectively the whole retinue (including Napoleon's family) left Fontainebleau in the direction of Paris, only to return in the next year (1805).

Among the 600 rooms at the palace, restored to its former splendor, 35 suites (each of several rooms) were reserved for members of the Imperial family and great officers of the Household. It was in one of these rooms that our young Imperial princess posed for this portrait between the 23rd and 28th November 1804.
Why a princess and not the Empress herself?
Josephine was then already 41 years of age (although somebody inscribed this name on the back cover of the frame).

Our young lady is not Josephine's daughter and now Imperial princess (as wife of Napoleon's brother Louis) Hortense - her known portraits show a completely different woman.
She is also not the wife of Napoleon's brother Joseph and now Imperial princess Julie Clary (33-years old in 1804, also no physiognomic resemblance with our sitter).
That leaves us with three other Imperial princesses - Napoleon's sisters - the 27-year-old Elisa (since seven years Mme Baciocchi), the 24-year-old Pauline (in 1804 already Mme Borghese) and the 22-year-old Caroline (CLICK HERE) who married Napoleon's best general Joachim Murat (in 1804 Governor of Paris) four years before and who is (despite her young age and look) already mother of three children.

These three ladies had to carry the train of Josephine in Notre Dame on the 2nd of December. United by their dislike for the Empress, the sisters refused to play this (humiliating, as it seemed to them) role until the last moment, and yielded only to the Emperor's decisive demand on November 27th, the day of the aforementioned rehearsal at Fontainebleau (see our image nr.43).

After profound search through all known portraits of each of the sisters we came to a final and doubtless result: depicted here we see Caroline Murat - namely in her apartment at Chateau de Fontainebleau.
Although she and her family resided in Chateau de Neuilly since one year which was located in the suburbs of Paris and was acquired by Murat in 1803, the fact that Caroline obtained (like the other Emperor's sisters and brothers) her own apartment at Fontainebleau is widely known. And although no reliable (and detailed) images of that apartment have been preserved, in the historical sources one can find mentions of separate pieces of furniture or decorations from these rooms (for example we bring here clips from one of these evidences: "...two bergères of carved mahogany, accompanied by matching footstools which were placed in the bedroom of Princess Caroline Murat at Fontainebleau in 1806").

And now we come to the aforementioned "authorship reincarnations":

For the first time, after 175 years of oblivion, this miniature resurfaced on November 12th, 1980 as Lot 243 of the sale of portrait miniatures from several private properties which was held by Sotheby's Geneva (see our image nr.17). Strangely, it was proposed by the Sotheby's expert not (!) as a work of Isabey (for some reason this expert doubted the authenticity of Isabey's signature) but as "attributed (!) to the French-born miniaturist Nicolas Francois Dun, who worked at the court of Murat and Caroline in Naples, between 1808-1815.
Without doubting the identity of Caroline as a sitter of this portrait, the expert decided for the authorship of her court artist, who (as the expert knew) executed several miniature portraits of her (although all of them not earlier than 1808, when Caroline's husband became King of Naples).
The Geneva expert's opinion was surely also based on three other works of Dun (see our images nr.21-23) which all were executed either in the mid-1810s or even in the 1820s (but let us not forget: Caroline on our portrait is really dressed and hair-styled according to the fashion of 1804! ).
If all that was the reason to "appoint" Nicolas Francois Dun author of our miniature, then we can only shake the head.

First of all: no one can successfully claim that the miniature does not (!) show the interior of Caroline's room at Fontainebleau, but that of another palace.
Further, no one can claim that Dun was introduced to Caroline before (!) 1808, when she arrived in Naples. In 1808 she (already mother of her fourth child) looked a bit different than on our miniature - her face became a bit rounded and she looks much older although only four years had passed.
Nor can anyone claim that Dun left Naples in the first half of 1800s to work in Paris. On the contrary - he was almost constantly in Naples from ca. 1790 until his death in that city in 1832, working at the Court - at first for the Bourbons, from 1806 to 1808 for King Joseph Bonaparte, from 1808 to 1815 for King Murat, and from 1815 until his death - again for the Bourbons.
And the last argument against the candidature of Dun - he was a serious artist, and nobody has ever seen any fakes by him.
WE ARE ABSOLUTELY SURE THAT THE SIGNATURE ON OUR MINIATURE WAS MADE IMMEDIATELY, BY THE SAME (!) ARTIST AFTER FINISHING THE WORK, AND IN NO CASE WAS APPLIED LATER BY ANOTHER HAND.

At the 1980 sale in Geneva the buyer of this piece was one of the wealthiest women in Switzerland and the most famous collector of portrait miniatures, Dr. Erika Pohl-Ströher (1919-2016; CLICK HERE).
In 2001 the catalogue of her collection of French (!) miniatures was published. In that catalogue our miniature was illustrated again as "portrait of Caroline Murat, presumably("attributed to") by Nicolas Francois Dun (see our image nr.18).
But what a surprise: in the catalogue entry we read that one of curators of this collection (having no doubt that the miniature depicts Caroline Murat) suddenly expressed the opinion that the author may not have been Dun, but rather (a little-studied! - B.W.) French miniaturist J. Lecourt, who is known to have worked at Versailles (! - not Fontainebleau!) from 1804 to 1830.

We can do nothing but express, as we did in the case of Dun, our doubts about this "next" attribution:
J. Lecourt was an artist of too small calibre for the Emperor's sister to pose for him in person, and in her magnificent private chamber.
In addition, as in the case of Dun, no one can present a comparable work of Lecourt - not in quality, nor in composition.
And our last argument: no one can report Lecourt's activity as a forger...

The next public appearance of this miniature took place on 4th July 2019 (three years after the death of Erika Pohl-Ströher), at the sale of her collection at Sotheby's London.
Offered there as Lot 171 (see our image nr.19), this time with the aforementioned (new) attribution to J- Lecourt, it was sold to an anonymous collector (art dealer?).

And the next surprise:
Only one year afterwards, the miniature resurfaced at the sale of Parisian auction house "Millon & Associes" (see our image nr.20) - again with a third (!) attribution: "Circle of Jean-Baptiste Isabey".
Apparently strictly doubting, like us, the authorship of Dun and Lecourt, the expert of this house nevertheless preferred a cautious wording (due to the "alternation" of other examinations)- he returned to the name of Isabey but did not insist on the 100% authorship of the latter.
WE ON OUR PART, ARE ABSOLUTELY SURE THAT WE HAVE BECOME THE OWNER OF A GENUINE AND VERY IMPORTANT WORK OF THE GREAT ISABEY (COMPARISON IMAGES NR.24-40 CONVINCINGLY SUPPORT OUR OPINION).
Also the fact that all these five days of November 1805 Jean-Baptiste Isabey was present at Fontainebleau (he was one of the main designers of the forthcoming coronation ceremony and he painted several (widely known!) paintings and portraits reflecting the events of these five days) convincingly speaks for his authorship.

The fact that this miniature surfaced for the first time (!) in 1980 suggests that it has been kept in the certain private property for 175 years (never leaving the latter for any exhibitions, never being published in any books).
That also explains the absence of this miniature in the very extensive "list" of Isabey's works completed by Leo R. Schidlof in his "The Miniature in Europe" published in 1964 - he had never seen this miniature, and he died in 1966, fourteen years before its first appearance at Sotheby's Geneva.
Jean-Baptiste Isabey (1767 Nancy - 1855 Paris) was the most famous of all European portrait miniature painters of the turn of the 19th century. In 1785 he went to Paris to study under David, but the great master had just left for Rome. At first in a tight financial situation, Isabey finally was ordered to paint miniatures of the children of King's brother, Count D'Artois. By means of this commission he came to court, met the Queen Marie-Antoinette and obtained an apartment in Versailles. In 1786 David returned from Rome, accepted Isabey as pupil without payment and favoured him in every way. At the time of the Revolution the artist already acquired significant clientele in Paris. He portrayed most of the Convention members, became one of the intimates of Mme Bonaparte's house. Isabey was a drawing master of Hortense and Eugene de Beauharnais; he controlled the ceremony of Napoleon's coronation and organized festivities for the Empire.
In 1806 Isabey was appointed "Peintre dessinateur du cabinet de S.M. l'Empereur, des ceremonies et des relations exterieurs", and in the following year - "Premier peintre de la Chambre de l'Imperatrice". From 1809 Isabey had a studio in the porcelain factory in Sevres. When in 1810, Napoleon married Marie-Louise, Isabey became drawing master to the latter. In 1812 he went to Vienna to do the portraits of the Imperial Family. He returned there again in 1814 to paint the Congress of Vienna on the order of Talleyrand. He returned to Paris in 1815. With the beginning of Restoration he went to London. On his return in 1820 Louis XVIII appointed him miniature painter and "inspecteur dessinateur, ordonnateur des fetes et spectacles". Charles X gave him the title of royal draughtsman and painter and appointed him officer of the Legion d'honneur in 1825. In 1837 Louis-Philippe appointed him Assistant Keeper of the Royal Museums and gave him an apartment at Versailles. He also had the favours of Napoleon III from whom he obtained a pension of Frs. 6000.
bojan21
Condition: good; in magnificent original frame
Creation Year: 1804
Measurements:UNFRAMED:10,2x8,0cm/4,0x3,1in FRAMED: 10,2x0,0cm/4,0x0,0in
Object Type:Framed miniature
Style: Portrait Miniatures
Technique: watercolor and gouache on ivory (rectangular)
Inscription:signed: Chateau de Fontainebleau /1804 /Isabey
Creator: Jean-Baptiste Isabey
Creator Dates: 1767 Nancy-1855 Paris
Nationality:French
We will cover shipping with regular registered mail (delivery between 7-14 days) for this item.

OBS: Austrian mail refunds cases of loss or damage with maximum EUR 500.


Fully insured 2-3 days DHL service available upon request and subject to extra charges: office@wilnitsky.net
Click here for images free of watermark!
Click on images or on

to see larger pictures!