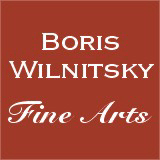 If you have a question about this item,
please contact us at: office@wilnitsky.net
# 43611
Vincent Bertrand "Marie Rose Hylarionne, marquise de Mautheville du Bouchet", 1790/94
Price: 5500 EUR
(please note additional Austrian VAT (Value Added Tax) applies for transactions concluded within the European Union)
The young lady depicted on this high quality round miniature on ivory (as we learn from her biography she died in 1794, at the age of only 23, being already mother of a little son) is ca 20-year-old Mme Marie Rose Hylarionne, marquise de Mautheville du Bouchet, nee de Bonneval. We also learn she was born on 26th March 1771 and died on 12th August 1794, in emigration. She was a daughter of Louis de Bonneval (died in 1783), local politician in province Berry in Central France and his wife Marguerite Frezeau de la Frezeliere. Her parents had also another daughter, three years her junior Adelaide (1774-1839; since 17890 marquise de Champagne). In 1788 17-year-old Marie Rose married 19 years her senior aristocrat from Clermont-Ferrand, Denis Jean Florimond Langlois, marquis de Mautheville du Bouchet (1752.-1826), Royal officer (in 1780 he, being deputy-adjutant-general of French troops fighting in American Revolutionary War sent a letter to George Washington - see our image nr.), future memoirist and "marechal-de-camp" (brigade general).
Two years after the wedding, in 1790, Marie Rose gave birth to their only child, son Augustin (Augustin Cesar Charles Florimond Langlois, marquis de Mautheville du Bouchet (1790-1856); he is author of the epitaph engraved on the brass back cover of the frame ordered by him).
Either in 1792 (just after the birth of son Augustin) or still in 1791, shortly before) the family (like thousands of other aristocrats during the Great Terror) left France and came to Germany where the husband joined the just formed Army of Princes there (consisting of emigres royalist army fighting against French Revolutionary Army). There, on 15th June 1794 (two months before the death of his wife Marie Rose) he was promoted by Prince Conde to "marechal-de-camp".
After Napoleon's amnesty for emigres he returned to France with his son in 1802. Seven years later he joined the Napoleonic army in rank of a colonel, serving then in Holland.
After the Bourbons' comeback his "emigre" rank of "marechal-de-camp" was again confirmed by King Louis XVIII.
He left the military service in 1815 with a honorary rank of a lieutenant general (see our image nr.).

Clearly signed "Bertrand V." this miniature is probably the earliest (!) known work of well-known French, turn of 19th century miniaturist Vincent Bertrand (CLICK HERE FOR OTHER WORKS OF THIS ARTIST IN OUR POSSESSION).
Vincent Bertrand (1770 Paris - after 1820 Paris) regularly exhibited at the Salon de Paris between 1796 and 1817. In 1810, in his report of 1810 Salon to Emperor Napoleon I, Baron Denon highly praised Vincent Bertrand, calling him one of the best European miniaturists. Among Bertrand's sitters were members of the family Tascher de la Pagerie (relatives of Empress Josephine), Minister Foucher and Baron Denon.
Works of this artist can be seen in various French and international museums.
Our images nr. show several other works of this artist which were offered in the last years at international art auction market.

Provenance:
sitter's son Augustin Cesar Charles Florimond, marquis de Mautheville du Bouchet (1790-1856)
heirs of the latter
antique store in Troyes, france
Condition: good; in magnificent (ordered by the sitter's son in the early 19th century) frame
Creation Year: 1790/94
Measurements:UNFRAMED:7,9x7,9cm/3,1x3,1in FRAMED: 28,6x17,2cm/11,3x6,8in
Object Type:Framed miniature
Style: Portrait miniatures
Technique: watercolor on ivory (round)
Inscription:signed: Bertrand V.
Creator: Vincent Bertrand
Creator Dates: 1770 Paris-after 1818 Paris
Nationality:French
2-3 days door-to-door shipment, professionally packed by Mail Boxes Etc and shipped with DHL (calculated for US): 101,9 EUR + insurance 1,8% of item price
Shipping cost to other destinations (worldwide) on request
Shipping price may be reduced if you dispense with the frame


Cheaper alternative (may be further reduced if you dispense with the frame): professionally packed by Mail Boxes Etc and shipped with regular Austrian mail - upon request under office@wilnitsky.net (OBS: In this case maximal refunded insurance value is EUR 500 if shipping destination was the US. In Europe sometimes more, depending on destination.)
Click here for images free of watermark!
Click on images or on

to see larger pictures!