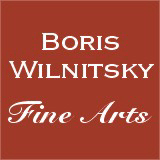 If you have a question about this item,
please contact us at: office@wilnitsky.net
# 43610
Jean-Baptiste Isabey "French writer Charles Victor Prevost d'Arlincourt", large miniature, 1824
Price: 10000 EUR
(please note additional Austrian VAT (Value Added Tax) applies for transactions concluded within the European Union)
This large miniature of superior quality (as always for this master) is a portrait of celebrated French writer Charles Victor Prevost, vicomte d'Arlincourt, executed in 1824 by great Jean-Baptiste Isabey.
The portrayed was born on 26th September 1788 at Chateau de Merantais in commune Magny-les-Hammeaux, department Yvelines and died on 22nd January 1856 in Paris. His father, Royal officer, was guillotined on 8th May 1794, along with Antoine Lavoisier and 26 others. At the beginning of the First Empire, his mother pleaded his cause before Napoleon, who decided to name Charles "ecuyer" (squire) to Madame Mere.
In 1811 Napoleon appointed him as a master ("auditeur") at the Council of State, then as an intendant in the Napoleonic Army of Spain. In the latter function he participated in the Spanish campaign and was present at the capture of Tarragona.
After the fall of Napoleon, he succeeded in ingratiating himself with Louis XVII who named him Master of Request. He bought a chateau and obtained the title of vicomte.
In 1818 he orchestrated a huge publicity campaign for the publication of his epic poem "Charlemagne ou la Caroleide", and presented himself before the Academy, where his candidature obtained exactly one vote. Undiscouraged, he began working on a novel which he believed would bring him as great a reputation as Chateaubriand's.
His "Solitaire" appeared in 1821 and achieved an "extraordinary, even colossal celebrity". In the span of several months, the book was reprinted a dozen times. It was translated into ten languages; there were no fewer than seven operas based on its story, and twice as many dramatic adaptations; and it was the subject of innumerable songs, parodies, paintings and lithographs. The success of his next three novels, "Le Renegat" in 1822, "Ipsiboe" in 1823, and "L'Etrangere" in 1825, was almost as great.
Adulated above all by his female readership, who saw him as "the new Ossian", he was harpooned by critics. His plot points were judged impossible, his characters cardboard, and his imagery grotesque. His taste for syntactic inversions, with which he generously adorned his prose, led to the nickname "the inversive Viscount", and the result was memorably parodied in "Illusions perdues" by Balzac (who, nevertheless, was strongly influenced in his first works by the gothic style of d'Arlincourt). The Academic Charles-Marie de Feletz wrote that "Le Solitaire has so far been translated into every single known language, except of course French". Later assessments were no more favourable. His novels, now classified as "gothic", where then labelled "frenetique": "containing a mysterious intrigue centred on some illustrious and guilty wretch who traipses through a thousand violent incidents towards a bloody catastrophe".

D'Arlincourt's vanity and egocentricity were the subject of many anecdotes, including a story of his attempts to persuade his portrait-painter, Robert Lefevre, to make his eyes look larger and larger, until they were "like those of an ox"; the result was still considered unsatisfactory by his wife, who confronted the painter, turning to her husband and telling him to "Do that thing with your eyes" (Mon ami, fait tes yeux). He also posed for Jean-Baptiste Isabey (!!).

D'Arlincourt frequently defended himself in print, explaining that it was his goal to "spiritualize all the impressions of existence"; he presented a play he wrote in his youth, "Le Siege de Paris", at the Theatre-Francais in 1826, but it was promptly torn to pieces by the critics. Not always justly: some of the most ridiculed extracts are not in fact by him.

He made two long journeys through Europe, in 1841 and 1844, visiting exiled princes, and on his return presented a new play, "La Peste nouire", which was received no more favourably than the first. In 1848, outraged by the events of June, he published "Dieu le veut!" ("God wills it!"), a pamphlet which led to legal troubles for the author but also increased his popularity. In 1850 he published "L'Italie rouge", a hostile account of the Risorgimento. In the last years of his life, still "avid for acclaim", he was a frequent guest of salons.


Our relatively large 14,2 x 10,2 cm) painting, executed by Isabey in his usual for that period technique of watercolor painting on paper, was made in 1824 as a first (!) version of this portrait - it was immediately reproduced (in the same rectangular form) by French engraver Andre Joseph Mecou (see our image nr.8). Just thereafter, in the same 1824, Isabey made at least two replicas (first - a bit smaller in size and in another technique - as miniatures on ivory; it is now in Louvre (see image nr.9);, the second (watercolor on paper) - in Museum of Decorative Arts in Buenos-Aires (see image nr.10).
Jean-Baptiste Isabey (1767 Nancy - 1855 Paris) was the most famous of all European portrait miniature painters of the turn of the 19th century. In 1785 he went to Paris to study under David, but the great master had just left for Rome. At first in a tight financial situation, Isabey finally was ordered to paint miniatures of the children of King's brother, Count D'Artois. By means of this commission he came to court, met the Queen Marie-Antoinette and obtained an apartment in Versailles. In 1786 David returned from Rome, accepted Isabey as pupil without payment and favoured him in every way. At the time of the Revolution the artist already acquired significant clientele in Paris. He portrayed most of the Convention members, became one of the intimates of Mme Bonaparte's house. Isabey was a drawing master of Hortense and Eugene de Beauharnais; he controlled the ceremony of Napoleon's coronation and organized festivities for the Empire.
In 1806 Isabey was appointed "Peintre dessinateur du cabinet de S.M. l'Empereur, des ceremonies et des relations exterieurs", and in the following year - "Premier peintre de la Chambre de l'Imperatrice". From 1809 Isabey had a studio in the porcelain factory in Sevres. When in 1810, Napoleon married Marie-Louise, Isabey became drawing master to the latter. In 1812 he went to Vienna to do the portraits of the Imperial Family. He returned there again in 1814 to paint the Congress of Vienna on the order of Talleyrand. He returned to Paris in 1815. With the beginning of Restoration he went to London. On his return in 1820 Louis XVIII appointed him miniature painter and "inspecteur dessinateur, ordonnateur des fetes et spectacles". Charles X gave him the title of royal draughtsman and painter and appointed him officer of the Legion d'honneur in 1825. In 1837 Louis-Philippe appointed him Assistant Keeper of the Royal Museums and gave him an apartment at Versailles. He also had the favours of Napoleon III from whom he obtained a pension of Frs. 6000.
CLICK HERE FOR OTHER WORKS OF THIS ARTIST IN OUR POSSESSION
See also our images nr.12-14 for interesting article from 1825 concerning d'Arlincourt.

Provenance:
Gunther Muthmann, Wuppertal-Barman
Sotheby's Zurich, 17th May 1979, Lot 161
Collection Dr. Erika Pohl-Ströher (1919-2016; see our image nr.)

Condition: good; in magnificent original Empire frame
Creation Year: 1824
Measurements:UNFRAMED:14,2x10,2cm/5,6x4,0in FRAMED: 29,3x20,3cm/11,5x8,0in
Object Type:Framed miniature
Style: Portrait miniatures
Technique: watercolor on paper (rectangular)
Inscription:-
Creator: Jean-Baptiste Isabey
Creator Dates: 1767 Nancy-1855 Paris
Nationality:French
SHIPPING COSTS UPON REQUEST:
office@wilnitsky.net
Click here for images free of watermark!
Click on images or on

to see larger pictures!