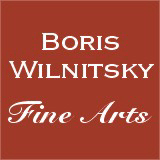 If you have a question about this item,
please contact us at: office@wilnitsky.net
# 43607
"Cl.-L. Langlois de Sezanne-Attrib. "General de Pire and his wife", two small portraits, 1809/10
Price: 6500 EUR
(please note additional Austrian VAT (Value Added Tax) applies for transactions concluded within the European Union)
Acquired in October 2020, in antique store in Genoa, Italy, this pair of small, painted in oval portraits represents a relatively young (he looks maximal 35 years old) Napoleonic brigade general (undress uniform (see comparison image nr.22), two stars on epaulettes) and his, looking some him junior wife (latter's gown and hairstyle (however as well as hairstyle of her husband) speak for late 1800s (see comparison images nr.23).

The husband is decorated with a badge of a single award - chest cross of Napoleonic Order of Legion of Honor. Due the fact that this cross is made of gold and has slightly visible bow (rosette?) on its ribbon it is one of indistinguishable in that period two Legion's crosses - that of an Officer or of a Commander (the latter will "move" to neck first after 19th July 1814 (King Louis XVIII's ordonnance)).
Moreover, the balls on cross' ray tops indicate that we see so-called 4th model, which was established in 1808. Although in vast majority of cases this model was distributed from 1813, we see it on some portraits painted in 1808 (see our web # 31098).

In attempt to identify our general we turned as usually to standard refference source - "Etat general de la Legion d'honneur", Paris, 1814. Our task was to search in lists of awardees Commander or Officer cross of Legion for brigade generals who in period between 1805-1810 were relatively young and already married.

Following a long (and very profound!) search exposed single candidate who fully corresponded to mentioned criteria and whose portrait as an elderly man and portrait of his father show both the same fisiognomical characteristics.

His name was Hippolyte Marie Guillaume de Rosnyvinen, marquis de Pire, Baron (later Count) of Empire.

He was born in 1781 and married in 1801. His first cross of Legion - that of Chevalier - he obtained in 1807.
In 1809, in age of 31 (!) he was promoted to brigade general and (as we strongly belive!) shortly thereafter ordered this couple of portraits (on his own he was shown bearing Chevalier (silver!) cross from 1807).
In 1812, in Russia, after ther Battle of Vitebsk followed his awarding Officer cross (4th model!) of Legion and on 10th October 1813 (shortly before the Battle of Leipzig) he obtained Commander cross. He remained in field until late 1813 and (we guess) his wife at home ordered local artist (the same from 1809 or another one) to rework Chevalier cross on 1809 portrait adding bow (rosette?) onto ribbon and repainting silver cross to golden Officer (Commander) one.

The name of his wife was Marie Pauline Hey des Netumieres. In 1809 she was 28-year-old.

Our images nr. 16, 18 and 19 provide extensive biographical information about this married couple.

We learn that general's military career began as he was 13 (as an emigré) he joined in 1791 Garde du Corps du Roi in royalist Army of Princes.
In 1795 he was wounded at unsuccessful Invasion of France at Quiberon.
In 1796 he joined Army of Vendee (chouans) and was wounded again.
In 1800, back to France, he joined Napoleonic army as a hussar officer but soon thereafter left service.
On 24th November 1801, in his native Rennes he married three years him junior Marie-Pauline-Emilie Hey des Netumieres.
The couple's first child, a boy was born on 7th October 1802, then in February 1804 another boy was born (both boys, in later life became pages to the Empress Elisaveta Alexeevna of Russia (wife of Tsar Alexander I) and serving officers in the Russian army). On 22nd September 1805 de Pire came back to military service as a captain of General Staff of Grande Armee in Germany. He was present at Austerlitz (1805) and Eylau (1807), being promoted to colonel commanded 7th Chasseur a Cheval Regiment before he was appointed aide-de-camp of Marshal Berthier.
In 1808 he came to Spain and took part in the Battle of Somo Sierra.
On 19th March 1809, already back to Grande Armee in Germany, he was promoted to brigade general and appointed Commander of the 2nd Brigade in the Division of General Montbrun. In that year he participated in the Austrian Campaign, fighting at Tengen, Schierling, Eckmuhl, Regensburg, Ebersberg and Wagram.
On 18th July 1809 his wife gave birth to their third son. The latter became, in fact, the last male to carry the de Pire family name when he died in 1885.
During the Russian Campaign of 1812 de Pire commanded cavalry brigade. This brigade saw service at Vilna early in the campaign, then at Ostrovno (25/27th July 1812).
In October 1813 (Commander cross of Legion - see above) he was raised to division general.
In 1814, during the French Campaign his division was at Saint Die, Brienne, La Rothiere, Mormant, Troyes, Ferte-sur-Albe and Saint-Dizier.
During the "100 Days" he joined again Napoleon and was present at Waterloo.
After Waterloo he was proscribed by ordonnance of 24th July 1815 and fled to Russia with the whole his family (heavily pregnant wife (in two months she gave borts their fourth child) and three sons (as said above, his two teenaged sons were accepted into the service of the Empress and the Russian military).
His fourth and last child, also a boy, was born in Russia, on 30th September 1815. 37-year-old Frenbch general was readily accepted not only in the high society of St. Petersburg, but also at the court (indirect evidence of the latter is the story of his sons-pages of the Empress). And, while his wife was raising the youngest child, he did not waste time having affairs on the side. His next "victim" during these four "Russian" years was the mother of five (!) young children, the wife of the famous Russian general of the Patriotic War of 1812 and the subsequent Foreign campaign of 1813/15 (i.e., his recent counter-agent on the battlefields), Nikolai Mikhailovich Borozdin - 30-year-old Elizaveta Alexandrovna Borozdina, nee Zherebtsova (niece of the favorites of Catherine II brothers Zubov). Their romance began during the absence of General Borozdin (the second half of 1817). As a result, Madame Borozdina became pregnant and on July 30, 1818, she gave birth to a boy, who was named Vladimir. The enraged husband tried to challenge de Pire to a duel, but the Emperor Alexander I forbade him to do so. Borozdin immediately divorced his wife, writing her all (!) his property with the only condition - that she left Russia and never returned there.
De Pire was authorised to return to France in May 1819. Soon therafter the divorced Mme Borozdina with their son Vladimir came to Paris, and de Pire had no choice but to live on two families...
Having held a number of administrative posts he was permitted to retire in June 1848 and died in Paris on 20th June 1850, in age of 72. He outlived his wife for 8 years.
His name appears on the Parisian Arc de Triomphe de l'Etoile (pillar "East", 2nd column).
Also one street in his native town Rennes bears his name - Rue de Pire (see our image nr.20).

Both portraits seem to be works of the well-known French portraitist (worked in oils and pastels) from the turn of 19th century, Claude Louis Langlois de Sezanne (for comparison see our images nr. 24, 25 and 26 and our web #40876).
Claude Louis Langlois, called Langlois de Sezanne, was born in 1751 in Sezanne, department Marne, and died in 1845, presumably in Paris. He was a pupil of Jacques Antoine Beaufort and was later the Director of the Drawing School of Sens (Burgundy). It is known that he lived in Paris for a long time and that he exhibited at the Salon de Paris from 1806 and the London Royal Academy from 1831.
Condition: fairly good; in identic Empire frames
Creation Year: 1809/19
Measurements:UNFRAMED:15,7x13,7cm/6,2x5,4in FRAMED: 22,8x20,5cm/9,0x8,1in
Object Type:framed oil painting
Style: 19th century paintings
Technique: each: oil on paper laid on cardboard
Inscription:
Creator: Claude Louis Langlois de Sezanne
Creator Dates: 1751 Sezanne-1845
Nationality:French
2-3 days door-to-door shipment, professionally packed by Mail Boxes Etc and shipped with DHL (calculated for US): 96,19 EUR + insurance 1,8% of item price
Shipping cost to other destinations (worldwide) on request
Shipping price may be reduced if you dispense with the frame


Cheaper alternative (may be further reduced if you dispense with the frame): professionally packed by Mail Boxes Etc and shipped with regular Austrian mail - upon request under office@wilnitsky.net (OBS: In this case maximal refunded insurance value is EUR 500 if shipping destination was the US. In Europe sometimes more, depending on destination.)
Click here for images free of watermark!
Click on images or on

to see larger pictures!