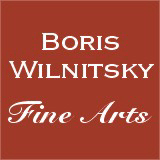 If you have a question about this item,
please contact us at: office@wilnitsky.net
# 43606
Le Duc (fl. 1795/1810) "Round box with portrait of "capitaine de vaisseau" Le Veyer de Belair", 1801
Price: 3900 EUR
(please note additional Austrian VAT (Value Added Tax) applies for transactions concluded within the European Union)
THE SELLER WILL COVER SHIPPING WITH REGULAR MAIL FOR THIS ITEM!

Size of miniature: 5,8 cm in diameter

This round box, made of horn with golden mounting contains in its lid a miniature portrait of a relatively young French "capitaine de vaisseau" (naval rank corresponding that of a colonel in army).
During the past twelve years this box travelled through different collections and auctions as a box containing the portrait of an anonymous naval officer.

An authentic inscription (made by author of this miniature himself) on inside of the box's lid says the following: "fait a l'orient par le /Duc le 20 floreal an 9" (English: made by le Duc in Lorient on the 20th floreal of the 9th year of Republic (this date of French Republican calendar corresponds to 10th May 1801 - CLICK HERE).

The depicted "capitaine de vaisseau" (according to his uniform; his rank preceding that of a "contre-admiral" (rear admiral)) is decorated with one of indistinguishable in the period between 1803-1814 two crosses of the Order of Legion of Honor - that of an Officer or of a Commander (both made in gold, ribbon of each with bow or rosette; the Commander crossr will "move" to neck first after 19th July 1814 (King Louis XVIII's ordonnance)). This cross was surely added later (!), by the same (or another) artist who took off the round miniature from the lid (one sees trace of this manipulation on golden mounting) and after he added the order's cross he set miniature back into the lid). This manipulation took place not immediately after 14th June 1804 (date of sitter's awarding .- see below) but earliest in 1808 - year of introducing of so-called 4-th cross' model (with balls on ray tops (exactly our case!)).

So our next step was to search for a 35/40-year-old (sitter's visual age) "capitaine de vaisseau", who in 1801 stayed in Lorient (town where also stayed then artist Le Duc) and who was later (awardings began in 1803) awarded Officer (Commander?) cross of Legion of Honor.

After the profound online research we came to following result:

On 30th March 1801, in the arsenal of town Lorient (seaport and base of the French Navy) the 74-gun-frigate "Scipion" (it was built there between 1798-1801) was launched. This ship remained in the harbour of Lorient until 13th December 1801 before it left this port to join the French Mediterranean fleet based in Toulon.
Soon after the "Scipion" was launched it received its first commander - resident of Lorient, 36-year-old (!) "capitaine de vaisseau" Albin Joseph Le Veyer de Belair.
And as we will see below, he became in 1804 awardee of the Officer cross of Legion of Honor.
We are absolutely sure that it is exactly this man we see on the miniature presented here!

According to the found documents Albin Joseph Le Veyer de Belair was born on 27th February 1765 in Port-Louis, a small commune in Bretagne, situated 17 km away from Lorient (later he also lived here with his wife and four children; he also died here in 1829). Here, in Port-Louis, lived also the parents of his mother; all this is a very strong argument in favour of our identification of the miniature's sitter.
He was born as a son of a nobleman Philibert-Jean-Bapriste Le Veyer de Belair, captain of the ships of the East Indies Company and his wife Marie-Anne-Magdelaine Bichard (she in her turn was also a daughter of a "capitaine de vaisseau" - CLICK HERE). The family lived in Lorient (CLICK HERE) where a headquarters of the father's East Indies Company was located. In 1769 (Albin Joseph was 4) this town evolved into a full-scale naval base for the Royal Navy when the King bought out the Company's infrastructures.
In 1777 Albin Joseph entered the Royal school for marine cadets and on 20th May 1779 began his real service (as an "aspirant") in the Navy.
During the next fifteen years he was promoted step by step to next naval rank before he became "capitaine de vaisseau" in 1794.
In 1801, being appointed commander of the frigate "Scipion" that had just been launched in his native Lorient he remained in that function until 1st October 1802.
His Officer cross of Legion of Honor he obtained on 14th June 1804.
From 1809 onwards he served in Lorient again and on 1st July 1814 (1st Bourbon Restoration) he was transferred to the "demi-sold" (half pay) list of non-active officers.
Nonetheless on 18th August 1814 he was awarded the Chevalier cross of the Royal Military Order of Saint Louis.
He retired on 1st November 1817. On 18th October 1818 he obtained the honorary rank of a rear admiral.
He died in Port-Louis on 25th September 1829.

We add that this miniature is a unique portrait - none other of this celebrated French sailor was known until today.


For many years, almost nothing was known about the artist Le Duc, apparently constantly living in Lorient. All three known works of his (all - portrait miniatures) were until today accompanied (including ours) in the description of each of them only by a mention of the fact that he worked in the late 18th century.
The first to pay close attention to him was Mme Nathalie Lemoine-Bouchard, well-known specialist in French portrait miniatures, who in the 40th issue of her "La Lettre de la Miniature" informs us that one meets the name of this artist in a poem written in 1795, by an anonymous author, titled "Les Jacobins de Lorient ou la Gigantojacobinomachie". From this poem one learns that "Le Duc, peintre en miniature" was connected (he was tracking them) with the "san-culottes" (common people of the lower classes in late 18th century France, a great many of whom became radical and militant partisans of the French Revolution in response to their poor quality of life under the Ancien Regime).
Mme Lemoine-Bouchard found this information (among other) in Muller Philippe "Clubs et clubistes du Morbihan de 1790-1795: etude de moeurs revolutionnaires suivie de fragments inedits des Memoires du greffier Blanchard", 1885 (see our image nr.21).

And now let us move to another object (we will offer it for sale separately) acquired three months after the acquisition of the box with miniature by Le Duc discussed here. It is a portrait executed in 1810 by well-known French artist (pupil of David!) Louis Benjamin Devouges (see our image nr.22) showing a relatively young (he looks for maximal 30-35 years) gentleman holding in his left hand a letter just finished by him (obviously addressed to his friend and author of this painting Devouges) which ends with his name: "le Duc /peintre /Lorient /1810". He is none other than miniaturist "le Duc", the author of our miniature!

We guess Le Duc was not really a paying client of Devouges, but that the latter and he were friends. Probably this portrait was executed during Devouges' stay in Lorient (as we know from his biography, among his portrait works there was a portrait of Julien, general prefect of department Morbihan (a. o. containing the town Lorient)) and was gifted by Devouges to his friend-model.
We also guess that each of them left his"autograph" on this painting: next to Le Duc there is an in-drawn portrait of Devouges on a sheet of paper "prepared" by the latter (lower left corner), under which Devouges left his signature (image nr.22). In his turn Devouges "prepared" the sheet of the "letter" in the sitter's left hand which the latter signed with "le Duc /peintre / a Lorient /1810" (lower right corner - see image nr.22).
Provenance:
- private collection, Paris
- auction house "Piasa", Paris, June 18, 2008, Lot 4
- private collectioin, Paris
- auction house "Thierry de Maigret", Paris, October 10, 2020, Lot 103

bodez1620
Condition: fairly good
Creation Year: 1801
Measurements:UNFRAMED:2,1x6,7cm/0,8x2,6in FRAMED: 2,1x6,7cm/0,8x2,6in
Object Type:Box with miniature
Style: Portrait miniatures
Technique: box: horn with golden mounting; miniature: watercolor on ivory
Inscription:signed on lid's inside (see image nr.9)
Creator: Le Duc
Creator Dates: was active btw. 1795-1813
Nationality:French
We will cover shipping with regular registered mail (delivery between 7-14 days) for this item.

OBS: Austrian mail refunds cases of loss or damage with maximum EUR 500.


Fully insured 2-3 days DHL service available upon request and subject to extra charges: office@wilnitsky.net
Click here for images free of watermark!
Click on images or on

to see larger pictures!