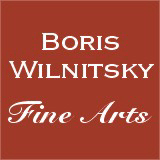 If you have a question about this item,
please contact us at: office@wilnitsky.net
# 43594
Peter Ernst Rockstuhl "Charlotte Gertrude von Fircks from Courland", superb miniature, 1802?
Price: 7500 EUR
(please note additional Austrian VAT (Value Added Tax) applies for transactions concluded within the European Union)
THE SELLER WILL COVER SHIPPING WITH REGULAR MAIL FOR THIS ITEM!

This miniature was with a great possibility executed by its author, portrait miniaturist from Courland (later well-known St Petersburg artist) Peter Ernst Rockstuhl in 1802, shortly before or just after the wedding of the young lady depicted here, member of well-known German-Baltic noble family von Fircks (see our images nr.8-9), Charlotte Gertrude von Fircks (see image nr.10 with her genealogical information).

Charlotte Gertrude was born on 2nd November 1783, at castle Neuenburg (see image nr.12) in Courland (then duchy, a vassal state of Polish-Lithuanian Commonwealth, since 1795 province of Russian Empire, now one of regions of Western Latvia) belonging to her parents.
In 1802 (as said above) she married her cousin Johann Ewald von Fircks and moved to his large (almost 3000 hectares) estate Waldgahlen (Valdgale, Latvia; see our image nr.13) where between 1804-1809 three her daughters were born.
She died on 22nd April 1853, at the age of 70, in Mitau (then Russian Kurlandskaya Gubernia, now Yelgava, Latvia).
We add that all her male offspring served as military officers or state officials of the Russian Empire.
Peter Ernst Rockstuhl, portrait miniature and silhouette artist was born in 1764 in Angern (then Duchy of Courland, now Engure, Latvia) and died in 1824 in St. Petersburg. According to Dr. Wilhelm Neumann, author of the "Dictionary of Baltic artists", published in 1908, Rockstuhl's birthplace was possibly Warsaw; Ernst Lemberger says it was "Angern in Courland" (Latvia). Further Lemberger mentions that the artist worked in Mitau (now Jelgava, Latvia) and Riga, in 1789 was in Vilna, later moved to St. Petersburg, where remained until his death in 1824. Nobody can say when exactly he came to St. Petersburg. It was for sure after 1798 (in this year his son Alois Gustav was born in Vilna). So it must have been between 1800 and 1804. In the Russian capital the artist soon became a very popular miniaturist, whose sitters were members of the high aristocracy and royalties. T.A. Selinova could located over 100 of his works that survived time. They are mainly in Russian public collections (25 miniatures in the Historical Museum Moscow and more than 10 works are in the Russian Museum and Hermitage). Only few are in private hands.
His oeuvre is divided in three periods: To the first period belong works made in 1780-1790s, before arrival to St. Petersburg, mainly silhouettes. To the second period belong his miniature portraits from ca. 1800 to 1815 and to the third and last period, works from 1815 to 1824, his death year (this group is not well researched yet).
Provenance: antique store in Heidelberg, Germany
Condition: good; in original brass frame with drawing in eglomise technique on verso
Creation Year: 1802(?)
Measurements:UNFRAMED:7,0x5,8cm/2,8x2,3in FRAMED: 7,5x6,3cm/3,0x2,5in
Object Type:Framed miniature
Style: Portrait miniatures
Technique: watercolor on ivory (oval)
Inscription:signed: Rockstuhl fec.; titled on frame's front; verso: sitter's initials "CF"
Creator: Peter Ernst Rockstuhl
Creator Dates: 1764 Angern, Latvia-1824 St. Petersburg
Nationality:Russian
We will cover shipping with regular registered mail (delivery between 7-14 days) for this item.

OBS: Austrian mail refunds cases of loss or damage with maximum EUR 500.


Fully insured 2-3 days DHL service available upon request and subject to extra charges: office@wilnitsky.net
Click here for images free of watermark!
Click on images or on

to see larger pictures!