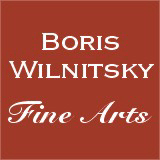 If you have a question about this item,
please contact us at: office@wilnitsky.net
# 43593
Henri Benner (1776-1836) "Anna Petrovna Kozhukhova, nee Princess Trubetskaya", miniature, 1824/26
Price: 9900 EUR
(please note additional Austrian VAT (Value Added Tax) applies for transactions concluded within the European Union)
THE SELLER WILL COVER SHIPPING WITH REGULAR MAIL FOR THIS ITEM!

We acquired this miniature on 20th November 2020, at the sale of one of the German auction houses. It was discovered two weeks before in the pre-sale online catalogue. Just thereafter we found it illustrated in the famous 5-volume-album, completed in 1900s by Grand Duke Nikolai Michailovich of Russia - included into IV volume under No. 122 - as portrait of Anna Petrovna Kozhukhova, executed by an unknown artist (see our image nr.6).
So we are dealing here with of a unique (!) portrait of the highest quality, executed (according to sitter's dress and hairstyle) in mid-1820s, of Princess Anna Petrovna Trubetzskaya (1793-1827), now Mme Kozhukhova, who in the mid-1810s (her first child was born in 1817) married (then colonel, from 1818 to 1828 Governor of Kurskaya Gubernia) Alexei Stepanovich Kozhukhov (1786-1854; see our images nr.9-10).
On this portrait, executed two-three years before her death (surely during one of her usual "a couple months long" winter stays in St. Petersburg - see below) she is already mother of two children.

Contemporaries testified that "she was not a beauty, but it was difficult to find a sweeter and more tender voice, look and smile, slimmer and more flexible than her figure. It was said that the Emperor (Alexander I - B. W.) was not indifferent to her and concluded from the fact that when passing Kursk, he always stayed with her an extra day, and she went to St. Petersburg for two months every winter".

Anna Petrovna died in Moscow, on 29th March 1827 and was buried at the territory of Donskoy Monastery (see our image nr.8).

As we learn from biographical notice about her written by Grand Duke (see again our image nr.6) in the 1900s this miniature was in possession of Count Dmitri Ivanovich Tolstoi (1860-1918 ; CLICK HERE ), well-known art collector, from 1909 to 1818 Director of St.Petersburg Hermitage - superior provenance! Apparently after the latter's death his heirs left Russia, having in their luggage this miniature, which resurfaced over 100 years later at the German art auction market.

But who is the author of this first quality miniature, which demonstrates all stylistic criteria of works of pupils of great Parisian miniaturist Jean-Baptiste Isabey (1767-1855; he was by the way the inventor of that kind of representations of female models with transparent muslin head-scarf floating in the air - CLICK HERE FOR WORKS OF THIS ARTIST IN OUR POSSESSION)?
In each case the author lived in St. Petersburg in the mid-1820s.

An answer to this question was obtained as we compared this miniature with another one (signed!) in our possession, by one of Isabey's pupils who stayed in the Russian capital exactly in that period (see our web # 18345) and especially our image nr.11 and compare aforementioned head-scarves on both miniatures!).
His name was Henri (Jean-Henri) Benner, and from 1815 to 1828 he lived in St. Petersburg working for Court and high society.
Already in his youth Henri (Jean Henri) Benner (1776 Mühlhausen, Thuringia - 1836 Paris) started painting oil portraits and landscapes and probably produced copper engravings as well. He travelled through Paris and Germany and returned to Mühlhausen for a short period (1803/04). He was a pupil of Jean-Baptiste Isabey but it is still unknown when exactly he began studying with the latter.
In 1815 during the congress of Vienna he stayed (like Isabey! Did Benner work there as Isabey's assistant?) in that city and obtained an invitation to St. Petersburg from the Russian court. On the way to Russia he made a stopover in Warsaw which lasted almost one year. He arrived in St- Petersburg in the spring of 1816 and remained in Russia until 1828. He was one of the highest paid miniaturists of the Russian capital working chiefly for the court. He not only portrayed Russian royalties and courtiers but also made numerous copies after "Russian" portraits executed before by his teacher Isabey. Besides that, in 1820 he published a cycle of lithographs after his miniatures. Unfortunately the insolvency of his publishing house led him to financial ruin. In vain he tried to collect his money after 1824 also in Moscow and Kursk. Completely impoverished he returned to his native town Mühlhausen and devoted himself to glass painting.
Condition: good; in original French ormolu frame
Creation Year: 1824/26
Measurements:UNFRAMED:7,5x5,8cm/3,0x2,3in FRAMED: 10,8x9,1cm/4,3x3,6in
Object Type:Framed miniature
Style: Portrait miniatures
Technique: watercolor on ivory (oval)
Inscription:-
Creator: Henri (Jean Henri) Benner
Creator Dates: 1776 Mühlhousen-1836 Paris
Nationality:French
We will cover shipping with regular registered mail (delivery between 7-14 days) for this item.

OBS: Austrian mail refunds cases of loss or damage with maximum EUR 500.


Fully insured 2-3 days DHL service available upon request and subject to extra charges: office@wilnitsky.net
Click here for images free of watermark!
Click on images or on

to see larger pictures!