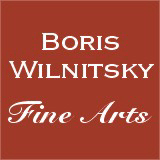 If you have a question about this item,
please contact us at: office@wilnitsky.net
# 43535
Heinrich von Seidel "Leonti Leontievich Bennigsen, his wife, his son", important miniature, 1814
Price: ON REQUEST
(please note additional Austrian VAT (Value Added Tax) applies for transactions concluded within the European Union)
THE SELLER WILL COVER SHIPPING WITH REGULAR MAIL FOR THIS ITEM!

This work is an extremely important discovery in the field of Russian portrait miniature painting. Acquired in April 2018 through antique trade in Germany, this miniature portrait shows the celebrated Russian general, one of the heroes of Russo-French ("Patriotic") War of 1812, Leonti Leontievich Bennigsen (1745-1826) with his fourth wife Ekaterina Faddeevna, nee Buttowt-Andrzeykowicz (1775-1858) and their little son Alexander (1809-1893).

Levin August Gottlieb Theophil (in Russia - Leonti Leontievich), Baron von Bennigsen was born on February 10, 1745 in Brunswick (Braunschweig) into a noble Hanoverian family. His family owned several estates at Banteln in Hanover. Bennigsen served successively as a page at the Hanoverian court and as an officer of foot-guards, and four years later, in 1763, as captain, he participated in the final campaign of the Seven Years' War. In 1764, after the death of his father and his marriage to Baroness Steimberg, he retired from the Hanoverian army, and settled at the estate he owned in Banteln.
In 1773, shortly after reentering Hanoverian service for a brief period, he entered the Russian service as a field officer, and was subsequently accepted into the Vyatka musketeer regiment in the same year. He fought against the Turks in 1774 and in 1778, becoming lieutenant-colonel in the latter year. In 1787, his conduct at the storming of Ochakov won him promotion to the rank of brigadier, and he distinguished himself repeatedly in smashing the Kosciuszko Uprising and in the Persian War of 1796 where he fought at Derbent. On 9 July 1794, he was promoted to Major General for his accomplishments in the former campaign, and on 26 September 1794 he was awarded the Order of St. George of the 3rd class and an estate in Minsk guberniya.
In 1798 Bennigsen was fired from military service by the Tsar Paul I allegedly because of his connections with Platon Zubov. It is known that he took an active part in the planning phase of the conspiracy to assassinate Paul I, but his role in the actual killing remains a matter of conjecture (CLICK HERE). Tsar Alexander I made him governor-general of Lithuania in 1801, and in 1802 a general of cavalry.
In 1806 Bennigsen was in command of one of the Russian armies operating against Napoleon, when he fought the battle of Pultusk and met the emperor in person in the bloody battle of Eylau (8 February 1807). In the Battle of Pultusk he resisted French troops under Jean Lannes before retreating. This brought him the Order of St. George of the 2nd class while after the battle of Eylau he was awarded Order of St. Andrew - the highest order in the Russian empire. Here he could claim to have inflicted the first reverse suffered by Napoleon, but six months later Bennigsen met with the crushing defeat of Friedland (14 June 1807) the direct consequence of which was the treaty of Tilsit.
Bennigsen was heavily criticised for the Battle of Friedland and for the decline of discipline in the army and now retired for some years, but in the campaign of 1812 he reappeared in the army in various responsible positions. He was present at Borodino, and defeated Murat in the engagement of Tarutino where he himself was wounded in the leg, but on account of a quarrel with Marshal Kutusov, the Russian commander-in-chief, he was compelled to retire from active military employment.
After the death of Kutusov, Bennigsen was recalled and placed at the head of an army. Bennigsen participated in the battles of Bautzen and Lützen, leading one of the columns that made the decisive attack on the last day of the battle of Leipzig (16-19 October 1813). On the same evening he was made a count by the emperor Alexander I, and he afterwards commanded the forces which operated against Marshal Davout in North Germany, most notably in the year-long Siege of Hamburg (1813-14).
After the peace treaty of Fontainebleau he was awarded the St. George order of the First Degree - the highest Russian military order - for his actions in the Napoleonic wars in general.
After the general peace Bennigsen held a command from 1815 to 1818, when he retired from active service and settled on his Hanoverian estate of Banteln near Hildesheim. By the end of his life he completely lost his sight. He died on 31 December 1826, eight years after he had retired. His son, Count Alexander Levin von Bennigsen (1809-1893) was a distinguished Hanoverian statesman. Bennigsen wrote the three-volume "Mémoires du général Bennigsen", which was published in Paris in 1907-1908. Though they contain "fascinating" details regarding the Russian wars and battles between 1806-1813, the work often beautifies historical facts.

Besides the aforementioned Order of St. Georg of the 1st class (he received this award on June 22, 1814; in this portrait, he is shown wearing the breast star and the black-orange sash of this order), Benningsen was in possession of the following awards:

- Russian Order of St. Apostle Andreas the First-Called (for the Battle of Eylau; he received this award in 1807; in 1812, he received the diamond insignia of the same order)
- Russian Order of St. Vladimir of the 1st class (awarded in 1812 for the Battle of Borodino)
- Russian Order of Alexander Nevski (awarded on May 15, 1798)
- Russian Order of St. Anna (1796)
- Russian Golden Sword with inscription "For bravery", with diamonds (1794)
- Prussian Order of the Black Eagle
- Swedish Order of the Sword of the 1st class (1814)
- Austrian Military Maria-Theresian Order of the 2nd class (Commander Cross, 1813)
- Later he received the Danish Order of the Elephand (1815), the French Royal Order of the Legion of Honor (February 15, 1815) and Grand Cross of the Hanoverian Royal Guelphic Order (1818; see our image nr.13). The absence of these three awards in "our" portrait is strongly evident that this portrait was executed in 1814, i.e. clearly just after the end of the Russian Foreign Campaign of 1813/1814, when Bennigsen returned to Russsia from Paris, after signing the Treaty of Paris (May 30th, 1814).

Leonti Leontievich was married four times.
His first wife, Friederike, nee Steinberg, died in 1773
His second wife, Elisabeth, nee Meier (Müller?) died in 1776. He had a son with her - Adam Leontievich Bennigsen, who later became a Russian major-general (1775-1816; CLICK HERE).
His third wife Amalie, nee von Schwieheldt died in 1789.
His fourth wife Maria-Leonarda (in Russia - Ekaterina), nee Buttowt-Andrzeykowicz (1775-1858) was the daughter of a nobleman from Grodno gubernia, Faddei Romanovich Andrzeykowicz. One of her brothers was an actual state councillor M.F. Andrzeykowicz, civil governor of Grodno; later - civil governor of Volynia. Her second brother, I.F. Andrzeykowicz was a general.
On August 30, 1814, as a result of her husband's distinctions, Ekaterina Faddeevna was granted the title of a "Kavalerstvennaya Dama" of the Russian Ladies Order of St. Catherine (2nd class). In this portrait, she is not yet wearing this order's cross - an indication that it was painted before (!) August 30, 1814. She died in 1816, in Benningsen's Hanoverian estate Banteln.
This representation of Ekaterina Faddeevna is unique, as no other of her portraits were known so far .

Leonti Leontievich and Ekaterina Faddeevna had only one child - son Alexander Leontievich (1809-1893; see our image nr.14; with time, he became the Prime-Minister of the Kingdom of Hanover; in this portrait, he is five years old).

Lenti Leontievich Bennigsen is depicted here in his "obshchegeneralski" (generals' common) uniform (this type of uniform was introduced for generals of cavalry on April 6, 1814). He is shown wearing the following awards:

- Breast star of the Prussian Order of Black Eagle
- Underneath it - the breast star and black-orange sash of the Russian Order of St. Georg of the 1st class
- Underneath it - the (partially visible) breast star and blue sash of the Russian Order of St. Apostle Andreas the First-Called
- Badge of the Russian "Golden Sword with inscription "For Bravery""
- Neck (Commander) Cross of the Austrian Military Maria-Theresian Order
- Russian silver medal "In Memory of Patriotic War of 1812"
- Neck Cross of the Swedish Order of the Sword of the 1st class

All the arguments used here are instrumental in estimating the period of this portrait's execution as June - August of 1814 .

For extensive biography of L. L. Bennigsen, see our images nr.10-12; also, CLICK HERE and HERE.

Initially thought by us to be a work of Moscow, French-born artist Ivan Michailovich (Jean) Gerin (in Russian spelling "Zheren") this miniature in October 2020 turned out to be an extremely rare (only one other is to see in Russia (now in Moscow Pushkin Museum) handpainted work of Bennigsen's close acquitance, German-born Russian official and portrait artist, Heinrich Seidel (in Russian spelling "Zaidel"). To this conclusion came the currently best specialist in old Russian portraits, Dr. Alexander Kibovskyi, whose article was recently published in Moscow magazine "Diletant" (CLICK HERE and see our images nr.16, 18, 23-24). The thing is that aforementioned miniature in Pushkin Museum is nothing else than... A portrait (doubtless painted by the same hand as presented here one - see image nr.15) of "our" Bennigsen, showing the latter in profile. This portrait was shortly afterwards reproducted by German engraver Johann Joachim Faber (1778-1846). On this engraving one finds also (twice!) name of the original portrait's author - "de Seidel" and "Le Chevalier de Seidel" (French noble prefix "Chevalier de" means his German noble descent - "von Seidel" or "Edler von Seidel").
The engraving contains also a deducation to Mme Bennigsen - "Dedie a Son Excellence Madame le Comtesse Bennigsen nee d'Andrzeykowitz par son tres-humble et tres obeissant serviteur Le Chevalier de Seidel". This deducation means that von Seidel was good acquinted with Bennigsen family. And in reality we find in his biography (completed by Dr. Kibovskyi - see image nr.18) confirmation of this fact - from 1815 von Seidel served as a chief of military police at Bennigsen's headquarters in Ukrainian town (and military base) Tulchin!
Oops! As we said above our portrait of Bennigsen family was executed not later than in summer of 1814. The latter could be explained through sole possibility: Seidel and Bennigsen met for the first time still before the artist made this group portrait. The question is, where Bennigsen did spend summer of 1814 - in Russia (St.Petersburg? Tulchin?) or at his Hanoverian estate?..
Heinrich von Seidel was born on 7th October 1779 in Thuringian town Greiz. His family was obviously a branch of the old Swiss noble family of "Edler von Seidel" (see our image nr.21; "Edler" was the lowest noble title in German-speaking countries).
Nobody knows the exact date of his arrival to Russia where he obtained the "Russian" name "Andrei Yegorovich Zeidel". He was invited to Russia by influential senator Ivan Borisovich Pestel living in Moscow, as a tutor of latter's little sons - Pavel (a future "decemberist") and Vladimir. He was apparently a distant relative of the senator (latter's maternal great-great-grandfather was Johann Paul Seidel, municipal councillor in the Saxonian town Schmole).
He spent some time in Pestel's house in Moscow before the senator sent him to Germany with both boys in 1805 (he wanted for them to obtain German education). The trio spent four years in Germany - at first in Hamburg, later in Dresden - before they came back home to Russia in 1809.
Back in Moscow, Seidel continued to serve Pestel-senior as a tutor of the youngest son Alexander. At that time he was already a married man - in Russian documents you find the names of his wife, Sofia, and his daughter, Elizaveta.
In 1811 he left Pestel and became state official, interpreter at the Moscow Board of Decency, with the rank of "titular sovetnik" (titular councillor). In 1812 he came to St. Petersburg where he obtained a job at the Ministry of the Police with the rank of "nadvorny sovetnik" (court councillor).
After the end of Napoleonic wars (1815) he (already in rank of a "collegial councillor") became head of the military police of 2nd Army of Count Bennigsen (sic!) in Tulchin.
On 19th October 1818 he was awarded Chevalier Cross of Legion of Honor (see image nr.20). To that time he was already in possession of Russian Order of St. Anna of 2nd class. Later, on 14th July 1820 he received also Knight Cross of the Danish Order of Dannebrog. His last mention in Russian documents is dated 1823. Further life of his remains unknown; it is very possible that he returned to native Thuringia...
Provenance: antique trade, Germany

We are very grateful to Dr. Alexander Kibovskyi (Moscow) for his generous help.

mimai2918
Condition: good; in original frame
Creation Year: 1814
Measurements:UNFRAMED:10,7x9,1cm/4,2x3,6in FRAMED: 11,7x10,0cm/4,6x3,9in
Object Type:Framed miniature
Style: Portrait Miniatures
Technique: watercolor on ivory (oval)
Inscription:-
Creator: Heinrich von Seidel
Creator Dates: 1779 Greiz, Thuringia-after 1820 Germany (?)
Nationality:German/Russian
We will cover shipping with regular registered mail (delivery between 7-14 days) for this item.

OBS: Austrian mail refunds cases of loss or damage with maximum EUR 500.


Fully insured 2-3 days DHL service available upon request and subject to extra charges: office@wilnitsky.net
Click here for images free of watermark!
Click on images or on

to see larger pictures!