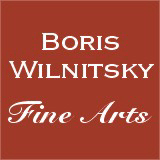 SALE!!! SAVE MONEY !! 1 EUR = 1 USD
# 43476
Rudolph F. Schabelitz "Tatiana Yakovleva, the last but one love of Vladimir Mayakovsky", oil, 1940s
22000 EUR
FINAL DISCOUNT PRICE= 22000 USD
( for EUR price see date rate )
Please note: Shipping and insurance costs are not included in this promotion, ONLY ITEM PRICES!
(please note additional Austrian VAT tax applies for transactions concluded within the European Union)
Found in June 2020 in the US, it is an extremely important and (as it seems) the only known hand-painted (until today we only knew numerous photographic portraits of this lady), portrait, executed in the 1940s in New York, of the last but one love of Russo-Soviet poet Vladimir Mayakovsky - Tatiana Yakovleva, here already (in her second marriage) Mrs. Liberman (1906-1991; CLICK HERE).

Tatiana Alexeevna Yakovleva (in French: Yakovleff, in the first marriage: Yakovleff du Plessis, in the second - Yakovleva du Plessis-Liberman) was born on 25 March 1906 in St. Petersburg and died on 28 August 1991 in Warren, Connecticut, USA. She was a granddaughter of Yevgeny Alexandrovich Yakovlev, Russian engineer, inventor and owner of the first Russian gas and kerosene plant. His wife, and Tatiana's grandmother, Sofya Petrovna, nee Kuzmina was a Russian mathematician. Their son, and Tatiana's father, Alexei Yevgenievich Yakovlev (1881-1950) was architect in pre-Revolutionary Russia. Her mother's name was Lyubov Nikolaevna, nee Aistova.
In 1925 Tatiana left bolshevist Russia and came to Paris (the official reason for this trip was a necessity to cure tuberculosis; a friend of Tatiana's uncle (the Russian artist living in Paris Alexander Yajkovlev) - Monsieur Andre Citroen, famous French automobile manufacturer - helped to obtain the permission for this departure from Russia.
So, at the age of 19 Tatiana, a very beautiful girl, resurfaced in Paris where she immediately obtained a job as a model. Very soon posters with her face were seen on house walls in the whole of Paris.
At first she was chiefly connected with Russian emigrés - she played piano with Sergei Prokofiev four-handed, was courted by Feodor Chaliapin, was a friend of artists Mikhail Larionov and Natalia Goncharova.
Among her close friends was also the sister of Mayakovsky's Moscow mistress Lilya Brik then also living in Paris - the well-known writer Elsa Triolet. The latter brought her together with poet Vladimir Mayakovsky who was staying in Paris. Their first encounter took place on 25 October 1928, in a doctor's waiting room. Mayakovsky fell in love at first sight with the beautiful Tatiana. Since the day they met the saw each other every day - for almost a whole month.
Their affair (CLICK HERE) ended tragically - Mayakovsky moved back to Russia, promising to return soon, but they never met again. There were rumors that Lilya Brik did everything in her power so that the poet did not get an opportunity to go abroad. And Mayakovsky directly said: "If I don't see Tatiana, I'll shoot myself". This is exactly what he did in April 1930 (however, not because of Tatiana, but, as it is believed, because of the Moscow actress Veronika Polonskaya, his last love).
Several months after their last meeting Tatiana married the 29-year-old French aristocrat, Vicomte Bertrand du Plessis. In 1930 she gave birth to her only child - daughter Francine du Plessis (future famous American writer Francine Gray (1930-2019; CLICK HERE for latter's memoirs about her mother). In 1940 Tatiana's husband (already an officer of French Army) died as his plane flying to Africa was shot down by Nazis. Several months thereafter Tatiana married her lover (already since two years), the six years her junior and also Russian emigré, then successful Parisian artist and art historian, Alexander Liberman (1912-1999; CLICK HERE and HERE). Together with the latter and her daughter Francine she left France that was occupied by Nazis (Alexander was of Jewish descent), and on a small yacht they crossed the ocean and arrived in the US in early 1941.
In the same year Alexander became art director of "Vogue" (he remained in that position for the next 53 years!).
Her second marriage made Tatiana really happy. The couple was inseparable (only once they have not seen each other for five days).
Due to Alexander's high position in the world of the Boheme Tatiana soon became one of New York society's most striking style icons. She was closely acquainted with Salvador Dali, Pablo Picasso, Henri Matisse, Coco Chanel, Christian Dior (the latter called her "my muse"), Yves Saint Laurent, Andy Warhol, Jackie Kennedy, Marilyn Monroe, writer Vladimir Nabokov, and before all, her best friend was the great Marlene Dietrich. In her last years poet Joseph Brodsky (CLICK HERE) and ballet dancers Mikhail Baryshnikov and Alexander Godunov were amongst her close friends.
Author of this 1st-class quality Art Deco portrait, Rudolph Frederick Schabelitz (1884-1959) was an American illustrator and painter who was regularly featured in national periodicals.
Born in Staten Island, New York, he was a son of artist Charles F. Schabelitz. He studied at the Art Students League of New York and also took a semester at Munich Academy of Fine Art in Germany. He was a member of the "Salmagundi Club" and societies for illustrators and independent artists.
Our images nr. 18-19 show two of his oil paintings which were offered in late 1990s at US auction house "Illustration House".

Provenance: US antique trade
Condition: fairly good; several minor patches on verso (professionally restored dot-like holes - nothing visible on the front of the painting); in original frame
Creation Year: early 1940s
Measurements: UNFRAMED:74,0x66,0cm/29,1x26,0in FRAMED: 85,0x77,8cm/33,5x30,6in
Object Type: Framed oil painting
Style: 20th century paintings
Technique: oil on canvas
Inscription: signed upper left: Schabelitz
Creator: Rudolph Frederick Schabelitz
To see other works by this artist click on the name above!
Creator Dates: 1884 Staten Island, NY-1959
Nationality: American
SHIPPING COSTS UPON REQUEST:
office@wilnitsky.net
Click here for images free of watermark!
Click on images or on

to see larger pictures!