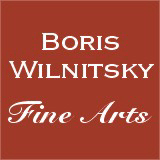 If you have a question about this item,
please contact us at: office@wilnitsky.net
# 43433
Josef Kreutzinger "Marie Therese, Daughter of Louis XVI and Marie-Antoinette", 1799, RARITY
Price: 28000 EUR
(please note additional Austrian VAT (Value Added Tax) applies for transactions concluded within the European Union)


Acquired in April 2019, at Parisian antique trade, this, of highest quality large miniature on vellum is one of the most important graphic works of Vienna court portraitist of late 18th century, Josef Kreutzinger.
Moreover, it is executed by the latter in spring of 1799 (shortly before sitter's departure from Vienna) preparatory drawing for a large-scala oil portrait of the famous French royalty, 21-year-old daughter of Louis XVI and Marie Antoinette, Princess Marie Therese Charlotte de France, Madame Royale. As known she spent 3,5 years in Vienna. She came to this city on January 9th 1796, twenty-two days after leaving the Temple (her prison in Paris, where she was held 3 years long: at first, with her whole family and, toward the end, alone, the only surviving member of this family; on December 18th 1795 she was liberated - she was exchanged for Nicolas Marie Quinette, Baron de Rochemont captured by the Austrians.
On 2nd May 1799 she left Vienna and moved to Mitau (then town in the Russian Courlandskaya Gubernia; now Yelgava in Latvia), where she was awaited by her fiancÚ, Louis Antoine Duke of Angouleme (son of Comte d'Artois and, respectively, her first cousin). Their wedding took place there already in June. In next year Kreutzingert finished his oil portrait of her (obviously lost!) which is known today only through engraving by Kreutzinger's co-laborateur, Vienna artist Johann Neidl (see our image nr.9).

Several years ago we sold another portrait of Marie-Therese, made also in Vienna (two-three years prior) by Vienna miniaturist Johann Maria Monsorno (see our images nr.10-11 and our web # 36562).

For the extensive biography of Marie-Therese and other portraits of her from Vienna stay see our images nr.12-23.



Josef Kreutzinger (also Kreuzinger; 1757 Vienna - 1829 ibidem) studied from 1768 at the Viennese "Academy St. Anna" (Academy of Fine Art) and after 1774 was strongly influenced by Viennese Neoclassical historical painter and portraitist Friedrich Heinrich Fueger who arrived in Vienna this year. Kreutzinger became Fueger's pupil immediately. After a short stay in Munich and several months in St. Petersburg (1793), Kreutzinger returned to Vienna where he later became a sought after portraitist of high society and court (he was also appointed"Hofkammermahler" (court artist)). His works of this period demonstrate a strong influence of English portraitists of the 18th century - Lawrence, Reynolds and Gainsborough. From Lawrence originates the "en-face" representation of faces with a sidewards glance and upper body facing in the opposite direction in three-quarters portraits. Reminiscent of Gainsborough are portraits where the depicted person stands next to their horse. Besides royalties and high aristocracy Kreutzinger's clientele consisted of military persons, scholars and artists. Later he also portrayed representatives of Viennese bourgeosie. He was also active as engraver and portrait miniaturist.
In 1936 one of Vienna's streets was named in Josef Kreutzinger's honor - Kreutzingergasse in the Viennese 12th district.
See other works of this artist in our possession

We are very grateful to our friend and the world's best specialist in portrait miniatures Dr. Bodo Hofstetter for his generous help

jan1719
Condition: fairly good; two minor tears at right edge (see image nr.2)
Creation Year: 1799
Measurements:UNFRAMED:16,5x13,8cm/6,5x5,4in FRAMED: 22,2x19,6cm/8,7x7,7in
Object Type:Framed miniature
Style: Portrait Miniatures
Technique: watercolor on vellum paper, laid on metal and then on cardboard by the artist
Inscription:-
Creator: Josef Kreutzinger
Creator Dates: 1757 Vienna-1829 Vienna
Nationality:Austrian
SHIPPING COSTS UPON REQUEST:
office@wilnitsky.net
Click here for images free of watermark!
Click on images or on

to see larger pictures!