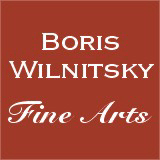 If you have a question about this item,
please contact us at: office@wilnitsky.net
# 43420
Jean-Baptiste Isabey "Konstantin Yakovlevich Bulgakov", 1814, REDISCOVERED PORTRAIT
Price: ON REQUEST
(please note additional Austrian VAT (Value Added Tax) applies for transactions concluded within the European Union)
THE SELLER WILL COVER SHIPPING WITH REGULAR MAIL FOR THIS ITEM!


IMPORTANT DISCOVERY!!


Painted by the great Isabey in late autumn (November? December?) of 1814 (see sitter's fur coat; see also our web #43288), during his stay in Vienna where he arrived in September, accompanying Prince Talleyrand, head of the French delegation to Congress of Vienna (CLICK HERE), this portrait is Isabey's first (!) version of his watercolor (practically of the same size) in the Moscow collection of Galina and Evgeni Sosnovsky (see our image nr.8). The latter is signed and dated: "Isabey /Vienna /1814".

In an attempt to identify the sitter we made a long search through reference sources and online where we inspected numerous portraits of significant residents of Vienna, living there in the aforementioned period as well as foreigners who arrived in Vienna in this period - as participants (members of national delegations) or as observers. From the beginning we suspected that this relatively young man in civil dress and without any awards (sic!) was a Frenchman due to his physiognomic features.

Nevertheless we could not find any possible candidate among the representatives of France. We also checked all other guests of the Congress who arrived from other countries of Southern Europe (Greece, Italy, Spain, Portugal) - also without success.
On the other hand the idea that the signed replica was probably found in Russia by its current owners (there are no traces in the records of Western European auction houses) could mean that the sitter was indeed a Russian. So we began to search among Russian guests of Congress of Vienna and suddenly our attention was caught by a 1830's portrait (see our image nr.13) of a Russian gentleman, who many years before, in 1814, was 32 years old and a member of the Russian delegation to the Congress (assistant of Count Nesselrode). Moreover, his descent was French (!) - he was a son of a Russian father and a French (!) mother.

We talk about Konstantin Yakovlevich Bulgakov (1782-1835), Russian diplomat (later Director of Moscow and St. Petersburg Post Offices and privy state councillor, well acquainted with poet Alexander Pushkin), son of high-ranking diplomat Yakov Ivanovich Bulgakov and French lady named Catherine Ember. As we learn from his extensive biographical material (see images nr.14-15) he was born (as an illegitimate child!) in Constantinople where his father stayed as Russian envoy. In 1790 father officially acknowledged him as his son and as a result he obtained the name Bulgakov and the coat-of-arms of that family.
Before he graduated from St. Petersburg German School of St. Peter he was ascribed (still as 6-year-old boy) to the Life Guards Preobrazhenski Regiment, in 1797 was ascribed (as "junker") to the Foreign Office, but his real service began in 1798 - he became translator (he already spoke several languages) at this department. In 1801 he obtained the rank of a collegial assessor and was transferred to the Moscow Archiv of the Foreign Office. In the following year he became attaché of the Russian embassy in Vienna where he served the next seven years.
As said above, in 1814 we meet him again in Vienna.

It is interesting to note that in the same days of the Vienna Congress Isabey portrayed Bulgakov's chief, head of the Russian delegation Count K. V. Nesselrode and latter's wife (both portraits are illustrated in volume V (No.156-157) of Grand Duke Romanov's "Russian portraits of XVIII and XIX century"). Could this fact lead to the existence of portrait of Nesselrode's assistant, also executed in the same period by Isabey?
This suspicion was fully justified - in published in 2010 in Russian re-print of brothers Bulgakovs' correspondence, in letters of Konstantin Yakovlevich, written in October-November of 1814 in Vienna one finds several mentions of the watercolor portrait presented here.
From these letters we learn that:

a) to Isabey he was recommended by Nesselrode's wife (who herself (as we just learned) was shortly before portrayed by the artist)
b) Isabey preferred to execute this portrait in his main technique then - watercolor on an oval formed card or paper
c) Bulgakov's wish was to be depicted not in his "mundir" (departamental full-dress) but in usual civil dress and without (sic!) any awards (although in autumn of 1814 he was already in possession of several Russian and foreign orders)
d) portrait for which he paid a very high amount of 25 "louis d'or" (600 rubles) was finished by Isabey in November (sic!) 1814.
e) Bulgakov (still staying in Vienna) sent the portrait to his wife in Russia

Our images nr.9-13 provide a good comparison of Bulgakov's known portraits with our one - note the doubtless physiognomic resemblance!

We are absolutely sure our replica is not a copy after the Moscow one. We believe the artist was not satisfied with our (first!) version (see surplus (original!) white gouache touches) and made the second version afterwards which he signed and passed to Bulgakov; the latter (as we also learn from aforementioned letters) sent it to Russia where it resurfaced 200 years later in Moscow Collection Sosnovsky.
On the contrary, our version apparently remained in Isabey's personal archive and resurfaced in 2013 at Christie's London (see our image nr.7).


We add that a portrait of K. Ya. Bulgakov's wife whom he married two months before his arrival to the Congress of Vienna is also in our possession - see our web #39108.


Jean-Baptiste Isabey (1767 Nancy - 1855 Paris) was the most famous of all European portrait miniature painters of the turn of the 19th century. In 1785 he went to Paris to study under David, but the great master had just left for Rome. At first in a tight financial situation, Isabey finally was ordered to paint miniatures of the children of King's brother, Count D'Artois. By means of this commission he came to court, met the Queen Marie-Antoinette and obtained an apartment in Versailles. In 1786 David returned from Rome, accepted Isabey as pupil without payment and favoured him in every way. At the time of the Revolution the artist already acquired significant clientele in Paris. He portrayed most of the Convention members, became one of the intimates of Mme Bonaparte's house. Isabey was a drawing master of Hortense and Eugene de Beauharnais; he controlled the ceremony of Napoleon's coronation and organized festivities for the Empire.
In 1806 Isabey was appointed "Peintre dessinateur du cabinet de S.M. l'Empereur, des ceremonies et des relations exterieurs", and in the following year - "Premier peintre de la Chambre de l'Imperatrice". From 1809 Isabey had a studio in the porcelain factory in Sevres. When in 1810, Napoleon married Marie-Louise, Isabey became drawing master to the latter. In 1812 he went to Vienna to do the portraits of the Imperial Family. He returned there again in 1814 to paint the Congress of Vienna on the order of Talleyrand. He returned to Paris in 1815. With the beginning of Restoration he went to London. On his return in 1820 Louis XVIII appointed him miniature painter and "inspecteur dessinateur, ordonnateur des fetes et spectacles". Charles X gave him the title of royal draughtsman and painter and appointed him officer of the Legion d'honneur in 1825. In 1837 Louis-Philippe appointed him Assistant Keeper of the Royal Museums and gave him an apartment at Versailles. He also had the favours of Napoleon III from whom he obtained a pension of Frs. 6000.
For other portraits of the guests of Congress of Vienna in our possession CLICK HERE.

Provenance:
-Christie's London, June 4, 2013, Lot 127
-English private collection
Condition: good
Creation Year: 1814
Measurements:UNFRAMED:13,0x10,0cm/5,1x3,9in FRAMED: 13,7x10,7cm/5,4x4,2in
Object Type:Framed miniature
Style: Portrait miniatures
Technique: watercolor and whitening on card (oval)
Inscription:-
Creator: Jean-Baptiste Isabey
Creator Dates: 1767 Nancy-1855 Paris
Nationality:French
We will cover shipping with regular registered mail (delivery between 7-14 days) for this item.

OBS: Austrian mail refunds cases of loss or damage with maximum EUR 500.


Fully insured 2-3 days DHL service available upon request and subject to extra charges: office@wilnitsky.net
Click here for images free of watermark!
Click on images or on

to see larger pictures!