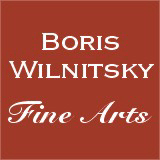 If you have a question about this item,
please contact us at: office@wilnitsky.net
# 43402
Bernard Biget "Marquis de Jumilhac (Napoleon's "L'escadron sacre")", rediscovered portrait, 1822
Price: 11000 EUR
(please note additional Austrian VAT (Value Added Tax) applies for transactions concluded within the European Union)
This painting, acquired in April 2020 at one of the German provincial auction houses, was offered by the auctioneers as a portrait of anonymous Napoleonic (sic!) general, executed in 1822 by French artist Bernard Biget (see our image nr.10).
Nonetheless, due to the date and sitter's French Royal awards the depicted lieutenant general (three stars on epaulettes) served already in Royal Army (period of Restoration).

This mid-aged man bears insignia of the following French and foreign awards:
-neck cross of a Commander of French Royal Order of Legion of Honor
-neck cross and breast star (on left chest) of a Commander of Saxonian Order of St.Henry
-red sash of a Commander of French Royal Order of St.Louis
-white with red borders sash (under the red St.Louis sash) with breast star (on right chest) and cross (on left chest) of a Grand Cross of Danish Order of the Dannebrog. We note that usually sash of this order was borne over the left shoulder (and not the right, as in our case). Respectively the breast star was borne on the left (and not the right, as in our case) chest. As we see the artist preferred to place these both insignia on "wrong" places, so as not to disturb the portrait's composition.
-white pentagonal star with Royal crown, hanging on a dark blue and white ribbon in form of a bow - badge of introduced on 5th July 1816 for "garde nationale" "Ordre de la Fidelite" (variation of established two years before "Decoration of The Lily").

In an attempt to identify this general we turned as usual to the standard source - the 1822 issue of the French "Almanach royal".
Our first step in this search was to find all French lieutenant generals possessing the relatively rare Grand Cross of Danish Dannebrog in 1822.
As shows our image nr.11 in 1822, there were only two lieutenant generals with the Grand Cross of Dannebrog in the ranks of the French Royal Army - a certain Baron Fririon and a certain Marquis de Jumilhac.

It turned out that the first of them, Francois Nicolas Baron Fririon (1766-1840), still possessed the Chevalier (sic!) Cross of St.Louis in 1822 which immediately crossed out his candidature.
In contrary, in 1822 his "competitor", Antoine Pierre Joseph Chapelle, Marquis de Jumilhac (1764-1826) was Commander of both French orders from this portrait - that of St.Louis and that of Legion of Honor.

Further search took less than one minute - the Google search showed a portrait of Marquis de Jumilhac which was nothing else than executed in the same 1822 lithograph... AFTER OUR PORTRAIT (see image nr.12). Moreover, this lithograph was made by the author of our oil portrait, Bernard Biget, himself.

From the biography of Marquis de Jumilhac we learn that in the early period of Bourbon Restoration he also obtained the three other awards from this portrait - French "Ordre de la Fidelite" (1816), Commander Cross of Saxonian St.Henry (1819) and Commander Cross of Danish Dannebrog (1820).

Antoine Pierre Joseph Chapelle, Marquis (since 1798, after the father's death) de Jumilhac was born on 31st August 1764 in Paris as son of a "marechal-de-camp" (two-star-general) of Royal Army and owner of Chateau de Jumilhac in commune Jumilhac-le-Grand, department Dordogne, Eastern France - Pierre Marie Chapelle, Marquis de Jumilhac (1735-1798). At the age of exactly 13 years, on 31st August 1777, Antoine entered (as a 2nd "sous-lieutenant") the "Regiment du Roi-infanterie", where on 26th April 1781 (being then 17) he was raised to "sous-lieutenant". In 1782 (already in ranks of "Regiment du Rouergue") he participated at the siege of Gibraltar.
On 2nd June 1784 he was promoted to captain with transfer to "Regiment Dauphin-dragons". Just thereafter he moved abroad (certain mission?) and travelled through Continental Europe for the next four years, visiting courts of Prussia, Austria, Poland, Russia and Turkey. In St. Petersburg French Ambassador Count Segur even presented him to EmpressCatherine II and Serene Prince Potemkin (see our image nr.15-17).
Back in France he was raised to "major en second" with transfer to "Regiment Colonel General des hussards" on 1st May 1788.
On 25th July 1791 followed his promotion to lieutenant colonel.
On 5th June 1792 he became lieutenant colonel of cavalry of the "garde constitutionnelle du roi" (Royal Guards cavalry).
Two months later, on 10th August 1792 (begin of "Grande Terreur") he was arrested (as an aristocrat) and spent some time in prison. Being released he went to Bordeaux and left France aboard of a Swedish ship.
He came to England and soon thereafter entered "Regiment d'Hervilly" (former "Regiment Royal-Louis"), consisting of French émigrés, where he received position of a "capitaine aide-major" (regiment's adjutant). With this unit he took part in the invasion of France (1795; CLICK HERE) and was wounded twice in the Battle of Quiberon.
Back in England he obtained the Chevalier Cross of St.Louis from the exiled Count d'Artois.
Shortly afterwards he left England and travelled again to Poland and Russia. He spent several years in Russia and returned to France after "18 Brumaire Coup" (9th November 1799).
Back home he lived at his Chateau de Jumilhac in department Dordogne (CLICK HERE and see our images nr.) for the next eight years. All that time he was active as a farmer, local politician and (from 1805-1808) commander of the "garde nationale" of his commune Jumilhac-le-Grand. In 1807 he was a head of a delegation of the Dordogne which (like all other departmental delegations) was sent to Paris to congratulate Napoleon I to the Peace Treaty of Tilsit (1807).
By the way, in 1811, his wife (he was then in the army) sold the chateau, and the family never returned to Jumilhac-le-Grand.

In 1808 he entered the military service again, being appointed major of cavalry of Napoleonic "Légion portugaise" (CLICK HERE).
On 14th December 1811 he was raised to "adjutant-commandant" (rank of a staff's officer corresponding that of a colonel) and on 18th January 1812 he became "chef d'etat-major" (staff's commander) of the 3rd Reserve Cavalry Corps of General Grouchy.

He participated in the Russian Campaign of 1812 (CLICK HERE and see pp. 87-90, 419-423; see also our image nr.19).
On 7th September 1812, in the Battle of Borodino, he was seriously contused. On 11th October for distinction at this battle he was awarded the Chevalier Cross of Legion of Honor.
During the retreat of the Grande Armée from Moscow he fought at Maloyaroslavets.

On 23rd November 1812, in the town Borisov by Berezina (three days prior to the beginning of the tragic (for the French Army) crossing of this river) a provisional "L'escadron sacre" ("Sacred Squadron") was formed - a cavalry unit which entirely consisted of cavalry officers, with those below the rank of colonel serving as troopers. This unit was formed to serve as the Emperor's bodyguard, and it was disbanded 17 days later, on 10th December 1812, in Kowno (now Kaunas, Lithuania), i.e. it continued to exist for a few days after Napoleon I's departure for Paris, on 5th December.
It was commanded by General Grouchy and consisted of four companies (ca. 150 men each). Our Marquis de Jumilhac was appointed staff's commander of the 3rd company (see our image nr.18 and CLICK HERE).

In January 1813, together with the remainders of Grouchy's 3rd Cavalry Corps, de Jumilhac arrived in the Prussian town Glogau on Order.
In March 1813 he became Staff's Commander of the 1st Cavalry Corps and participated in the following Saxonian Campaign.
Being promoted to brigade general (two-star-general) on 18th August 1813, he commanded a cavalry brigade in the Battle of Leipzig (16/19 October 1813).

On 23rd January 1814 he obtained under his command brigade in 3rd Infantry Division of 4th Corps in Mainz.
On 14th July 1814 (already Bourbon Restoration) he was appointed military commandant of department Vosges.
On 30th August 1814 followed his promotion to lieutenant general.
On 1st October 1814 he was appointed military commandant of department Maine-et-Loire but apparently refused (or he was ill?) to take this position and he was non-active for a short time.

On 6th March 1815, several days after Napoleon's return to France, he, remaining loyal to the Bourbons, was appointed commander of a cavalry division of Army of Lyon (comte d'Artois).
On 19th March 1815 he became Commandant of 16th Military District in Lille. He remained in that function until his death on 19th February 1826 in that city.
Three years before, in 1823, he was awarded the upper class of the St.Louis - Grand Cross.

We add that Marquis de Jumilhac was a brother-in-law of famous French emigré in Russia, Governor-General of Novorossiyskaya Gubernia (Southern Russia), in early Restoration period even French Prime-Minister, Armand-Emmanuel duc de Richelieu (1766-1822; CLICK HERE); in ca. 1803 he married latter's step-sister, Armande Simplicie Gabrielle de Vigerot du Plessis, Princess de Richelieu (1788-1840). They had two sons:
Armand Francois Odet Chapelle de Jumilhac, duc de Richelieu (1804-1879; he succeeded his maternal uncle (who died without issues) as duc de Richelieu). Later he became Pair of France
and Armand Henri Marcel Chapelle de Jumilhac (1808-1862).

A strange situation one sees with the family name of the author of this painting, Bernard Biget.
Obviously his real family name - Bigot (as he called himself in his autobiography from 1853 (see our images nr.24-25) - was not convenient for his professional career (French "bigot" means "pharisee" in English), so the artist changed it to the more plausible "Biget".
He was born on 15th October 1782 in Besancon, Eastern France. He studied at the local art school under painter Laurent-Bruno Francois Jourdain and during this study obtained the 1st Prize. In 1805 he moved to Paris. Being recommended to living there his town-fellow, sculptor Dejoux he became for several years latter's pupil studying drawing after antiques and copying Old Masters in Louvre. Parallely he took lessons with staying in Paris Spanish painter Jose Aparicio y Inglada, who was pupil of David. Besides that he also visited the studio of female artist, historical and portrait painter, Marie Guelhelmine Benoist (he painted some details on latter's works). In 1810 he followed the invitation of the ducal family Gramont to come to Avignon where he painted portraits of this family's members. Afterwards he moved to department Vauclise (namely the towns Orange and Cavaillon) where in 1810/11 he was commissioned for full-length portraits of Napoleon I.
In late 1811 he came back to his native Besancon. There he also executed numerous portraits.
In 1815, Russian Tsar Alexander I, staying in Paris, wished to see famous French nun, the artist's aunt Anne Biget (1749-1824; see our image nr.26). The latter came to Tsar together with her nephew who then again lived in Paris.

In 1822 (sic!), at the exhibition in Lille (sic!) Biget won a silver medal. He remained in that city for a whole period of this exhibition, and it is known (see again our image nr.25) that he executed there the portraits of...MARQUIS DE JUMILHAC, LIEUTENANT GENERAL AND COMMANDANT OF 16TH MILITARY DISTRICT (!!! - our portrait!!) and that of latter's son, Armand Francois Odet, duc de Richelieu.

Bernard Biget died in Paris after 1855. His most known work - portrait of his aunt Marthe Biget (Bigot) is to see in Chateau Fontainebleau (see image nr.27; second replica - in Musée Besancon (see image nr.26)).
Our images nr.28-31 show several other portrait works of this artist.

Provenance:
-inventory sale of a castle in Lower Bavaria
-auction house "Rütten", Munich, 2020.
Condition: good; in original frame in Empire style
Creation Year: 1822
Measurements:UNFRAMED:64,3x54,3cm/25,3x21,4in FRAMED: 75,1x65,6cm/29,6x25,8in
Object Type:Framed oil painting
Style: 19th century paintings
Technique: oil on canvas
Inscription:signed and dated: Biget /1822
Creator: Bernard Biget
Creator Dates: 1782 Besancon-after 1855 Paris
Nationality:French
2-3 days door-to-door shipment, professionally packed by Mail Boxes Etc and shipped with DHL (calculated for US): 308,55 EUR + insurance 1,8% of item price
Shipping cost to other destinations (worldwide) on request
Shipping price may be reduced if you dispense with the frame


Cheaper alternative (may be further reduced if you dispense with the frame): professionally packed by Mail Boxes Etc and shipped with regular Austrian mail - upon request under office@wilnitsky.net (OBS: In this case maximal refunded insurance value is EUR 500 if shipping destination was the US. In Europe sometimes more, depending on destination.)
Click here for images free of watermark!
Click on images or on

to see larger pictures!