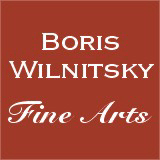 If you have a question about this item,
please contact us at: office@wilnitsky.net
# 42701
Eduard Rieck (b. 1804) "Ride of Princess of Liegnitz", important small painting!!, 1840
Price: EUR
(please note additional Austrian VAT (Value Added Tax) applies for transactions concluded within the European Union)
SOLD!!!

A mix-up concerning the Prussian horse artist "E. Rieck" reigned supreme up until 2004 (this year saw the publication of the book "Zerstört - Entführt - Verschollen /Die Verluste der preussischen Schlösser in Zweiten Weltkrieg", Potsdam 2004 - see our image nr.9). "E. Rieck" was the signature most frequently used by the artist; several paintings signed as such, which have surfaced at antique art market in the 20th and 21st centuries, were ascribed to artist "Ernst Rieck, 1st half of the 19th century (i.e. no dates of his birth of death were ever mentioned, let alone the artist's geographical location).
The publication of the aforementioned book is drawing a line between two artists:
1) "E. Rieck" - Potsdam horse painter Eduard Rieck and
2) his town-fellow and namesake Ernst Rieck, who was 24 years younger

The former was an equerry (stall master) at the Royal Stables of Potsdam and (as one will learn from our painting, as well as his other two works (see our images nr.10-11)) - a 1st-class horse painter, who was clearly taught by one of the Royal artists (Franz Krueger? - for example, see our image nr.14). He was born in 1804 and worked in Potsdam until 1864 (the date of his death remains unknown).

The latter - Ernst Rieck - was born in 1828 in Potsdam (i.e. in 1840, when "our" painting was executed, he was only twelve!). In 1858-1865, he was mentioned as a landscape artist working in London.

It appears that the oeuvre of Eduard Rieck was limited to subjects relating to Potsdam region, such as horse rides of royalties and courtiers, scenes including Guards cavalrymen, portrayals of horses, etc.

Our very small (11.2x16cm) painting, dated "1840", shows a ride of morganatic wife of King Friedrich Wilhelm III - Princess Auguste von Liegnitz (1800-1873; see our image nr.13). One year later, it was followed by a larger version (with altered composition - see our image nr.8). In both versions, one spots Princess' important companion (he is the rider in military uniform) - Crown Prince (in 1840) Friedrich Wilhelm (in one year (1841), he will become King Friedrich Wilhelm IV - CLICK HERE). The Princess' husband was unable to accompany her, for in 1840, he was already 70 and ill; he died on June 7, 1840 (our painting was likely painted in spring of the same year).
For other portraits of the Princes in our possession, CLICK HERE.

Provenance: private collection, Germany

midec1318
Condition: fairly good; insignificant craquelure throughout
Creation Year: 1840
Measurements:UNFRAMED:11,2x16,0cm/4,4x6,3in FRAMED: 31,9x36,1cm/12,6x14,2in
Object Type:Framed oil painting
Style: Horse paintings
Technique: oil on panel
Inscription:signed and dated: Rieck 1840
Creator: Eduard Rieck
Creator Dates: 1804-was active in Potsdam
Nationality:German
SHIPPING COSTS UPON REQUEST:
office@wilnitsky.net
Click here for images free of watermark!
Click on images or on

to see larger pictures!