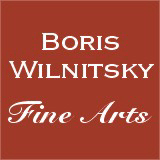 If you have a question about this item,
please contact us at: office@wilnitsky.net
# 42487
Johann Baptist Seele (1774-1814)-Attrib. "Horse training", oil on canvas, 1795/1800
Price: EUR
(please note additional Austrian VAT (Value Added Tax) applies for transactions concluded within the European Union)
SOLD!!!

Executed (based on attire of the depicted persons) in the late 1790s, this oil-on-canvas painting seems to be a work of Wuerttembergian artist of the turn of the 19th century - Johann Baptist Seele (for comparison, see our images nr.9-10).
Johann Baptist Seele was born on the 27th of June 1774 on Messkirch, Baden-Wuerttemberg, and died (at the age of only 40) on the 27th of August 1814 in Stuttgart. He was a son of a corporal. Seele spent his childhood years in Huefingen and Donaueschingen. Already as a young boy he began making military drawings. At the intercession of the Princess Antonia von Fuerstenberg, he became in 1789 a student of the Hohe Karlsschule in Stuttgart. From 1792 he was active in Donaueschingen. As one gathers from Thieme-Becker, in the 1790s, exposed to numerous troops plaguing and passing through his country, Seele became fascinated with military genre, narratives of living and "hustle and bustle" (sic!), as well as in soldiers engaged in deeply moving acts. Parallel to that, he worked on portraits of members of the Court of Princely family Fuerstenberg, in 1800 portrayed the Austrian Commander-in-Chief, Archduke Carl; in 1801 was active at the Court in Karlsruhe. From 1798, with brief interruptions, he lived in Stuttgart; where in 1804 was appointed Court artist and Director of Royal Gallery. In 1808/09 he studied in Munich. In 1810, Seele completed his most important monumental battle painting "The Capture of Pfenningsberg by Linz", which became a highly reliable source for specialists in uniformology.
Works of Seele can be viewed in various German museums. A great number of his military drawings, gouaches and watercolors are housed in the collection of Princess Fuerstenberg in Donaueschingen.
Provenance: German antique trade

mijul2418
Condition: fairly good; lined
Creation Year: 1795/1800
Measurements:UNFRAMED:33,5x43,5cm/13,2x17,1in FRAMED: 43,8x54,6cm/17,2x21,5in
Object Type:Framed oil painting
Style: Old Master paintings
Technique: oil on canvas
Inscription:-
Creator: Johann Baptist Seele
Creator Dates: 1774 Messkirch-1814 Stuttgart
Nationality:German
2-3 days door-to-door shipment, professionally packed by Mail Boxes Etc and shipped with DHL (calculated for US): 209,11 EUR + insurance 1,8% of item price
Shipping cost to other destinations (worldwide) on request
Shipping price may be reduced if you dispense with the frame


Cheaper alternative (may be further reduced if you dispense with the frame): professionally packed by Mail Boxes Etc and shipped with regular Austrian mail - upon request under office@wilnitsky.net (OBS: In this case maximal refunded insurance value is EUR 500 if shipping destination was the US. In Europe sometimes more, depending on destination.)
Click here for images free of watermark!
Click on images or on

to see larger pictures!