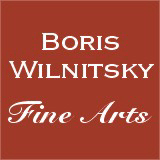 SALE!!! SAVE MONEY !! 1 EUR = 1 USD
# 40602
Jean Louis Demarne (1752-1829) "Le Depart Du Soldat", rediscovered important work!!, 1806/14
40000 EUR
FINAL DISCOUNT PRICE= 40000 USD
( for EUR price see date rate )
Please note: Shipping and insurance costs are not included in this promotion, ONLY ITEM PRICES!
(please note additional Austrian VAT tax applies for transactions concluded within the European Union)
This important and exceedingly qualitative oil painting by Belgo-French turn of the 19th-century artist Jean Louis Demarne appears to have been missing from the international antique market for almost 150 years, and have all this time belonged to a certain private property. Jacques Watelin - the author of the monograph on the artist - listed this work in his catalogue raisonée (see our image nr.15) under the No. 853 - "Le Depart Du Soldat /Dans l'interieur d'une chaumiére, un veteran décoré de la Légion d'honneur recoit les adieux de son fils soldat. A la porte, un sergent parle avec un paysan. T. 0.47X0.64. /V. Monguier, 10 mars 1866. 1200 fr." (English: "The departure of a soldier /In the interior of a peasant's house, a veteran decorated with Legion of Honor receives a farewell from his soldier-son. At the door, a sergeant speaks with peasant. Canvas 0,47 x 0,64cm (surely, it refers to the image in frame; it is practically the same size as our painting - B.W.). /Vente (sale) Monguier, 10 March 1860. 1200 francs (a very high amount for that period - B.W.)".
We have established that the aforementioned "V(ente) Monguier" (clearly, it refers to estate of the freshly deceased collector or art dealer by the name Monguier) was realized by "commissaire-priseur" (auctioneer) Me (Maitre) Charles Pillet in the greatest Parisian auction hall "Hotel Drouot". Although unable to find this sale's catalogue on the Web, we have here and there come across mentions of a very important painting offered at this auction. We should add that, besides our work, this auction offered four other oil paintings by Jean Louis Demarne!

The depicted multifigured scene is particularly interesting for its two main characters in the center of the composition: the old Napoleonic veteran (formerly a dragoon; note his gear stowed on the shelf above his head, close to the bust of his beloved Napoleon) decorated with the Cross of (introduced in 1804) Legion of Honor and his son, who is wearing a military uniform, bidding him farewell.
It is quite apparent that the father (due to his advanced age, he must have served still in the pre-Napoleonic, Republican Army) just recently quit his service, for his leg wound is still fairly fresh. His son (clearly, just before, he was recruited to a regiment formed in the area, and is now on his way to the front) just made a farewell visit to his parents' house; he is accompanied by his sergeant, who is outside, waiting for him at the door). The son is wearing a white with yellow facing colors and yellow metal buttons uniform that corresponds to (briefly existing between 1806-1807) the uniform of Napoleonic Line Infantry, namely that (see our image nr.31) of the 73rd Regiment. Clearly, the artist used this type of uniform due to its colors favorable for highlighting the center of the composition. In reality, the 73rd Line Infantry Regiment was disbanded as early as 1803. The artist never saw the actual uniforms and only relied on publications of the early 1806 announcing the new regulation (CLICK HERE).
This very scene was preceded by a farewell meal attended by family and neighbors: the women are shown still clearing the tables.

We would like to note that a painting with such obvious pro-Napoleonic subject matter could only have been made during the period of the 1st Empire (i.e. between 1806/07 (note the son's white uniform) and 1814). It is impossible to imagine that fashionable painter Demarne would dare to paint this subject in the period of Bourbon Restoration (1814/15-1830; he died in 1829, i.e. one year before the end of this epoch).
Jean Louis Demarne (also De Marne; called Demarnette) was born in Brussels, Belgium in 1752 (Saur) or 1754 (Thieme-Becker) and died in 1829 in Parisian suburb Batignolles. At the age of 12, following the death of his father - an officer in the service of Austrian Emperor posted in Brussels - he moved with his mother to Paris. From 1769, he was a pupil of historical painter Gabriel Briard. In 1774, he lost the Prix de Rome to his opponent Jacques-Louis David. Disenchanted in history painting, he began to paint landscapes and genre scenes, mostly with animals. In 1783, he became an "agréé" (Associate) of the Academie Royale de Paris, yet never a "member". In the same (1783) year, he and artist Nicolas Antoine Taunay went to French Switzerland, where they made studies after nature; probably, in the same period, Demarne stayed in Normandy for a short time.
As he had no concern for official recognition due to his rather weak professional ambitions and (apriori) profitmaking interests, Demarne did not benefit from Napoleon I' patronage of the arts. In fact, in 1815, he declined the membership in the Institute de France. Finally, in 1828, he did accept the award of the Legion of Honor, becoming its Chevalier.
During his lifetime, Demarne was greatly valued by most esteemed collectors of his time, especially by Comte de Nape (in 1817, he had 13 works of Demarne in his possession), Empress Josephine (4 works), painter Carle Vernet and (especially!) some Russian aristocrats. He also enjoyed important commissions from the state; for instance, in 1806, Baron Vivant Denon ordered the scene "Napoleon et Pie VII a Fontainebleau" for Palace of Fontainebleau (finished in 1808; now in Palace of Versailles); in 1815, the French state acquired two of Demarne's important paintings - "La Route" and "La Foire" (both are now at the Louvre).
Although Demarne's career flourished in France, he was especially influenced by Dutch 17th-century paintings and artists such as Karel Dujardin and Nicolaes Berchem (particularly by their portrayal of animals), as well as Albert Jacobsz. Cuyp, Adiaen and Isaac von Ostade.
Besides that, he often made figural staffage on paintings of his colleagues - French artists Lancelot Théodore de Turpin de Crissé, César Van Loo, Georges Michel, Lazare Bruandet, Louis Leopold Boilly (sic!), Jacques Francois Joseph Swebach, Simon Mathurin Lantarat, Xavier Leprince and Alexandre Louis Robert Millin du Perreux.
Woks of Jean Louis Demarne can also be viewed in museums of Amiens, Bordeaux, Brussels, Chateauroux, Cherbourg, Dieppe, Dijon, Grenoble, Le Havre, Montpellier, London (the Wallace Collection), Moscow (Pushkin Museum), Munich, Orleans, St. Petersburg (Hermitage), Toulouse, etc., etc.
On the current antique market, his paintings achieve remarkable prices (up to US $125,000).
Provenance: Vienna auction house "Dorotheum", 20 October 2016, Lot 01327 (see our image nr.32)

mijan25ap16
Condition: good; lined in the 19th century
Creation Year: 1806/14
Measurements: UNFRAMED:49,0x65,0cm/19,3x25,6in FRAMED: 65,5x81,0cm/25,8x31,9in
Object Type: Framed oil painting
Style: Genre paintings
Technique: oil on paper, laid on canvas by the artist
Inscription: -
Creator: Jean Louis Demarne (Marne)
To see other works by this artist click on the name above!
Creator Dates: 1752 or 1754 Brussels-1829 Battignolles
Nationality: Belgian
SHIPPING COSTS UPON REQUEST:
office@wilnitsky.net
Click here for images free of watermark!
Click on images or on

to see larger pictures!