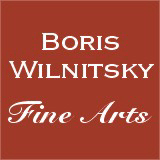 SALE!!! SAVE MONEY !! 1 EUR = 1 USD
# 40345
Josef Grassi and Ludwig Doell "Duke August of Saxe-Gotha-Altenburg and His Second Wife", 1807
50000 EUR
FINAL DISCOUNT PRICE= 50000 USD
( for EUR price see date rate )
Please note: Shipping and insurance costs are not included in this promotion, ONLY ITEM PRICES!
(please note additional Austrian VAT tax applies for transactions concluded within the European Union)
Upon discovering these two portraits at the online, pre-sale catalogue of US auction house "Clars Auction Gallery" (see our image nr.20), our first feeling was that of dealing with newly resurfaced (and probably unknown to art historians) works of a great Austro-German portraitist, Dresden court artist Josef Grassi, for their stylistic criteria were at first site implicative of his authorship.
However, having closely examined the female portrait, we have noted that the (rather obvious) elongation of the sitter's hand - a detail that promptly reminded us of the girl's hand in our "Pandora" (see our web #25951). This latter painting was produced by Ludwig Doell - Grassi's best pupil and his "close friend" (both men were never married; together, they undertook two journeys to Italy, both lasting several years; after Grassi's death, Doell inherited his teacher's estate. For similar couple of German male artists see our image nr.53).
We immediately turned to Google's image search for Doell's works (CLICK HERE) and discovered... a portrait of the same man, whom we present here (see our image nr.21). It has emerged that we are dealing here not with a portrait of Duke Ernst I of Saxe-Coburg-Gotha (1784-1844), as the auction sale catalogue suggested, (see our image nr.20), but that of the latter's father-in-law, Duke August of Saxe-Coburg-Altenburg (1772-1882), which Doell supposedly painted in 1807. Respectively, its counterpart - the portrait of a female - was not a portrait of Duke Ernst I' wife Louise, but that of Duke August's second wife, Princess Karoline Amalie of Hesse-Kassel!
The "twin-brother" of our male portrait that we discovered on the Web is the first (or second?) variation made by Ludwig Doell. It is on display at Castle Museum "Schloss Friedenstein" in Gotha (CLICK HERE). It is likely that the same collection hosts (hosted?) a version of (similarly discovered on the Web - see our image nr.36) "our" female portrait (the photograph offered by "Clars Auction Gallery" auctioneer revealed two slight differences between these two paintings:
a.) the models of the first and second female sitter's gowns and
b.) the addition of a third string to the second sitter's rivière of pearls
As it will turn out later, this difference between the dress models resulted from the repainting applied during an earlier restoration. After our restorer removed this paint coat, we were able to see that the "resurfaced" part of "our" sitter's dress is identical with the one found in the Web version (for comparison, see our images nr.5 and nr.36).
We would also like to add that the Web-version of "our" female portrait bears the correct title, namely the correct name of the sitter. Its present whereabouts are, however, unknown.

The "Clars Auction Gallery"' catalogue's entries for both male and female portraits also provide their provenance: both of them originate from the estate of certain E. von Lorenz from St. Paul, Minnesota, USA.
Not only did we find information concerning this man on the Web (his full name was Ernst Emile von Lorenz (1861-1947); he immigrated to the US in 1879), we also came across an illustrated mention of "our" paintings and biography of their owner Mr. von Lorenz in a local newspaper (see our images nr.50-51)!!!
Generally, the cases of auction catalogue entries providing incorrect sitters' names are quite typical; they reflect on how family legends evolve over several generations of owners. In our case, they also inform that both portraits were gifts from Duke Ernst I and his wife Louise (daughter of factual sitters!) to Mr. von Lorenz' "great-grandfather", who was the Marshal at the Court of Queen Victoria (in reality, he was a Marshal at the Court of Queen Victoria's parents-in-law (see below) - Duke Ernst I and Duchess Louise).

The male sitter in "our" portrait, August, Duke of Saxe-Gotha-Altenburg, was probably the most eccentric of all German royalties living at the turn of the 19th century.
He was born on November 23, 1772, in Gotha as the second son of Ernst II, Duke of Saxe-Gotha-Altenburg and Princess Charlotte of Saxe-Meiningen. In 1779, the death of his older brother Ernst made him the heir (Crown Prince) to the duchy of Saxe-Gotha-Altenburg.
He was already a supporter of Napoleon Bonaparte, when he succeeded his father in 1804, which was an advantage in the Napoleonic wars. Napoleon, who always started his letters to August with "mon cousin" and ended them with "votre cousin", visited the Duke several times in Gotha.
August was known as a patron and collector of art. He was also seen as an eccentric, with a penchant for shocking or provocative appearances. His tendency towards transvestism is characteristic: he used rouge to color his cheeks, lipstick, sometimes wore face patches. Additionally, he used to alternate wearing curly blonde or brown wigs (one can see it well in our portrait, as well as the portrait in our image nr.30 and nr.39) with wearing his hair in a natural manner on a whim. The court often witnessed in great astonishment August' appearances in curly wigs dyed half blonde half black. He frequently changed his attire: sometimes he would walk around dressed as a Hindu priest, sometimes - as a rabbi or a Greek. More often, however, he would wear antique women's dresses, adorn his fingers and wrists with jewelry, wrap a veil around his head and pose on a sofa, looking as a beautiful Greek woman surrounded by her adorers (see our image nr.31 and CLICK HERE).
He also had a fondness for dancing, wearing silk socks and feminine clothes. He called himself "Emilie" among his friends. There are references to a possible homosexuality in his literary works ( we assume that his preference of Grassi and Doell in their capacity as portraitists can be explained by their shared (as mentioned) alleged sexual orientation - B.W. ).
After Napoleon's final defeat at Waterloo and the Congress of Vienna, August (a loyal Bonaparte's adherent) became a "persona non grata" in aristocratic and diplomatic circles. He died on May 17, 1822, in Gotha (our images nr.22-27 offer his extensive biography).

In this portrait, Duke August is depicted as a Commander of St. John (Maltese) Order (he wears a corresponding uniform - compare with our web #36596) and bears the neck cross of St. John). He also bears the insignia of the Russian Order of St. Andrew the First-Called (awarded on December 25, 1791).

Still in the autumn of 1799, in Ludwigslust, Duke August married his first wife Louise Charlotte, Princess of Mecklenburg-Schwerin (see our images nr.32-33). They had one child, daughter Louise (see our image nr.34), who later became the mother of Queen Victoria's future consort, Prince Albert of Saxe-Coburg-Gotha.
Louise Charlotte died on January 1, 1801. Fourteen months later, on April 24, 1802, in Kassel, Duke August married his second wife, Princess Karoline Amalie of Hesse-Kassel (the sitter in our female portrait! - B.W.).

Karoline Amalie (see our images nr.37-41) was born on July 11, 1771, in Hanau, as a second daughter of Landgrave (and later Prince) Wilhelm I of Hesse and his wife Wilhelmina Caroline, nee Princess of Denmark (daughter of King Frederick V). After she and Duke August got married in Kassel on April 24, 1802, Karoline Amalie became the stepmother of her husband's daughter Louise. In 1804, after the death of her father-in-law, she became the Duchess Consort of Saxe-Gotha-Altenburg. A few years thereafter, the Ducal couple became estranged, and Karoline Amalie withdrew herself from court life and the public in general increasingly since 1810. One main reason for this (according to her biographer) was the enthusiasm of her husband for Napoleon, which the Duchess didn't share - her parents had been forced to flee into exile after the occupation of Hesse-Kassel by the French army in 1806 (we suppose, however, that the second, more substantial reason for it was August' homosexuality and the eccentricity linked to it).
After her husband's death in 1822, Karoline retired to Gotha Winter Palace (see our image nr.42 and CLICK HERE) as her widow's seat. It was at the Winter Palace that Karoline received the Royal British Couple (Queen Victoria and Prince Albert) on their visit to Germany in August 1845. The local newspaper wrote on this occasion "everyone in Gotha rejoiced of happiness, when the revered noble princess, the widowed Duchess Carolina Amalia received the sublime wife of her beloved grandson, Prince Albert, in her maternal arms".
Prince Albert (the youngest child of Karoline Amalie's stepdaughter Louise) was the favorite step-grandson of the Dowager Duchess.
On February 22, 1848, Karoline died in the Winter Palace, aged 76. She was buried next to her husband on the Parkinsel (isle on the lake of their residence pond) in Gotha.

And now - a very interesting outcome concerning the factual authorship of the first couple of portraits (as said above, one of them is in collection of Castle Friedenstein) and, respectively, our pair. As already mentioned (once again, see our image nr.21), the male portrait from Castle Friedenstein is catalogued as an 1807 work of Ludwig Doell. In 1807, Doell was 18, and have studied with Grassi for one year only. Grassi by then had already painted several portraits of Duke August and Karoline Amalie (for examle, see our image nr.39). If we thoroughly examine one of Grassi's portraits of Duke August seated at his desk (see our image nr.30), we will see the same "elongated" hand as in "our" portrait of Karoline Amelie (and that of the girl's hand in Doell's "Pandora" (see our web #25951 ).
Grassi's study for his 1804 portrait of the Duke August (see our image nr.39) shows the touch of the same master!!
Moreover, the (only extensive) publication on Ludwig Doell, namely the article "Friedrich Ludwig Theodor Doell" based on Oberbaurat (Chief Architect) Otto Boretsch's lecture of February 18, 1895, and published in April of the same year in two consecutive Sunday issues of "Altenburger Zeitung" (see our images nr.43-45) never mentions any similar, independent works of the young art student Doell around 1807.
On the contrary, the earliest mentions of his singlehandedly produced portraits of Duke August (and his wife) stem from 1811 and 1812…

Hence, our hypothesis: both pairs of portraits are none other than collective works of both the master and the pupil. Grassi (he was then staying in Dresden with his pupil Doell) received a commission from Duke August to paint two (or, possibly, more, for the paintings could have very well been intended to be prospective gifts) pairs of portraits - of August himself and his wife. Basing his work on portrait studies that he made back in 1804 (once again, see our image nr.39) Grassi himself produced preliminary outlines, yet instructed his 18-yearl-old pupil to finalize the paintings .


Josef (Maria Giuseppe) Grassi was born in Vienna on 22. April 1757, as the younger brother to the sculptor and porcelain modeller Anton Grassi. Their father, Ottilio, was a goldsmith from Udine, Italy. In 1768, aged 11 (!), he began studying at the Vienna Academy of Fine Arts, and very soon achieved great success, especially among women, as a skilled portraitist, miniaturist and later as painter of larger portraits in oil. Nevertheless, at the end of his studies, in 1791, he felt that he was being treated unfairly at the Academy when he lost a competition for a travel scholarship; hence he took the advice of some friends who were Polish nationalists and moved to Warsaw. There he became a teacher of Teresa Jablonowska and established himself as a successful portrait painter. On the recommendation of Jean-Baptiste Lampi, he even got the vacancy of a painter at the court of the Polish King Stanislaus August II and advanced to the favourite portraitist of Polish court and high aristocracy.
In 1791 the Vienna Academy elected him member of Academy for his portrait works.
When the Kosciuszko Uprising broke out in 1794, he was able to leave the battle zone through mediation of Kosciuszko, whose portrait he had painted. Together with his pupil Johann Niedermann who also stayed in Poland during that time he returned to Vienna.
1797 was obviously the year of Grassi's first visit in Castle Sagan in Silesia (now Zagan, Poland). Later stays at the castle followed. The Duchess Wilhelmine von Sagan is supposed to be the person who helped Grassi to commissions and to an Academy professor title (1799) in Dresden, where he taught along with Anton Graff. He took two leaves of absence during his stay in Dresden, one to Gotha in 1804 where he decorated a bedroom for Duke August of Saxe-Gotha-Altenburg, painted portraits of the Duke and his wife and scenes illustrating literature works of the Duke, and another to Rome from 1808-1810 as a member of the Accademia di San Luca. From 1816 to 1821 he stayed in Rome again, serving as the "Director of Studies for Saxon Artists in Italy". At that time, however, the Nazarene movement came into vogue, and his work was ignored so he returned to Dresden. Here, he lived a secluded life without any official job, and died on 07. January 1838.
He was a bearer of the Grand Cross of Saxonian Civil Order and had a title of "Geheimer Legationsrat" (Privy Legation Councilor) which he obtained from Duke August of Saxe-Gotha-Altenburg.

Ludwig Doell was born in 1789 in Gotha in the family of the sculptor Friedrich Wilhelm Eugen Doell. Initially trained by his father and by the royal painter Kuehner in Gotha, in 1805, he became a pupil of Goethe's friend Heinrich Meyer in Weimar. From 1806, he was a pupil of the famous Neoclassical portraitist Joseph Grassi at the Academy of Dresden. Together with Grassi, Doell made two long study trips to Italy: in 1809-1811 and in 1817-1821.
During these stays, he was mainly copying Old Masters, but also painted his own compositions. Between 1807 and 1822, Doell was sponsored by Duke August of Saxe-Gotha-Altenburg, who regularly gave him numerous portrait commissions. In 1812, Doell was appointed the director of drawing school in Altenburg, and along with this occupation had a close connection to Gotha court during the following years.

Provenance: In the night of March 6, 2016 we received two emails (see our image nr.60) from Mrs. Elisabeth Chantry, great granddaughter of portraits pre-owner, Ernst Emile von Lorenz. Provided by her information allowed us to restore following provenance:
1.) Duke August of Saxe-Gotha-Altenburg (the sitter in the male portrait, which is presented here)
2.) The latter's daughter, Princess Louise of Saxe-Gotha-Altenburg. From 1817 until her divorce in 1826, she was the wife of Duke Ernst I of Saxe-Coburg-Gotha. It was exactly in this period (1817-1826) that both of "our" portraits were given as presents to their Court Marshal, on occasion of the latter's wedding.
3.) Marshal at the Court of Duke Ernst I of Saxe-Coburg-Gotha. According to the aforementioned article in St. Paul's (Minnesota, USA) local newspaper (see our image nr.50), he died in "ca. 1826". Was his name Ernst Friedrich von Schlotheim, Oberhofmarschal (Senior Court Marshal) of the Duchy Saxe-Coburg-Gotha (see our image nr.52)?
4.) One of the Court Marshal's offsprings.
5.) Helen von Brixen, daughter of Emil von Brixen, colonel in army of Principality Reuss in Gera, Germany. Helen was married Paul Hugo, Freiherr (Baron) von Lorenz (1837-1876), son of Ernst Constantine, Freiherr von Lorenz from Nitzschka by Leipzig and Augusta Mahlmann (daughter of Leipzig poet and play weriter Siegfried August Mahlmann), Paul Hugo was a graduate of the Prussian Military Academy in Berlin (he died in Prinzlau, Germany from wounds received during service in the Franco-Prussian War). Their son Ernest Emile was born in 1861. In age of 18 (three years after the father's death) he emmigrated to USA whereas his mother remained in Germany.
6.) In 1908, after Mme von Lorenz died in Germany, her (then 47-year-old) son Ernest Emile took both portraits to the USA with him. Obviously families von Brixen and von Lorenz had connections (through principal family Reuss) to both the Gotha and Altenburg ducal families.
7.) Ernest Emile von Lorenz (1861-1947). In age of 18 he came to USA and joined the US military. He served in the US 8th Cavalry Regiment achieving the rank of a sergeant major (the highest rank of a non-commissioned officer). In the 1880s, in ranks of his regiment, Ernest Emile fought against the Apaches across the states of Texas, Arizona and New Mexico. Having retired from the army, he settled in St. Paul (Minnesota / USA) and later became the Commander of the Minnesota branch of the National Indian War Veterans Association.
8.) From 1947, heirs of Ernest Emile von Lorenz, living in St. Paul, Minnesota, USA.
9.) Auction house "Clars Auction Gallery", Oakland, California / USA; sale on July 26, 2015, lots 6242A and 6242B.

minov0315
Condition: good; both were lined in the 19th century
Creation Year: 1807
Measurements: UNFRAMED:66,0x49,5cm/26,0x19,5in FRAMED: 82,0x66,0cm/32,3x26,0in
Object Type: Framed oil paintings
Style: Old Master paintings
Technique: both: oil on canvas
Inscription: -
Creator: Josef Grassi
To see other works by this artist click on the name above!
Creator Dates: 1757 Vienna-1838 Dresden
Nationality: Austrian / German
SHIPPING COSTS UPON REQUEST:
office@wilnitsky.net
Click here for images free of watermark!
Click on images or on

to see larger pictures!