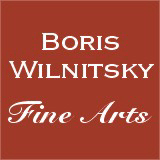 SALE!!! SAVE MONEY !! 1 EUR = 1 USD
# 39491
Nikolai Avenirovich Shabunin "After Reaping", rediscovered monumental painting!!, 1904
30000 EUR - 25% DISCOUNT = 22500,00 EUR
FINAL DISCOUNT PRICE= 22500,00 USD
( for EUR price see date rate )
Please note: Shipping and insurance costs are not included in this promotion, ONLY ITEM PRICES!
(please note additional Austrian VAT tax applies for transactions concluded within the European Union)
This work was acquired in November 2014 in the USA. Signed (in Roman letters) "Schabunin /1904 g(od). S-Petersburg", this monumental (250 x 138,5cm) oil painting turned out to be one of the 600 pieces of the so-called "Lost Russian Collection". In the same (1904) year this collection made a long transit from St. Petersburg to the USA, in order to be exhibited at the St. Louis World Fair of 1904 (also known as "Louisiana Purchase Exposition"; CLICK HERE).

Still in 1903, Russia accepted the invitation to participate in this exhibition. St. Petersburg Imperial Academy of Art had selected and prepared the best paintings, sculptures and other works of art of that period for transit. However, in light of the newly erupting Russo-Japanese War (8 February 1904 - 5 September 1905), the Russian government was faced with transport and financial difficulties relating to St. Louis Exhibition. This situation was resolved through the involvement of Court supplier and Councilor of Commerce, St. Petersburg fur manufacturer, Edward Mikhailovich Grunwaldt, who had a solid experience in trading with various US companies. He proposed to personally pay for the transport, as well as finance any other logistic activities, in exchange for 30% commission on realized sales of either paintings or other works of art that the aforementioned collection consisted of (the artists consented to this agreement while counting on the remaining 70% from selling price).
The Russian Finance Ministry allotted (already built) pavilion at the St. Louis Exhibition to Grunwaldt. The artists - authors of paintings and sculptures en route to St. Louis (among others, I. Repin, N. Roerich, I. Goriushkin-Sorokopudov (see our image nr.32), V. E. Makovski, N. Dubovskoi, N. Kasatkin) - have received short notice invitations for the fair opening from the US, yet not a single of them was able to travel due to the onset of the war.
The collection arrived (via Copenhagen) to New York in late June of 1904, and was promptly expedited to St. Louis.
However, during the length of the whole exhibition (it lasted up until the 1st of December 1904), not a single Russian work was sold, although 30 of them have received exhibition awards (one of them was another painting by "our" artist Shabunin; Catalogue no. 241, "Prince Souvoroff, Generalissimo of the Russian Army"); in sum, three works of Shabunin were presented at the fair, including the painting "After Reaping", which is on view here; see our image nr.29).
Sensing the imminent financial collapse, Grunwaldt moved the collection to New York in hope of selling it there. Grunwaldt's decision set off a long chain of consequences that gained it the name "Lost Collection". These consequences included various acts of fraud, tax evasion, confiscations by the US government and, finally, a bargain sale. The artists (owners of the paintings) had neither received a penny from all these dealings, nor ever learned of the fate of their works.
Let us not stop, however, at the great many details of this story. Instead, we would like to redirect our readers to the very interesting article written in 1980 by St. Louis historian Robert C. Williams (PLEASE READ THIS ARTICLE; see also our image nr.28 ).

As mentioned above, our painting was one of the 600 other works from the "Lost Collection" (once again, see our image nr.29 with excerpts from St. Louis Exhibition Catalogue).
After 8 years of hard luck, the larger part of the collection (several art works were sold before) was auctioned off by the US Customs Department (see our image nr.17) on the 5th of February 1912. The sale took place at the Appraiser's Store on the corner of Sansome and Washington Streets in San-Francisco. One of the wealthiest men in Oakland and San Francisco Bay area, businessman and art collector, Frank C. Havens, acquired almost all paintings. The latter proceeded to hang the paintings in his private gallery in Piedmont Park near Oakland. The greatest part of them was sold in the next few years to either museums or private collectors.
Yet, a small part of the (auctioned on February 5th 1912) collection was acquired by another person, an Oakland physician (incidentally, he was also the personal physician of the writer Jack London, who lived in Oakland), Head of Oakland Merrit Hospital, and a well-known art collector, Dr. William S. Porter. The latter acquired (at a bargain price!) the aforementioned painting of I. Goriushkin-Sorokopudov (once again, see our image nr.32), the entire "Ancient Russia" series of Nikolai Roerich (for the US $138!!!) and… our painting.
In his article, Robert C. Williams mentions this work as belonging (as of the writing of his article in 1980) to the collection of "De Young Museum" in San Francisco (CLICK HERE and see our image nr.30): "…N. A. Shabunin "After Reaping" /St. Louis World Fair 1904 - Catalogue No. 252" (in reality "no. 240!).
This information is fully verified by the three surviving (glued onto the stretcher) labels: one of St.Louis World Fair of 1904, the second - bearing the name "Councilor of Comerce E. M. Grunwaldt" and the third - De Young Museum's label informing that this work is a 1918 gift of Dr. W. S. Porter (see our images nr.14-15).

This painting is by far the best work of St. Petersburg artist Nikolai Avenirovich Shabunin (Schabunin) that is available at the current antique market. Most likely, its Roman letters signature indicates that, by the time of signing, the artist had already known that the painting would be sent far abroad.

Nikolai Avenirovich Shabunin was born on the 6th of April 1866 in Village Yuroma, Mezenski uyezd, Arkhangelskaya gubernia, as a son of an Orthodox priest. In 1886, after passing an entry examination, he was admitted as "volnoslushatel" (lecture-goer) to St. Petersburg Imperial Academy of Fine Art. Sometime later, he was enrolled into the class of Professor Ilya Repin and studied there until 1896. In 1894, he was awarded two Small Encouragement Academic Medals. On the 2nd of November 1899, he was granted the rank of an artist for his painting "In Expectation".
Shabunin permanently lived in St. Petersburg but regularly travelled to the Russian North. It is from this part of Russia that he used to bring a multitude of sketches and drawings; later, in his St. Petersburg studio, he would base his larger (sic!) works on them.
The important task of his career was his participation in the founding of St. Petersburg Museum of Russian warlord Alexander Vasilievich Suvorov. Shabunin repeatedly visited "Suvorov's places" in Novgorodskaya gubernia. In fact, he based his main work - the oil painting "Suvorov's departure from Village Konchanskoye in 1799" (1903) - on studies that he made on his travels through Novgorodskaya gubernia. The mosaic based on this painting and laid by M. I. Zoshchenko (father of the famous Soviet writer) adorns the façade of the Museum of A. V. Suvorov. At the museum's official opening, the artist was presented to Tsar Nikolai II. Subsequently, for his painting, Shabunin was awarded the Order of Stanislav of the 3rd Class, as well as the Medal of 1904 World Exhibition in St. Louis, USA (!!).
Nikolai Avenirovich Shabunin was also an avid collector of the ethnographic and religious objects. He was also active as a photographer (many of his photographs can be seen in St. Petersburg Ethnographic Museum); also CLICK HERE.
The artist lived a short life. In winter 1907, on his last journey home to Mezen, he caught a flu and died at the age of 40.


Provenance:
1) Property of the artist
2) On commission-based loan (to be shown at St. Louis World Fair of 1904) to E. M. Grunwaldt
3) Exhibited under no. 240 at St. Louis World Fair of 1904 (Louisiana Purchase Exposition)
4) Confiscated by the US Customs Department
5) Foreclosure auction on the 5th of February 1912, San Francisco
6) Acquired (at foreclosure auction; see above) by Oakland physician and art collector William S. Porter
7) Bequeathed in 1918 to "M. H. De Young Memorial Museum" in San Francisco (see our image nr.15 showing the original museum's label glued onto the stretcher)
8) "Clars Auction Gallery", Oakland / USA, Sale on the 16th of November 2014

mijan22ap15
Condition: good; few minimal patches on verso
Creation Year: 1904
Measurements: UNFRAMED:250,0x138,5cm/98,4x54,5in
Object Type: Unframed oil painting
Style: 19th century Russian paintings
Technique: oil on canvas (on stretcher)
Inscription: signed in Roman letters and dated: Schabunin. /1904 g.(od) S-Petersburg
Creator: Nikolai Avenirovich Shabunin
To see other works by this artist click on the name above!
Creator Dates: 1866 Village Yuroma-1907 St. Petersburg
Nationality: Russian
SHIPPING COSTS UPON REQUEST:
office@wilnitsky.net
Click here for images free of watermark!
Click on images or on

to see larger pictures!