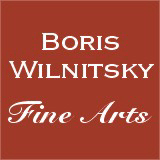 SALE!!! SAVE MONEY !! 1 EUR = 1 USD
# 38959
Marquard Wocher "General Bonaparte (portrayed on November 24th 1797 in Basel)", REDISCOVERED MINIATURE
ON REQUEST
( for EUR price see date rate )
Please note: Shipping and insurance costs are not included in this promotion, ONLY ITEM PRICES!
(please note additional Austrian VAT tax applies for transactions concluded within the European Union)
SENSATION!!!

Until today this piece was only known through an engraving (see our images nr.10-11) and a mention in (published in 1911) "Schweizerisches Künstler-Lexikon" by Carl Brun (see images nr.12-13). This round horn box with (mounted into its lid) miniature portrait of the 28-year-old General Napoleon Bonaparte (signed by the artist and dated 24 November 1797) resurfaced (as portrait of a "young gentleman in black coat with red collar…" - see our image nr.9) in the online catalogue (of September 20th 2014) of Zurich auction house "Schuler Auktionen".
In his biographical article about the author of this miniature, Basel miniaturist Marquard Wocher, Carl Brun refers to this work as to one of Wocher's best.
As it is known, on his journey from Italian Campo Formio to the Congress of Rastatt (November 1797), General Bonaparte made a stopover in Swiss town Basel, where he, in spite of his busy schedule, found time to seat for this small portrait, which had since been considered ONE OF THE MOST RESEMBLANT REPRESENTATIONS OF NAPOLEON FROM THIS PERIOD (see our image nr.11).
Swiss historian Markus Kutter (author of "Zwischen Jura, Vogesen und Schwarzwald") tells the following in his very interesting article about this portrait (translated in English):
"To not only be a general at the age of 28, but also a supreme commander of the entire army, conqueror of the Kaiser's troops, alongside - a grave-digger of the Venetian Republic and, additionally (as everyone knew), nearly most important man in Paris - was significant enough of a concentration of fame, respect and prestige for newspapers to fret over and to attempt at any price to confront this Bonaparte at least once, in order to catch a corner of his being.
Today, the press photographers would lay siege to the entrance to the hotel or sit on the rooftops across with telephoto lenses. Bonaparte stayed in Hotel "Drei Könige" in Basel after participating in the celebration honoring him with liberty pole in Liestal and the military honors and cannonade at the St. Alban gate.
He then wanted to meet the brother of his grandmother's second husband, the pie-baker Faesch, sat at the Gala Diner between the "Oberzunftmeister" (head of all guilds) of Basel Peter Ochs and the Mayor Peter Burckhardt. In the afternoon the printer Wilhelm Haas-junior was allowed to present him his map made of typographic elements of Upper Italy. We have good reasons to assume that Ochs threaded this encounter; they - Ochs and Haas - were certainly "comrades-in-arms" in these November days of 1797, only a few months before the demise of the old Swiss Confederacy.
However, though there were clearly no photographers there and then, it would have been really exciting to capture the physical appearance of the most successful General and to see what the most decisive man of Europe looks like in his youth. Interestingly enough he does not look particularly handsome: in his profile, you can see an oversized, slightly curved nose, a rather bitter mouth, yet very intensive and large eyes. His hair are combed forward and almost messy, falling on the back on his extremely high uniform collar, which appears tailored slightly too large for his rather stubby body. He has pulled the neck binding tight to his chin.
Actually, Napoleon Bonaparte was also portrayed during his visit to Basel, namely - by Marquard Wocher. Again, one could imagine that Peter Ochs had his hands in the game. Wocher drew later on his behalf father and son Tell as official vignette of the Helvetic Republic. In any case, only one portraitist could join the train and fit into the tightly-filled calendar on November 24, 1797 of the General, and who knew how to work quickly, feared no technical difficulties, had an eye for the essentials, and had the extensive experience in both the miniature painting and the watercolor technique. All of it was true for Marquard Wocher .
Who was he? Graphic art collectors value him as a great master; known is his (now restored) circular panoramic view of Thun; his most famous series "Father of our a Unterwaldners" saw the light of day after 1803. He was born on September 7, 1760 and died on the 19th of May 1830. He was the son of Tiberius Dominikus Wocher from Mimmenhausen, the neighbouring municipality of Überlingen on Lake Constance. His father and uncle were also painters. Marquard was taught by his father (which still today occasionally leads to incorrect assignments of individual works of the father and son.). He received additional training from Johann Ludwig Aberli in Bern; his spare time he devoted to studying the landscapes of Thun and its surroundings. In 1779, at his master's studio, he met the then 30-years-old Goethe, who highly appreciated Aberli's engraver's skills. Since the 1780s Wocher made business in Bern with his engravings; he had by then probably moved to Basel, where he remained until his death. Wocher's 1778 self-portrait is one of his most beautiful works. H. Albert Steiger, Basel's best specialist in Wocher's oeuvre, described it as follows: "a highly refined watercolor, it shows us a very keen man, elegantly dressed à la mode; his long curly hair are revealed from underneath the rather boldly applied top hat. His slightly sharp facial features suggest nonetheless that he is a very sensitive man, with an almost feminine subtlety to him. His clear, resolute stare reveals an scrupulous observer, from whom even the smallest of details cannot escape." Back then Wocher was 38 years old. Those were the turbulent years: the transformation of Basel and the Helvetic Republic, which was until 1802 demised by various coups, Napoleon's Act of Mediation, entry of the Coalition Armies in 1813 (worst breach of Switzerland's neutrality), a new Constitution of 1814 - all accompanied by enormous economic crises and ideological disputes. In 1807, Wocher wrote: "waiting for better times and going into reason." But at the same time, he used his talent for organization in the founding of the Swiss society of artists in Zofingen and co-founded the Basel art society in 1812. On April 29, 1800 he had married Anna Maria, née Fation, the widow of the architect Johann Ulrich Büchel, who had built the Haus zum Kirschgarten. The Church in Muttenz lists him as "new Swiss citizen" - two years later the Helvetic Republic saw its end. The Grand Duchy of Baden, by which the area of the Bishop of Konstanz on the Lake Überlingen was defeated, was not yet born. Wocher was a Catholic by birth, but excommunicated as a Freemason; he had married in a reformed church out in the country. He had become stateless and religiously unaffiliated with time.
Hans Peter Treichler describes in his 1988 book "Magnetic time" his personal experience of the panorama around the Lake Thun. In the Basel's 1943 annual book H. Albert Steiger for the first time recorded the available news about Marquard Wocher. Back then, i.e. almost fifty years ago, he had no knowledge that he'll amass what's today a comprehensive public collection of Wocher's works. With Steiger's death, the collection went to the Kupferstichkabinett Basel. If ever examined by art historians, it will reveal an artist who came from Lake Überlingen via Bern to Basel, one who could be compared to Füssli (born 1741) and to Ingres (born 1780). The chances that that some unsuspecting Basel citizens could still find some of Wocher's engravings, paintings, and documents in their old cabinets are not bad. After his death Wocher's property was inventoried and resulted in passive surplus of items. It is therefore quite probable that some Wocher's art works and writings that were once put up for compulsory sale are in someone's property and can still be rediscovered .



Marquard Fidel Dominikus Wocher (1758 Säckingen, Duchy Baden-1830 Basel) was a well-known Swiss landscape and flower painter and - before all else - a portrait miniaturist. He was a son of painter Tiberius Dominikus Wocher, perfected his art under L. Aberli and later in Paris. Many of his miniatures are in Basel private properties.
CLICK HERE FOR OTHER WORKS OF THIS ARTIST IN OUR POSSESSION

See also our web # 41717 for description of General Bonaparte's next stopover in Strasbourg during the aforementioned journey in November of 1797.

miokt28ap14
Condition:
miniature: good to fairly good
box: fairly good
Creation Year: 1797
Measurements: UNFRAMED:6,6x6,6cm/2,6x2,6in FRAMED: 7,9x7,9cm/3,1x3,1in
Object Type: Framed miniature
Style: Portrait Miniatures
Technique: box: horn with gold mounting; miniature: watercolor and gouache on ivory
Inscription: signed and dated: Marq. Wocher /pinx. 24. 9bre /a. 1797
Creator: Marquard Fidel Dominikus Wocher
To see other works by this artist click on the name above!
Creator Dates: 1758 Säckingen-1830 Basel
Nationality: Swiss
SHIPPING COSTS UPON REQUEST:
office@wilnitsky.net
Click here for images free of watermark!
Click on images or on

to see larger pictures!