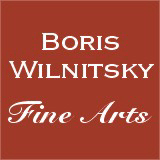 SALE!!! SAVE MONEY !! 1 EUR = 1 USD
# 38857
Francois-Xavier Fabre-Attrib. "Portrait of a Florentine courtier", important discovery!!, 1801/07
39000 EUR
FINAL DISCOUNT PRICE= 39000 USD
( for EUR price see date rate )
Please note: Shipping and insurance costs are not included in this promotion, ONLY ITEM PRICES!
(please note additional Austrian VAT tax applies for transactions concluded within the European Union)
On view here is a portrait of a Florentine courtier seating on the bank of the river Arno, with a typical view of Tuscan hills in the background. He is depicted wearing the coat of a courtier (or official?) of the short-lived (1801-1807) Kingdom of Etruria (on territory of Tuscany; see our image nr.35). The Kingdom of Etruria's capital was the city of Florence (note coat buttons impressed with Royal Crown and three Bourbon lilies - all symbols of (then ruling in Florence) Louis I, King of Etruria (1773-1803) and (after the latter's death) his widow, Maria Luisa of Bourbon, nee Princess of Spain, the Regent for their underage son Charles Louis (1799-1883)). The sitter, who is shown writing a letter addressed "a M(onsieur)…" (he is using a red-colored volume as a writing tablet), was surely one of significant members of Florentine high society.

Another reason for using the adjective "Florentine" throughout the description of this portrait lies (besides the sitter's aforementioned coat buttons and typical landscape) in the fact that this high quality oil painting demonstrates absolutely all stylistic criteria of works of (then living in Florence and perceived as its number one portraitist), Frenchman Francois-Xavier Fabre (see our comparison images nr.17-34).
Personally we are 100% convinced that we have found an original (and thus far unknown to art historians) work of this famous artist. However, in light of the absence of his signature, we choose to offer this portrait as "Attributed to Francois-Xavier Fabre".
François-Xavier-Pascal Fabre (1766 Montpellier, France - 1837 ibidem) began his artistic career as a pupil of Vien, to whom he was recommended by Jean Coustou. After studying with Vien Fabre became a pupil of Jacques-Louis David. In 1787 he received the Great Rome Prize for his "Nabuchodonosor fait tuer les enfants de Sedecias en presence de leur pere" (now in Parisian Ecole de Beaux-Arts). On a scholarship awarded for winning the Rome Prize, Fabre moved to Italy and soon came to Florence. The city enamored him to such degree that, at the onset of Revolution in his homeland and being himself monarchically inclined, Fabre decided to settle there. He remained in Florence until 1828, where the greater part of his œuvre saw its birth. In 1828 he returned to his native Montpellier and remained there until his death in 1837.
In 1825, while still in Florence, he bequeathed an enormous art collection and a valuable library (he received it a year before by testament of his late Florentine friend d'Albany, who in her turn, received it from their (deceased in 1803) mutual friend, poet Vittorio Alfieri) to his native city. After his 1828 return Fabre founded in Montpellier a Musée Fabre - a place for housing of this art collection.
Similarly, while still in Florence, in 1827 he received the French Order of Legion d'Honneur and, in the following 1828 was ennobled by French King Charles X to Baron.
During his lifetime Fabre became a highly valued artist: he was elected an Honorary Member of the Academies of Florence and Genoa. From 1791 his paintings (portraits, historical scenes, and landscapes) were regularly exhibited at exhibitions of Salon de Paris.
The best portraitist of Florence, he was a favorite with traveling foreigners, as well as with successive power holders. He portrayed especially often Russian and Polish (sic!) aristocrats on their journeys through Florence.
Works of François-Xavier-Pascal Fabre can be currently viewed in world's most esteemed museums: Louvre, Versailles, museums of Madrid, New-York, St. Petersburg, as well as various French and Italian museums, etc. He is also represented with his "Polish" portraits in museums of Cracow, Warsaw, and Vilnius (Lithuania).
See also our web # 37170.

Provenance: inventory sale of a castle in the suburbs of Bordeaux

miokt10ap14
Condition: good; one minimal patch on verso (professionally restored dot-like hole; nothing is visible on the front of the painting); in magnificent original gilded frame
Creation Year: 1801/07
Measurements: UNFRAMED:73,0x59,5cm/28,7x23,4in FRAMED: 94,5x80,5cm/37,2x31,7in
Object Type: Framed oil painting
Style: Old Master drawings
Technique: oil on canvas
Inscription: -
Creator: Francois Xavier Fabre
To see other works by this artist click on the name above!
Creator Dates: 1766 Montpellier-1837 Montpellier
Nationality: French
SHIPPING COSTS UPON REQUEST:
office@wilnitsky.net
Click here for images free of watermark!
Click on images or on

to see larger pictures!