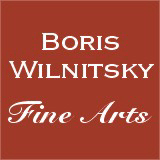 SALE!!! SAVE MONEY !! 1 EUR = 1 USD
# 31098
Friedrich G. Weitsch "Napoleonic General Claude Francois Ferey" rediscovered important portrait!, 1808
85000 EUR
FINAL DISCOUNT PRICE= 85000 USD
( for EUR price see date rate )
Please note: Shipping and insurance costs are not included in this promotion, ONLY ITEM PRICES!
(please note additional Austrian VAT tax applies for transactions concluded within the European Union)
It is an extremely important (until today, only known through a partial photograph made in 1960s at pre-owner's home by student of local lore, Pierre Camp - see our image nr.19) large knee-length oil portrait of the 37-year-old Napoleonic general Claude Francois Ferey, Baron de Rosengath with his favorite Italian greyhound (levrette). It was painted in 1808, at the head-quarter of Commander-in-Chief of the 4th Corps of the French Grand Armée, Marshal Soult, in Stettin (ca. 120 km north-east of Berlin, now Szczecin in Poland) by Prussian Court portraitist Friedrich Georg Weitsch.
Erroneously, Thieme-Becker (see our image nr.20) refers to the artist's arrival to Stettin in 1807 (sic! Our painting is dated 1808!) on invitation of Marshal Soult in order to portray the latter and his generals. The author of the published in 1820 artist dictionary "Allgemeines Kuenstlerlexikon…" Fuessli writes that it was nonetheless in 1808: "In 1808 wurde er nach Stettin berufen, um den Marschall Soult für den Marschalls-Saal in Paris zu malen; sein früher dort hängendes Bild glich ihm so wenig, dass es Napoleon hatten abnehmen lassen. Er beendete die Arbeit zu höhster Zufriedenheit, und malte dann auch die Generale Compans, Condras und Ferion (sic! - B.W.), so wie andere Obersten…". English translation: "In 1808, he was summoned to come to Stettin in order to paint a portrait of Marshal Soult for the Marshal Hall in Paris; Marshal's earlier portrait, which previously hung there, bore so little resemblance to him that it has been ordered for removal by Napoleon himself. He completed his work to high satisfaction, and then also painted the generals Compans, Condras and Ferion, as well as other colonels…" (see our image nr.21).
We find a final evidence of Weitsch's visit to Stettin in 1808 in monograph on Weitsch by Reimar F. Lacher on page 255 (see our image nr.23). There, he mentions a very important document, namely Weitsch's letter dated April 23rd 1808 (sic!), in which he requests a leave (and discharge of his duty at Berlin Court) in order to undertake a trip to Stettin, where he intends to travel on the next day, April 24th 1808.

As we see, Fuessli refers to our Ferey as "Ferion". Our extensive research produced no records of a Napoleonic general by such name (in the First Empire, there was a general by the name Pierre Marie Barthelemy Ferino. However, he never served under command of Marshal Soult). Thus, we believe to have found the origin of this error: the abovementioned monograph on Weitsch also mentions a portrait of "General Ferion" (see our image nr.24); this time with reference to a source - Weitsch's autobiography written by him in 1818-1820 (page 26). It is very simple to imagine that ten years after completing this portrait the artist misnames one of his numerous sitters and calls him "Ferion" instead of "Ferey".

As already mentioned, Weitsch painted his main commissioned work during his stay in Stettin - portrait of Marshal Soult for the "Marschalls-Saal" (English: Marshal Hall) in Paris.
Reimar F. Lacher elaborates: this happened under the auspices of protégée of Louvre Museum's Director, Baron Denon, who urgently needed Soult's portrait for the Marshal Hall in Tuileries Palace.

All of the four mentioned Stettin portraits of generals (by Fuessli and Lacher, but initially in Weitsch's autobiography) - Marshal Soult, his generals Jean Dominique Compans, Jacque-Lazare Savettier de Candras and Claude Francois Ferey (not Ferion!) - were until recently considered lost.
The current resurfacing of the General Ferey's portrait (with the auctioneer's assurances that it came from a private estate; similarly, we too are confident that it has never circulated at the art market: the portrait came to auction house in Nantes (see provenance below) directly from Ferey's issues; its condition, typical for a painting that was untouched for 200 years, spoke for itself (the painting required cleaning and light restoration)) offers hope that also the other portraits from the Stettin series will re-emerge in the future (as mentioned above, Weitsch also portrayed several Soult's colonels besides generals!).

The sitter, Claude Francois Ferey, was born on the 20th of September 1771 in Auvet-et-la-Chapelotte, Haute-Saóne, France, as a son of high-ranking officer (brigade general Claude Ferey; 1723-1806). On the 19th of March 1787, at the age of 16, Ferey entered military service as a common soldier of the 1st Chasseurs-a-Cheval Regiment (mounted riflemen). On the 20th of February 1788, he became a brigadier (corporal), and, on the 20th of July 1790, marechal-des-logis (sergeant). On the 9th of December 1791, as a common soldier, he joined King Louis XVI's Constitutional Guards, yet was quickly promoted to corporal and soon after to sergeant of this unit. Due to disbandment of the Constitutional Guards on the 30th of May 1792 Ferey was transferred (in his next military rank of sous-lieutenant (second lieutenant)) to Regiment du Roi. After only three days he was made an adjutant-major of the 9th Volunteer-Battalion of his native department Haute-Saóne. In the next 1793, Ferey fought with his battalion (incorporated in the Army of Rhine) against the Prussians and was wounded at Mainz. On the 1st of July 1793 he was raised in rank of captain of Grenadiers and sent to Vendée, where he went on to participate in suppression of anti-revolutionary revolt. On the 4th of August 1793 he was appointed aide-de-camp (adjutant) of General Marigny, yet occupied this position for only few days. He fought at Tiffauges and Clisson, twice replacing fallen commanders of his battalion, and, on the 1st of September 1793, was promoted to chief of battalion.
In the following three years he participated in various campaigns, integrated, at first, into the Army of the West, then, Army of the Coasts, and later - Army of Sambre-et-Meuse.
In April 1795 he partook in the combat by Wiesbaden, Germany, where he was in charge of battalion of chasseurs (riflemen) and 300 Croatian soldiers.
In the next years, life led him to different places of war: he fought in Italy at Montebello, then took part in expedition to Egypt. On the 23rd of August 1803 he was raised in rank to brigade general (last rank of his late father!). He placed himself at disposal of the 2nd Infantry-Division in Camp Saint-Omer and occupied a staff position there for duration of two years. From the 29th of August 1805 to the 24th of February 1807 he was a commander of the 2nd Brigade of 2nd Division in the 4th Corps of Grande Armée (under Marshal Soult!) in Germany; then, received under his command the 3rd Brigade of the same Division, remaining in this position until the 25th of October 1808 (sic! On our portrait he is already depicted in this function, i.e. in uniform of brigade general (see two silver stars on his epaulettes)). Thereafter, he was transferred to Spain, where he arrived after a short leave in first days of 1809. On the 16th of January he became in Spain the commander of the 2nd Brigade in 6th Corps.
On the 23rd of March 1811 he was promoted to his next rank becoming a division general and commander of the 3rd Division of 6th Corps. In these "Spanish" years of his, Ferey participated in various battles until July 1812 - the time of one of the bloodiest ones in Peninsular War - the Battle of Salamanka (the Spaniards called it "Los Arapiles"). During this battle, on the 22nd of July 1812, general Ferey was mortally wounded and died two days later at the age of only 41.
On our portrait, we see him (as mentioned above) in uniform of a brigadie general decorated with the Commandeur-Cross of the Order of Legion d'Honneur (he received this award on the 14th of July 1804). Besides that, on the 15th of January 1809, Napoleon I ennobled him to Baron of Empire with accompanying name "de Rosengath" (likely given after the small East-Prussian town Rosengarth, now Rozynka by Olsztyn in Poland, where his brigade obviously distinguished itself during the Polish campaign of 1806-1807).
His name can also be found on the Arc de Triomphe in Paris, among the names of several hundreds other heroes of the Revolutionary and 1st Empire Wars

Unfortunately, we are not in possession of much information about Ferey's family. We do know that he had a brother, Simon Louis Ferey, who in 1791 entered the 1st Volunteer-Battalion of department Haute-Saóne, and who in 1793 became an aide-de-camp of his brother (our Claude Francois Ferey). In 1807 Simon Louis Ferey retreated from military service in rank of a captain. Alike his brother, he was a brave soldier - his name can be found among the chevaliers of Legion d'Honneur.
Surely, our Claude Francois Ferey was a married man: in our web research, we found a mention of his son, Eugene Ferey, who was himself a general of the French Army in the 1850s. Whether he was Claude Francois' only child, remains unknown to us.
In any case, in our portrait, we see another living being that was very dear to him - his faithful levrette.
Friedrich Georg Weitsch (1758 Brunswick - 1828 Berlin) was a son of well known German landscape painter, Johann Friedrich Weitsch, called Pascha-Weitsch. At first he studied under his father; later became a pupil of Wilhelm Tischbein in Kassel. At the beginning of his career Weitsch worked in his native Brunswick (Braunschweig) for Stobwasser's lacque manufactory, where he was decorating plates, leafs, trays, and boxes with landscapes and idyllic scenes. In 1784-87 he was in Amsterdam and Italy; then, returned to Brunswick, where he became a court artist. In 1794 he was granted a membership of the Berlin Academy, and in 1798 - appointed its rector and a Prussian court artist.
Weitsch was especially known as portraitist (in 1799 Chodowiecki writes to Anton Graff: "Weitsch macht bessere Porträts als Landschaften und bessere Landschaften als Historien" (English: "Weitsch makes better portraits than landscapes and better landscapes than histories"). In the last years of the 18th century, it was Anton Graff who strongly influenced him; later on, Weitsch acquainted himself with English portrait painting, and, finally, became a follower of the great French masters of Empire style. He counted among his sitters (besides the aforementioned Napoleonic generals) numerous royalties (Brunswick, Berlin, Russia), aristocrats, scholars, writers, artists, politicians, etc.
Works of Friedrich Georg Weitsch can be viewed in various German and international museums. Our images nr.28-33 show several of them, as well as few offered at art auction market in the last years.

Provenance: auction house "Couton-Veyrac", Nantes / France, 16th of June 2009, lot 16

Literature: Reimar F. Lacher "Friedrich Georg Weitsch", Berlin, 2005

P.S.1: One shall not exclude that Weitsch could have begun (!) painting our portrait in Stettin and completed it some weeks (months?) later in Berlin. While reading Reimar F. Lacher's monograph, it becomes clear that portrait of Marshal Soult was finished in Berlin in September 1808 (as mentioned above, Weitsch visited Stettin in the last days of April; surely, he stayed there a couple of weeks but no longer than that; for a brief time, in August of the same 1808, Soult was a governor of Berlin, and - as we believe- during these days again sat for this portrait!).
Obvioiusly, the same happened with another portrait of this Stettin-group, namely with portrait of general Compans: Lacher is referring to Compans's biographer, who, in turn, says the portrait was finished in December 1808…

P.S.2: For an article about three portraits from our collection (one of them of General Ferey) which appeared in 33th issue (April 2010) of Moscow magazine "Stary Zeichgaus" see image nr.34.

misept02ap09
Condition: good; professionally lined
Creation Year: 1808
Measurements: UNFRAMED:100,5x78,0cm/39,6x30,7in FRAMED: 120,0x98,0cm/47,2x38,6in
Object Type: Framed oil painting
Style: Old Master paintings
Technique: oil on canvas
Inscription: signed and dated: Fried. Georg Weitsch/fecit 1808
Creator: Friedrich Georg Weitsch
To see other works by this artist click on the name above!
Creator Dates: 1758 Brunswick-1828 Berlin
Nationality: German
SHIPPING COSTS UPON REQUEST:
office@wilnitsky.net
Click here for images free of watermark!
Click on images or on

to see larger pictures!