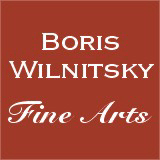 SALE!!! SAVE MONEY !! 1 EUR = 1 USD
# 31068
Michel-Honore Bounieu "Sleeping child guarded by a dog" important painting, 1767/77
55000 EUR - 25% DISCOUNT = 41250,00 EUR
FINAL DISCOUNT PRICE= 41250,00 USD
( for EUR price see date rate )
Please note: Shipping and insurance costs are not included in this promotion, ONLY ITEM PRICES!
(please note additional Austrian VAT tax applies for transactions concluded within the European Union)
It is a wonderful painting by the well known French artist of the 2nd half of the 18th century, Michel-Honore Bounieu, showing a sweet sleeping baby guarded by his loyal dog. In 2004, this work was auctioned off at the German auction house "Georg Rehm" (see our additional image nr.10) as a part of the whole inventory of Count de Villeneuve's Chateau de Rocquefort (Cote de Provence, France).
Firstly, we will mention another similar painting, housed for over 100 years in collection of Parisian Musée Cognacq-Jay. Our image nr.14 shows this painting. Similarly, our images nr.11-16 offer a complete corresponding catalogue entry to the latter written by Thérèse Burollet (directeur honoraire du musée du Petit Palais, Paris).
Mme Burollet sets off by talking about a print of the French engraver Nicolas Ponce (1746-1831; see our image nr.17), which nearly mirrors our painting (and not the one from Musée Cognacq-Jay!).
The whole story originated in 1769, at the time when Parisian artist Michel-Honore Bounieu exhibited at the Salon de Paris (nr. 186 in exhibition catalogue for this year; see our image nr.18) his painting titled "Le portrait d'un enfant endormi sous la garde d'un chien" (English: "Portrait of a sleeping child guarded by a dog"). According to the exhibition catalogue, this work had a size of "2 peeds in height and 1 peed, 9 pounces in width" (or "2ft x 1ft 9in, or " 61 x 53.3 cm), i.e. one and a half times larger than our painting!
Thérèse Burollet believes that the aforementioned print by Nicolas Ponce was made after this particular painting exhibited at the Salon in 1769!
N. Ponce had titled his print as "L'Innocence sous la Garde de la Fidélite" (English: "Innocence guarded by Fidelity"). He dedicated this print to the artist's wife (widow?), Mme Bounieu. One could, therefore, draw a conclusion that "the sleeping child" was, in fact, the artist's (Bounieu's) own child; perhaps his daughter Emilie, who later (in 1790-1800) also established herself as an artist. The above hypothesis would be entirely worthy of belief if it were not for a single detail: the Maltese cross on baby's neck! First of all, this aspect alone indicates that the infant is a boy; secondly, it shows that he stems from a highly aristocratic background, where his rang of the Knight of Maltese Order has been pre-defined at birth!
It is supported by a very important evidence a notice made in 1769 by one of the visitors of the aforementioned Salon exhibition: on the corresponding page of his personal Salon catalogue, directly opposite from Nr. 186, the great Denis Diderot had single-handedly written: "Croix de Malte" (!). Additionally, in a letter to M.-H. Bounieu's friend and sponsor he writes: "Monsigneur Marquis de Seran, you are indeed very amicable. I would like nothing better than to talk about your protégée Bounieu and his sleeping child guarded by a dog. This child was very admired (sic! - B.W.), which goes to show, what… every painter should learn: the choice of subject matter is not irrelevant for success…(Jules Assezat "Denis Diderot: Oevres, Completes" Paris, 1966, Vol XI, p.448-449).
Could the public's heightened interest in this painting be explained by the extent of the model's fame? This boy, whose name was kept discreet by the critiques and catalogue writers alike, was almost certainly well known after all. On the one hand, Bounieu is identified as "Peintre du Roi" (Royal Painter) in the print's title; on the other - the personality of his sponsor, Armand-Louis Marquis de Seran (a close confidant of the Royal Family) provides additional food for thought. Could we be dealing with a portrait of a certain princely infant?
On another hand, if the painting exhibited in 1769 was, in fact, painted four years earlier, i.e. in 1765, it could have been a portrait of 1-year-old son of Marquis, namely Armand-Leon-Bernardin (born in 1764; known as "Le Vicomte").
Apart from this, we know that 10 years later, at the Salon of 1779, Bounieu exhibited a painting "Un enfant á mi-corps, reposant sur un oreiller" (English: "Upper-body portrait of a child resting on a pillow"), sized 1ft 7in x 1ft 10in (or 48.3 x 55.9cm). These proportions also differ from the size of our painting and from the size of the one from Musée Cognacq-Jay. However, Thérèse Burollet believes the catalogue's size information to be erroneous: she is certain that, in reality, the paintings from Musée Cognacq-Jay and from the 1779 Salon exhibition are, in fact, the same work, namely a portrait of a 1-1.5-year-old Louis-Antoine de Bourbon, Duke d'Angouleme (1775-1844). She implies that it was painted just after this infant was appointed Grand Prior of the French branch of Maltese Order (after the death of its previous Grand Prior, Louis-Francois de Bourbon, Prince de Conti (August 21st 1776) he was appointed to this function on November 9th 1776 at the age of 16 months!).
This argument appears to be even more credible when one considers that in 1776 Marquis de Seran was chosen to overlook the upbringing of the children of Comte d'Artois (Duke d'Angouleme's father). A friend and sponsor of Bounieu, Marquis could have merely ordered the painting from his protégée.
Thérèse Burollet suggests that it is no other than a modified version of the first portrait depicting the infant as a Knight of Maltese Order and repeated later by N. Ponce in his print.
In addition, in museum's portrait, one finds (see again our image nr.14) the Maltese cross on black silk ribbon hanging from a crown, as well as the wide and splendid blue silk loop of tape, tied into a knot to the pillow, so that the baby is protected by bedding from slipping down. Despite its typical blue color of the Order of the Holy Spirit (Saint-Esprit), this loop of tape is in no way (according to Thérése Burollet) a cord of this particular Order, for the simple reason that the cross around baby's neck is not the cross of Saint-Esprit but of Maltese Order! Also, when the infant in Ponce's print (and in our painting! - B.W.) is holding a luxuriously elaborate rattle that is endowing him with high nobility, the rattle that the Duke d'Angouleme (image nr.14) is clutching at is much more precious - it is one with handle bell and teething ring, doubtlessly produced by one of the best court jewelers (quasi as a children's "scepter").

And now comes the great question: who is our little boy?

First of all, in contrast to the painting from Musée Cognacq-Jay, "our" baby has not a blue but pink cord. The rattle in our painting is considerably more modest: it is the same rattle and the same cross (without the ribbon and the crown) that we spot in Ponce's print.
The only aspect that - as already mentioned above - differentiates our "baby" from the "baby" in exhibition of 1769 (reproduced in Ponce's print; common practice for engravings, it is a mirror-inverted composition!) is the size:
53 x 61cm for painting from exhibition of 1769
and 38 x43cm for the our painting.

Fazit: either there was an error in size-entry of the 1769 exhibition catalogue (and respectively, our portrait is the same painting!), or our painting is an unknown until today replica of the painting from the exhibition of 1769 - "Sleeping baby with dog", painted either also around 1769, or some time later. Alike the first replica, our portrait shows (according to Thérèse Burollet theory) the same unfortunately unknown child from a highly aristocratic French family (or even Royal House).
Who are you Sweet Baby?
Michel-Honore Bounieu (1740 Marseille - 1814 Paris) studied at first at the Ecole de Marseille (in 1756 he received a 2nd Medaille). From 1755/60 he lived in Paris, where he studied under the painter Jean-Baptiste Pierre. Although he became an associate (Agréé) of the Academie Royale in 1776, Bounieu never became its full member. From 1771 he was also an associate of the Academy of Marseille. In 1772-92, he was professor of drawing at the Ecole Royale des Ponts and Chaussées; in 1792-95 - conservator of the Cabinet des estampes of the National Library. He was then again active as a painter.
Bounieu regularly exhibited at the Salon de Paris, showing genre scenes (in style of N. B. Lépicié), as well as biblical and historical subjects, landscapes and portraits.
Many of his paintings were later erroneously attributed to Jean-Baptiste Simeon Chardin (for example, "Appréts du pot-au-feu" housed in Louvre). Among the purchasers of his works were Tsar Paul I of Russia, Duke de Chartres, etc. Many of his paintings were acquired by museums still during his lifetime and offered at most esteemed 18th-century auctions.
Today, works of Bounieu can be viewed at the Louvre, Versailles, as well as in museums of Bordeaux, Caen, Compiegne, Marseille, etc.
miaug10ap09
Condition: good for its age; in a frame of the 1st half of the 19th century
Creation Year: 1767/77
Measurements: UNFRAMED:38,0x43,0cm/15,0x16,9in FRAMED: 52,0x58,0cm/20,5x22,8in
Object Type: Framed oil painting
Style: Old Master paintings
Technique: oil on canvas
Inscription: signed in upper right: Bounieu
Creator: Michel-Honore Bounieu
To see other works by this artist click on the name above!
Creator Dates: 1740 Marseille-1814 Paris
Nationality: French
SHIPPING COSTS UPON REQUEST:
office@wilnitsky.net
Click here for images free of watermark!
Click on images or on

to see larger pictures!