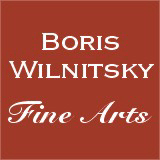 SALE!!! SAVE MONEY !! 1 EUR = 1 USD
# 30826
Adele de Romany (1769-1846) "Marshal Augereau's aide-de-camp Alphonse de Chavanges", Oil , 1812
100000 EUR
FINAL DISCOUNT PRICE= 100000 USD
( for EUR price see date rate )
Please note: Shipping and insurance costs are not included in this promotion, ONLY ITEM PRICES!
(please note additional Austrian VAT tax applies for transactions concluded within the European Union)
The sitter, young Napoleonic officer, is in rank of squadron commander. He bears the Chevalier Cross of the Order of Legion of Honour partially covered by the Cross of Swedish Military Order of Sword (the latter was added much later (probably by another artist! - B.W.), since during the First Empire the Order of Legion of Honour was considered superior one, it was always worn and consequently depicted as first!).
Further more, the sitter is holding a letter (dispatch). On the letter can be read: "De Gironne 1809 (?)/ Par le Mar(echal)/ Duc De Castiglione" (full name: Charles Pierre Francois Augereau, Duc de Castiglione). Obviously, despite his very young age he is an aide-de-camp of Marshal Augereau. Evidently also is our hero portrayed here between 24 May and 11 December 1809, during the siege of Gironne (also Gerona or Girona; a small Spanish town in Catalonia, near the French border). His chief, Marshal Augereau can be recognised on left side in the background, among the horsemen (one of them, probably also our young man).

And his name?

The reply to this question is to find in different sources (a. o. "Journaux des sieges faits ou soutenus par les francais /dans la Peninsule /de 1807 a 1814" by J. Delmas (Paris 1837) - see our image #12 - and Catalogue of Salon de Paris of 1812 - see our image #14) - the name of the young officer was Baron Alphonse de Bourlon de Chavanges. He was the younger brother of Augereau's second wife Adelaide Josephine de Bourlon de Chavanges (1789-1869; wedding took place on 22 February 1809, a few months before the beginning of the siege of Gironne; see our image #13), and during this siege he was 18 (!!) years old (his date of birth - 4 June 1891 - is provided in "Revue nobiliaire historique et biographique" by Louis Sandret, 1872).

Moreover: on 19th December 1809, Napoleon writes (see our image # 15): "(To Marshal Augereau.) I have received your letter of the 11th of December, with the capitulation of Gerona, which your aide-de-camp has handed me. Your news gives me a double pleasure, because of the importance of the fortress, and because it is you have captured it".
So, with a very great possibility we see our Alphonse on 11 December 1809, direct before he goes with this letter to Emperor (surely it was his own wish to be depicted as executing this, probably most important in his career mission!).

Concerning the date of creation: we are sure this portrait was ordered by de Chavanges three years later, in 1812. It was shown in November of 1812 at the Exhibition of Salon de Paris, what means it was made just before (artists presented as a general rule their latest (!) works).
M-me Adele de Romany was born in 1769 in Paris as an illegitimate daughter of Guard Captain Marquis de Romance and Jeanne-Marie Bernardine Mercier. In 1790 she married the miniaturist Francois Antoine Romany, but this union ended in divorce in 1796. Adele de Romany studied under Jean Baptiste Regnault, who belonged to the closest circle of Jacques Louis David, and became a very popular portrait painter and miniaturist. She exhibited at the Paris Salon from 1793 as M-me de Romany, and from 1808 till 1833 under her maiden name de Romance. Her works can be seen in museums of Paris, Montpellier, Valenciennes, etc.
Paintings of Adele de Romany achieve very high prices at the international art auctions (up to US $ 140,000; see our images #17-22).

Exhibitions: November 1812, Salon de Paris: "DE ROMANCE (Adele), ci-devant Romany, rue du Mont-Blanc, n. 42 .../(no.)296 - Portrait de M. le chevalier de Chavanges, aide de camp de S. Ex. le duc de Castiglione".

Provenance: Swiss private collection.

P.S. 11 August 2009:
We just found on Web (in French online souce "leonore" (Archives Nationales, France)) several original documents concerning our sitter (see images nr. 23-25). As we see, on the above mentioned day (11 December 1809) de Chavanges had not yet his Order of Legion - he became a chevalier of this order ten days later, on 22nd December 1809, after (!) he met Napoleon...
Condition: good
Creation Year: 1812
Measurements: UNFRAMED:65,0x54,5cm/25,6x21,5in FRAMED: 82,5x71,3cm/32,5x28,1in
Object Type: Framed oil painting
Style: Old Master Paintings
Technique: oil on canvas
Inscription: signed: A.de Romance /Romany
Creator: Adele de Romany (born de Romance)
To see other works by this artist click on the name above!
Creator Dates: 1769 Paris-1846 Paris
Nationality: French
SHIPPING COSTS UPON REQUEST:
office@wilnitsky.net
Click here for images free of watermark!
Click on images or on

to see larger pictures!