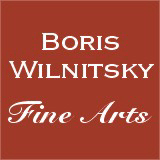 SALE!!! SAVE MONEY !! 1 EUR = 1 USD
# 30592
Gustav Graef (1821-1895) "Das Märchen", famous monumental painting!!, 1885
100000 EUR
FINAL DISCOUNT PRICE= 100000 USD
( for EUR price see date rate )
Please note: Shipping and insurance costs are not included in this promotion, ONLY ITEM PRICES!
(please note additional Austrian VAT tax applies for transactions concluded within the European Union)
Acquired on September 6th 2008 in Dusseldorf auction house "Hargesheimer & Günther" with title "Meeresjungfrau" (English: Naiad), this monumental painting - to this point unrecognized by auction house's experts - turned out to be one of the most known works of German School of the late 19th century. Originally painted in 1881, it was reworked by the artist in 1885 and in the beginning of 1886 shown at an exhibition in Vienna. Several other exhibitions, where this painting was shown, followed: it travelled virtually through most of large German cities. Art historians named it one of its author's, very well known Berlin artist Gustav Graef's, two best works.
The original title of the painting was "Das Märchen" (English: The Tale). In 1902 it was included in the album "Master paintings of the world" (under the English title "The Soul of the Water Dragon"), published by American art writer Dupont Vicars (it appears that the English title offers a more profound insight into the heart of this legend as the sober German one "Das Märchen").

...A MALIGNANT WITCH, TO BE REVENGED ON A QUEEN WHO HAS TREATED HER WITH DISDAIN, TRANSFORMS HER DAUGHTER INTO A WATER DRAGON. THE YOUNG PRINCE WHO IS BETROTHED TO THE PRINCESS SWEARS TO RESTORE HER. HIS GOOD FAIRY CONSENTS TO ASSIT HIM, UNDER CONDITION THAT HE SUFFER HER TO METAMORPHOSE HIM INTO A RAVEN. HE CONSENTS. ADVISED BY THE FAIRY HOW TO PROCEED, HE SEEKS THE STREAM WHERE HIS ENCHANTED SWEETHEART HAS HER LAIR, AND FINDS HER SLEEPING AMONG THE REEDS. AS DIRECTED BY THE FAIRY HE PECKS OUT ONE OF THE DRAGON'S EYES AND THEN SEIZES ITS DORSAL FINE WITH HIS IRON BEAK, WHEN THE HIDEOUS, SCALY SKIN COMES OFF AND THE PRINCESS STANDS FORTH IN ALL HER BEAUTY. AT THE SAME MOMENT, BY A SPELL OF THE FAIRY, THE WICKED WITCH ENTERS INTO THE SKIN OF THE MONSTER AND BECOMES A TERRIBLE LAND DRAGON. NEXT THE PRINCE IS RESTORED TO HIS HUMAN FORM, ARMS HIMSELF, GOES FORTH AND SLAYS THE DRAGON, AND BEING DULY UNITED WITH THE PRINCESS ALL LIVE HAPPILY EVER AFTER IN THE GOOD OLD STYLE.
Gustav Graef was born in 1821 in Koenigsberg, Prussia, and died in 1895 in Berlin. At first, he studied medicine, but soon changed to art, after which he moved to Dusseldorf in 1843 and proceeded to study there until 1846 at the Academy under Professors Theodor Hildebrandt and Wilhelm von Schadow. His studies were followed by a number of study trips: to Antwerp, Paris, Munich, Italy, later to England and Scotland, with Graef finally settling in Berlin. Initially, he devoted himself there to historical and decorative painting in style of Wilhelm von Kaulbach (he enjoyed great success in the 1860s, producing historical paintings with subjects of anti-Napoleonic Liberation Wars). Later, he had grown to be even more popular as an outstanding portraitist, turning in his last period to painting mythological scenes with faultless female figures (sic!).
This fondness for nude female beauty caused Graef a serious trouble in 1885 (sic! - our painting is also dated 1885!): one of the female models (our "princess"?) filed a case against him at the Berlin courthouse. This proceeding became known as the first "pornography-lawsuit" in the history of Germany. The latter went on for several months and was widely monitored by the media. In the end, the painter was fully acquitted. The account of this story can be read in memoirs of Graef's daughter - a very well known German painter herself - Sabine Lepsius (Graef).

Works of Gustav Graef belong to collections of the most important German museums and abroad (among others, National Galleries of Berlin and London).
Our images nr.29 and nr.30 show two of Graef's paintings offered at art auction market in the last years.

P.S.1: In 2014, a very interesting article concerning our painting was published in the work "Erledigungen - Pamphlete, Polemiken und Proteste" on behalf of the Literary Archive of the Viennese National Library and Vienna Library in the Rathaus by Marcel Atze and Volker Kaukoreit - see this article

mifeb02ap09
Condition: good; remainder of a patch on verso; unlined
Creation Year: 1885
Measurements: UNFRAMED:230,0x137,0cm/90,6x53,9in FRAMED: 257,0x165,0cm/101,2x65,0in
Object Type: Framed oil painting
Style: Symbolism
Technique: oil on canvas
Inscription: signed and dated: G. Graef 1885
Creator: Gustav Graef
To see other works by this artist click on the name above!
Creator Dates: 1821 Koenigsberg-1895 Berlin
Nationality: German
SHIPPING COSTS UPON REQUEST:
office@wilnitsky.net
Click here for images free of watermark!
Click on images or on

to see larger pictures!