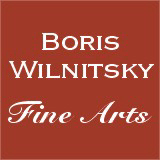 If you have a question about this item,
please contact us at: office@wilnitsky.net
# 43549
Wilhelm Frey (1826-1911) "Friendship", oil on canvas, late 19th century
Price: 4500 EUR
(please note additional Austrian VAT (Value Added Tax) applies for transactions concluded within the European Union)
Wilhelm Frey (1826 Karlsruhe - 1911 Mannheim) began his art study (still as a schoolboy) with historical painter Karl Koopmann. In 1845-1852 he visited Munich Academy of Fine Art. In that period he made acquitance with his colleague Heinrich Heinlein, settled in latter's house and became his collaborator (he painted figural staffage in alpine landscapes of Herinlein). From 1852 he is parallely active as an opera singer (tenor). Between 1855-1869 he performs at stages of Hermannstadt, Mannheim, Schwerin, Berlin, Breslau and Meiningen. In 1889, together with his first wife (sister of Berlin artist Charles Hoguet) he settled at Achensee Lake in Tyrol where he painted landscapes and animalist paintings. To that time he was strongly influenced by works of Bavarian animalists Anton Braith and Friedrich Voltz.
From 1870 he exhibited regularly in Munich and Berlin.
In 1879 he married his second wife, Sofie Block.
In 1882 he made a trip to Holland (Katwijk) where he executed a lot of landscapes which had a great international success.
In 1885/86 he was in Tyrol and Switzerland, in 1887 at Baltic Sea coast, in 1891/92 at island Norderney in North Sea.
In 1895 he was appointed Director of Grand Ducal Picture Gallery in Mannheim. In 1806 followed title of a professor.
Works of his are to see in museums of Berlin, Karlsruhe, Mannheim, Freiburg etc.
Our images nr. 7-12 show several other animalist paintings by this artist.

Provenance: Bavarian private estate
Condition: good; in origianal oak frame
Creation Year: late 19th century
Measurements:UNFRAMED:39,8x55,0cm/15,7x21,7in FRAMED: 69,2x83,5cm/27,2x32,9in
Object Type:Framed oil painting
Style: Dog paintings
Technique: oil on canvas
Inscription:signed and titled: "Freundschaft /W. Frey. M.(annheim)
Creator: Wilhelm Frey
Creator Dates: 1826-1911
Nationality:German
2-3 days door-to-door shipment, professionally packed by Mail Boxes Etc and shipped with DHL (calculated for US): 341,9 EUR + insurance 1,8% of item price
Shipping cost to other destinations (worldwide) on request
Shipping price may be reduced if you dispense with the frame


Cheaper alternative (may be further reduced if you dispense with the frame): professionally packed by Mail Boxes Etc and shipped with regular Austrian mail - upon request under office@wilnitsky.net (OBS: In this case maximal refunded insurance value is EUR 500 if shipping destination was the US. In Europe sometimes more, depending on destination.)
Click here for images free of watermark!
Click on images or on

to see larger pictures!