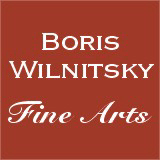 If you have a question about this item,
please contact us at: office@wilnitsky.net
# 43532
Johann Heinrich Schroeder "Colonel J. F. von Holtzendorff, Commander of Regiment "Gensdarmes", 1789/92
Price: 4900 EUR
(please note additional Austrian VAT (Value Added Tax) applies for transactions concluded within the European Union)
Demonstrating all stylistic criteria of works of the best German, turn of 19th century pastelist Johann Heinrich Schroeder (see comparison images nr.10-16), this pastel portrait of superior quality shows a mid-aged senior military officer who wears an "interims" (everyday) uniform of the Prussian 10th Cuirassier Regiment "Gensdarmes" which since its formation was stationed in Berlin, at Gendarmenmarkt Square. This cavalry unit was formed in 1691 (1692?) and was disbanded in 1806 (CLICK HERE and see our image nr.6).

The sitter bears insignia of two Prussian awards - neck cross of Order "Pour le merite" and shoulder sash (orange with white edges) of Order of the Red Eagle of 1st class (the latter says the bearer is a general) .

After profound search in the standard reference source - "Ordens-Liste von den Rittern und Besitzer der Königlich Preussischen Orden und Ehrenzeichen im Jahre 1817", Berlin 1817 - we found only five cavalry generals who possessed exactly this set of awards (before 1817) (an no other!). From these five men only one had a relation to the "Gensdarmes" - commander of this regiment in 1788-1797 Friedrich Jakob (also Jakob Friedrich) von Holtzendorff (1741-1820) .
This celebrated Prussian soldier (see our images nr.7 with biographical information) obtained his "Pour le merite on 23rd May 1792, being still in rank of a colonel. His Red Eagle of 1st Class (shoulder sash!) he received twelve years later, in 1804, as he was already (since 1797) general and chief (proprietor) of another cuirassier regiment - No.9 (i. e. he wore another uniform in 1804!).

We are absolutely sure this portrait was executed by Schroeder (whose first stay in Berlin continued from 1789 to 1792) before (!) May 1792 awarding Colonel von Holtzendorff his first award - neck cross of "Pour le merite). Much later, in 1804, one of Schroeder's Berlin colleagues (Schroeder left Prussian capital still in 1801) added (!) insignia of both awards.
The best German pastelist of the late 18th century Johann Heinrich Schroeder (Schröder) was born in 1757 in Meiningen, Thuringia (which was then residence town of Duchy Saxe-Meiningen). His early work shows the influence of Johann Philipp Bach who may also have taught him. However, by 1778 he had become a pupil of J.H.Tischbein in Kassel where he exhibited two works at "Junge Maler" in the Academy show in 1780: one pastel portrait, the other a Cleopatra after Titian (medium unspecified). He travelled to Hanover (ca. 1780-84), Brunswick (court artist 1785), Frankfurt, Mannheim, Dresden (1786), Kassel (1787, returning in 1804), Berlin (1789-1792 and 1793-1806). His first trip to Berlin was mentioned in a letter from January 1789 of Charlotte, Duchess of Brunswick-Wolfenbuettel to her sister-in-law, Elisabeth Christine, Queen of Prussia.
From 1792-1793 Schroeder was in London, following the marriage of the Prussian Princess Friederike with the Duke of York; there he portrayed the Royal Family and exhibited three portraits of unnamed sitters at the Royal Academy. Returning to Germany via The Netherlands, he made a portrait of Queen Luise of Prussia which was widely copied. He was in Brunswick in 1801 before settling in his home town Meiningen after 1806. There were further trips to Bad Pyrmont (1806) and Karlsruhe (1810-1811). He also executed a series of portraits of the Baden Royal Family in the 1800s.
He died in his native town Meiningen in 1812.
CLICK HERE FOR OTHER WORKS OF THIS ARTIST IN OUR POSSESSION.

Provenance: German private collection
Condition: good
Creation Year: 1789/92
Measurements:UNFRAMED:31,0x24,5cm/12,2x9,6in FRAMED: 40,8x34,0cm/16,1x13,4in
Object Type:Framed pastel
Style: Old master drawings
Technique: pastel on vellum (mounted by artist onto stretcher)
Inscription:-
Creator: Johann Heinrich Schroeder
Creator Dates: 1757 Meiningen-1812 Meiningen
Nationality:German
2-3 days door-to-door shipment, professionally packed by Mail Boxes Etc and shipped with DHL (calculated for US): 148,22 EUR + insurance 1,8% of item price
Shipping cost to other destinations (worldwide) on request
Shipping price may be reduced if you dispense with the frame


Cheaper alternative (may be further reduced if you dispense with the frame): professionally packed by Mail Boxes Etc and shipped with regular Austrian mail - upon request under office@wilnitsky.net (OBS: In this case maximal refunded insurance value is EUR 500 if shipping destination was the US. In Europe sometimes more, depending on destination.)
Click here for images free of watermark!
Click on images or on

to see larger pictures!