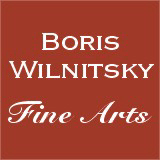 If you have a question about this item,
please contact us at: office@wilnitsky.net
# 43530
Auguste Raffet "Napoleon and his "grenadiers a pied"", oil on canvas, ca. 1830
Price: 2500 EUR
(please note additional Austrian VAT (Value Added Tax) applies for transactions concluded within the European Union)
This small oil painting resurfaced in "ancestral attic" condition (dirty, regenerated varnish) at a sale of one of the Belgian action houses and appeared in perfect original look after cleaning it, demonstrating all stylistic criteria of works of well-known French military artist of the 1st half of the 19th century, Auguste Raffet.
Moreover, as we see in our image nr. 7 it is the artist's own replica of his painting after which Raffet himself made a lithograph in 1831.

The painting (and respectively its lithographic reproduction) shows Emperor Napoleon I on his white stallion who is surpassing a marching column of his young "grenadiers a pied" of the Imperial Guard as he hears an exclamation from one of them addressed to him: "Sire, vous pouvez compter sur nous comme sur la Vielle Garde" (English: "Sir, you can count on us as the Old Guard"; this French title one finds on lower margin of the lithograph (surely composed by Raffet himself)).
Auguste (Denis Auguste Marie) Raffet was born in 1804 in Paris, and died in 1860 in Genoa, Italy.
At an early age he was apprenticed to a wood turner, but took up the study of art at evening classes. He became acquainted with Alexandre Cabanel, who made him apply his skill to the decoration of china, and with Rudor, from whom he received instruction in lithography, in the practice of which he was to rise to fame. He then entered the École des Beaux-Arts, but returned definitely to lithography in 1830 when he produced on stone his famous designs of Lützen, Waterloo, Le bal, La revue, and Les adieux de la garrison, by which his reputation became immediately established.
Raffet's chief works were his lithographs of the Napoleonic campaigns, from Egypt to Waterloo, vigorous designs that are inspired by ardent patriotic enthusiasm. In this endeavor, he was a contemporary of other French artist-lithographers of Napoleon and the French army including Hippolyte Bellangé, Horace Vernet, and Nicolas Toussaint Charlet.
Rarely but also with great success, he worked as a painter in oils and watercolor (see our images nr.9-16).
CLICK HERE FOR OTHER WORKS OF THIS ARTIST IN OUR POSSESSION
Condition: good; in original frame (the latter needs minor restoration)
Creation Year: ca 1830
Measurements:UNFRAMED:24,0x32,0cm/9,4x12,6in FRAMED: 40,2x48,5cm/15,8x19,1in
Object Type:Framed oil painting
Style: Napoleonica
Technique: oil on canvas
Inscription:-
Creator: Auguste Raffet
Creator Dates: 1804 Paris-1860 Genoa
Nationality:French
2-3 days door-to-door shipment, professionally packed by Mail Boxes Etc and shipped with DHL (calculated for US): 187,93 EUR + insurance 1,8% of item price
Shipping cost to other destinations (worldwide) on request
Shipping price may be reduced if you dispense with the frame


Cheaper alternative (may be further reduced if you dispense with the frame): professionally packed by Mail Boxes Etc and shipped with regular Austrian mail - upon request under office@wilnitsky.net (OBS: In this case maximal refunded insurance value is EUR 500 if shipping destination was the US. In Europe sometimes more, depending on destination.)
Click here for images free of watermark!
Click on images or on

to see larger pictures!