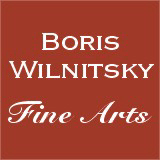 If you have a question about this item,
please contact us at: office@wilnitsky.net
# 43465
Jean-Baptiste Isabey (1767-1855) "King Louis Philippe", high quality, large miniature!, 1830s
Price: 4900 EUR
(please note additional Austrian VAT (Value Added Tax) applies for transactions concluded within the European Union)
This small watercolor portrait of superior quality showing the ca. 60-year-old Louis-Philippe, Duke d'Orleans, since 1830 King of France (CLICK HERE and CLICK HERE) demonstrates absolutely all stylistic criteria of works of leading Parisian miniaturist of the 1st half of the 19th century, Jean-Baptiste Isabey.
Jean-Baptiste Isabey (1767 Nancy - 1855 Paris) was the most famous of all European portrait miniature painters of the turn of the 19th century. In 1785 he went to Paris to study under David, but the great master had just left for Rome. At first in a tight financial situation, Isabey finally was ordered to paint miniatures of the children of King's brother, Count D'Artois. By means of this commission he came to court, met the Queen Marie-Antoinette and obtained an apartment in Versailles. In 1786 David returned from Rome, accepted Isabey as pupil without payment and favoured him in every way. At the time of the Revolution the artist already acquired significant clientele in Paris. He portrayed most of the Convention members, became one of the intimates of Mme Bonaparte's house. Isabey was a drawing master of Hortense and Eugene de Beauharnais; he controlled the ceremony of Napoleon's coronation and organized festivities for the Empire.
In 1806 Isabey was appointed "Peintre dessinateur du cabinet de S.M. l'Empereur, des ceremonies et des relations exterieurs", and in the following year - "Premier peintre de la Chambre de l'Imperatrice". From 1809 Isabey had a studio in the porcelain factory in Sevres. When in 1810, Napoleon married Marie-Louise, Isabey became drawing master to the latter. In 1812 he went to Vienna to do the portraits of the Imperial Family. He returned there again in 1814 to paint the Congress of Vienna on the order of Talleyrand. He returned to Paris in 1815. With the beginning of Restoration he went to London. On his return in 1820 Louis XVIII appointed him miniature painter and "inspecteur dessinateur, ordonnateur des fetes et spectacles". Charles X gave him the title of royal draughtsman and painter and appointed him officer of the Legion d'honneur in 1825. In 1837 Louis-Philippe appointed him Assistant Keeper of the Royal Museums and gave him an apartment at Versailles. He also had the favours of Napoleon III from whom he obtained a pension of Frs. 6000.
CLICK HERE FOR OTHER WORKS OF THIS ARTIST IN OUR POSSESSION

Provenance: English antique trade
Condition: fairly good, several dot-like foxings; in early 19th century frame
Creation Year: 1830s
Measurements:UNFRAMED:13,0x10,5cm/5,1x4,1in FRAMED: 19,5x17,4cm/7,7x6,9in
Object Type:Framed watercolor
Style: Portrait miniatures
Technique: watercolor on paper (oval), laid on rectangular mount
Inscription:on verso: old legend
Creator: Jean-Baptiste Isabey
Creator Dates: 1767 Nancy-1855 Paris
Nationality:French
2-3 days door-to-door shipment, professionally packed by Mail Boxes Etc and shipped with DHL (calculated for US): 100,73 EUR + insurance 1,8% of item price
Shipping cost to other destinations (worldwide) on request
Shipping price may be reduced if you dispense with the frame


Cheaper alternative (may be further reduced if you dispense with the frame): professionally packed by Mail Boxes Etc and shipped with regular Austrian mail - upon request under office@wilnitsky.net (OBS: In this case maximal refunded insurance value is EUR 500 if shipping destination was the US. In Europe sometimes more, depending on destination.)
Click here for images free of watermark!
Click on images or on

to see larger pictures!