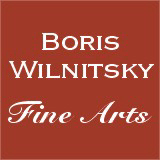 If you have a question about this item,
please contact us at: office@wilnitsky.net
SUMMER SALE 2020 from August 17th to September 30th!
Additional 30% off each final item price!
# 43464
Carl Josef Agricola (1779-1852) "Parrot", oil on panel, listed work!, 1826
Price: ON REQUEST
(please note additional Austrian VAT (Value Added Tax) applies for transactions concluded within the European Union)
The high quality, the typical subject for early Viennese Biedermeier, the technique (oil on wooden panel) typical for the artist's oeuvre and before all the mentioning of this small painting in the list of the artist's works - all that speaks for the authorship of well-known Viennese artist of the Biedermeier period, Carl Josef Alois Agricola (see also our comparison images nr.11-17).
Carl Josef Alois Agricola (1779 Saeckingen/Baden - 1852 Vienna) was a very well-known Austrian historical, portrait and miniaturist painter. He was born in Germany, began studying in Karlsruhe, moved to Vienna in 1798 and studied at the Viennese Academy under the famous Fueger. Agricola became a very popular portrait miniature artist and also made many historical and allegorical paintings. Especially known are his paintings with little children, a few of them can be seen at the Austrian National Gallery "Belvedere".
Provenance: Vienna antique trade, 2020
Condition: good; in original frame
Creation Year: 1826
Measurements:UNFRAMED:34,0x22,8cm/13,4x9,0in FRAMED: 49,0x37,8cm/19,3x14,9in
Object Type:Framed oil painting
Style: 19th century paintings
Technique: oil on panel
Inscription:-
Creator: Carl Josef Alois Agricola
Creator Dates: 1779 Saeckingen-1852 Vienna
Nationality:Austrian
2-3 days door-to-door shipment, professionally packed by Mail Boxes Etc and shipped with DHL (calculated for US): 185,52 EUR + insurance 1,8% of item price
Shipping cost to other destinations (worldwide) on request
Shipping price may be reduced if you dispense with the frame


Cheaper alternative (may be further reduced if you dispense with the frame): professionally packed by Mail Boxes Etc and shipped with regular Austrian mail - upon request under office@wilnitsky.net (OBS: In this case maximal refunded insurance value is EUR 500 if shipping destination was the US. In Europe sometimes more, depending on destination.)
Click here for images free of watermark!
Click on images or on

to see larger pictures!