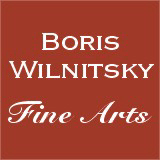 If you have a question about this item,
please contact us at: office@wilnitsky.net
# 43449
Joseph Karl Stieler-Attrib. "Baroness Auguste von Steube, nee von Leoprechting", oil/canvas, 1815/20
Price: 8500 EUR
(please note additional Austrian VAT (Value Added Tax) applies for transactions concluded within the European Union)
This oil on canvas painting of the highest quality, executed (according to the sitter's dress and hairstyle) in the 2nd half of the 1810s, came to German auction house "Von Brühl" (where we acquired it) from the estate of a descendant of the family of Count Helmstatt from the Grand Duchy Baden.
The old legend on verso names the depicted lady "Auguste Freiin (daughter of Freiherr (Baron) - B.W.) von Leoprechting, Gräfin (Countess) von Helmstatt /b. 6.9.1823, d. 1905". It is surely a typical, erroneous legend, transformed through several generations of Helmstatt family. As we already noted the painting shows an adult woman from the late 1810s.
In reality it is a portrait of the aunt of Auguste von Helmstatt mentioned in the legend. Her name was also Auguste - Auguste Freifrau (Baroness) von Steube, nee Freiin (sic!) von Leoprechting (1787-1843; see our images nr. with genealogical information found online).

In 1812 (sic! i.e several years before this portrait was made) Auguste (her full first name was Maria Elisabeth Auguste Anna) married a wealthy landowner from Grand Duchy Baden, "Kammerherr" (chamberlain) and "Forstmeister (chief-forester), Freiherr (Baron) von Steube. The latter outlived her by 12 years and died in 1855. They had no children.

Our image nr. 11 shows a drawing from the same auction sale (from the same private property!) on which one sees our Auguste shortly before her death (9th July 1843), together with her nephew Franz von Leoprechting (b. 1821; officer of Baden dragoons) and niece Ludovika (Louise; b. 1826).

As our comparison images nr. 12-16 convincingly demonstrate this portrait strongly resembles works of leading Bavarian portraitist of 1st half of 19th century, Joseph Karl Stieler. The latter could have been commissioned for this portrait during one of the visits of Baroness von Steube to her native Bavaria.
Joseph Karl Stieler (1781 Mainz - 1858 Munich) was an outstanding German portraitist of the first half of the 19th century. He started his career as a painter of portrait miniatures, in 1800 moved to Vienna, where he became a pupil of H.Fueger and turned to oil painting. In 1807-1808 the artist studied in Paris under Gerard, for two years lived in Rome and in 1812 went back to Munich, where he was graciously received by Maximilian I. In 1816-1820 Stieler lived in Vienna and from 1820 until his death in 1858 lived and worked in Munich, where he became a royal painter of Ludwig I. During this period he was heaped by numerous commissions of various royals. Stieler's works can be seen in the greatest museums in Germany and abroad.
Condition: good; in newly frame
Creation Year: 1815/20
Measurements:UNFRAMED:77,0x60,0cm/30,3x23,6in FRAMED: 85,0x68,0cm/33,5x26,8in
Object Type:Framed oil painting
Style: 19th century paintings
Technique: oil on canvas (oval)
Inscription:partially erroneous old legend on verso
Creator: Joseph Karl Stieler
Creator Dates: 1781 Mainz-1858 Munich
Nationality:German
2-3 days door-to-door shipment, professionally packed by Mail Boxes Etc and shipped with DHL (calculated for US): 331,92 EUR + insurance 1,8% of item price
Shipping cost to other destinations (worldwide) on request
Shipping price may be reduced if you dispense with the frame


Cheaper alternative (may be further reduced if you dispense with the frame): professionally packed by Mail Boxes Etc and shipped with regular Austrian mail - upon request under office@wilnitsky.net (OBS: In this case maximal refunded insurance value is EUR 500 if shipping destination was the US. In Europe sometimes more, depending on destination.)
Click here for images free of watermark!
Click on images or on

to see larger pictures!