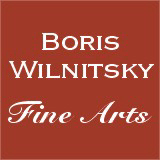 If you have a question about this item,
please contact us at: office@wilnitsky.net
# 43438
Michael Wutky-Attrib. "Grotte del Cane near Pozzuoli, Naples", important gouache, 1790s
Price: 9500 EUR
(please note additional Austrian VAT (Value Added Tax) applies for transactions concluded within the European Union)
Resurfaced in May 2020, at a Parisian antique trade, this relatively large gouache of superior quality was probably known (or it was its large-scale replica in oil?) to European artists visiting Naples in the late 18th century - before all we would like to mention Jean Claude Richard de Saint-Non (1727-1797) who used this composition (with altered figural staffage) in an etching which he included in his "Voyage pittoresque a Naples et en Sicilie" (see our image nr.8). Sometime later this etching was copied (again with altered staffage) by several of Saint-Non's followers (see image nr.9).

We are witnesses of a scene with travellers observing a hot spring by so-called "Grotta del Cane" ("Cave of Dogs") on the eastern side of the Phlegraean Fields ("Campe Flegree") - a large super volcano situated to the west of Naples, near Pozzuoli. This area of the caldera consists of 24 craters and volcanic edifices, most of them lie under water.
The "Grotta del Cane" is a small cave inside of which is a fumarole that releases carbon dioxide of volcanic origin. It was a famous, if gruesome, tourist attraction for travellers on the Grand Tour. Local guides, for a fee, suspended small animals inside the cave - usually dogs - until they became unconscious. Because humans inhaled air from a higher level they were not affected. The dogs might be revived by submerging them in the cold waters of the nearby Lake Agnano. Tourists who came to see this attraction included Goethe, John Evelyn, Alexandre Dumas-senior and Mark Twain. The lake became polluted and it was drained in 1870; the spectacle fell into disuse and the cave was closed. However, the area is now being restored by volunteers (see images nr.7 and 10).

From the several European artists working in that area in the late 18th century and chiefly known for their paintings with Vesuvius' eruptions and views of the Phlegraean Fields we before all others would like to name Frenchman Jacques-Antoine Volaire (1729 Toulon - 1802 Naples; see our comparison images nr.11-14) and his colleague from Austria, Michael Wutky (1739-1823). The latter seems to be much more likely (see images nr.15-27) as the author of this wonderful gouache.
Michael Wutky (1739 Krems a. d. Donau - 1822 Vienna) began his studies in 1759, at the Vienna Academy of Fine Arts where his teacher was Martin van Meytens. He was originally a historical painter, but was not very successful. In 1770, he became a member of the Academy and went to Italy on its behalf. Once there, he turned to landscape painting, which proved to be his true forte.
He is best known for the paintings he produced during his stays in Naples. During the great Vesuvius' eruption on 8th August 1799, he accompanied English diplomat, art and sciences lover Sir William Hamilton at latter's visit to the volcano and made his first drawing of the crater there.
He came again to Naples in 1782 and remained there for over one year. In that period he painted a lot of paintings with views of the city's suburbs and especially of erupting Vesuvius. Among others several views of the Phlegraean Fields in Pozzuoli are known.
After the second Vesuvius' eruption (1794) he moved to Italy again and remained there until 1801.
From 1801 onwards he lived in Vienna until his death.
He was professor of the Vienna Academy and works of his are represented in various important international museums today.
Condition: fairly good
Creation Year: 1790s
Measurements:UNFRAMED:43,0x57,5cm/16,9x22,6in FRAMED: 58,5x73,0cm/23,0x28,7in
Object Type:Framed gouache
Style: Old master drawings
Technique: gouache on thick paper
Inscription:-
Creator: Michael Wutky
Creator Dates: 1739 Krems a.d. Donau-1822 Vienna
Nationality:Austrian
2-3 days door-to-door shipment, professionally packed by Mail Boxes Etc and shipped with DHL (calculated for US): 255 EUR + insurance 1,8% of item price
Shipping cost to other destinations (worldwide) on request
Shipping price may be reduced if you dispense with the frame


Cheaper alternative (may be further reduced if you dispense with the frame): professionally packed by Mail Boxes Etc and shipped with regular Austrian mail - upon request under office@wilnitsky.net (OBS: In this case maximal refunded insurance value is EUR 500 if shipping destination was the US. In Europe sometimes more, depending on destination.)
Click here for images free of watermark!
Click on images or on

to see larger pictures!