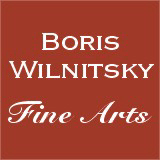 If you have a question about this item,
please contact us at: office@wilnitsky.net
# 43425
Louis-Francois Aubry "Captain de Vaudreuil, son of famous courtier", unique portrait, 1818
Price: 5500 EUR
(please note additional Austrian VAT (Value Added Tax) applies for transactions concluded within the European Union)
THE SELLER WILL COVER SHIPPING WITH REGULAR MAIL FOR THIS ITEM!

Acquired in June 2020 from an Austrian private collection this miniature on ivory of superior quality is the author's own replica of the miniature which was formerly in possession of London gallery "Philipp Mould" (see our image nr.7). The latter, also unsigned, was defined by the gallery's expert as authentic work of one of the few leading Parisian portrait miniaturists of the 1st half of the 19th century - Louis-Francois Aubry.
The third version (as "Work of unknown artist of 1st third of the 19th century") belongs to collection of Moscow Tretyakov Gallery (see our image nr.8).

But who is the sitter of this portrait, surely a wealthy young man whose means allowed him to commission several replicas of the same representation to the fashionable (and expensive!) artist Aubry?

The version in "Philipp Mould Gallery" bears the title "Captain of "Regiment de lanciers de la garde royale" - surely based on the sitter's regimental (regulation of 1816-1830) and the single epaulette on his left shoulder.
This definition is absolutely correct - see our comparison image nr.9

Certainly our next step was to select young (sic! the sitter looks for ca. 25 years) men among captains of this regiment (in aforementioned period) who (like our sitter) had no awards.

After a profound search through the annual issues (as said from the period between 1816-1830) of two French standard sources - "Almanach royal" and "Annuaire officiel des officiers de l'armee francais" - we figured out the only possible candidate: Charles Philippe comte de Vaudreuil (1796-1880; see our images nr.10).

Charles-Philippe-Louis-Joseph comte de Rigaud de Vaudreuil was the oldest son of the famous French aristocrat, close friend of King Louis XVI's brother, comte d'Artois and (especially!) of Queen Marie-Antoinette - Joseph Hyacinthe Francois de Paule de Rigaud comte de Vaudreuil (see our image nr.20). The latter, during the French Revolution, together with comte d'Artois left France and settled in London where in 1795 he married his cousin Marie Josephine de Rigaud de Vaudreuil (1774-1859). Their first child, son Charles (our sitter) was born the next year, in 1796. Two years later his mother gave birth to his brother Victor (1798-1834).
As known, the father was the most important private patron and client of celebrated French female artist Mme Vigee-Lebrun in the 1780s, who also made several portraits of his (see our images nr21.). After the Treaty of Amiens (1802) the artist moved to London where she stayed until 1805, having a permanent contract with the Vaudreuil family. In that period she also executed portraits of both Vaudreuil - boys - Charles and Victor (see our image nr.18). Unfortunately the whereabouts of the portrait of the former are unknown today but the known (through publication in Neil Jeffares' dictionary) portrait of Charles' younger brother demonstrates doubtless the same facial characteristics (see again our image nr.18).
At the beginning of the 1st Bourbon Restoration the Vaudreuils came back to France where comte de Vaudreuil-senior was made lieutenant general, Pair de France and Governor of the Tuilleries by King Louis XVIII.
Due to highest descent his son Charles Philippe obtained (without any preceding military study!) officer's patent of a "sous-lieutenant" and on 2nd May 1815 entered the service in the regiment of hussars of the Royal Guards. In 1817 (in the same rank of a "sous-lieutenant) he was transferred to another unit of the Guards cavalry - to the aforementioned "Regiment de lanciers de la garde royale".
On 12th January 1818 the best friend of his late father (the latter died in the preceding year) and now the main sponsor of Charles, the King's brother, comte d'Artois ("Monsieur"; from 1824 King Charles X) made him captain (sic! promotion at once two steps higher (passing rank of a lieutenant): rank of a Guards captain corresponded the rank one step higher (that of a "chef d'escadron") in army cavalry). We are sure that exactly in these days of January 1818 Charles ordered this portrait (at once in several versions!) showing him with captain's epaulette.
He served as a "capitaine en second" (captain without command over a company) for one year before he became "capitaine-commandant" (commander of a company) on 2nd May 1819.
In the late 1821 (early 1822?) he was transferred from Guards to army, as "chef d'escadron" of the 7th Chasseur a cheval Regiment ("Chasseurs de la Correze").
In 1822 he succeeded his late father as Pair de France (see image nr.13).
In the next year, 1823, during the Spanish Campaign he was awarded the Chevalier Cross of Saint-Louis and Chevalier Cross of Legion of Honor (possibly, like many other Guards officers, participants of that campaign, he also received the Spanish Military Order of St.Ferdinand).
On 26th September 1824, ten days after his coronation, his sponsor d'Artois (now King Charles X) gave him the title of a "gentilhomme honoraire de la chambre" (honorary chamberlain).
In 1825 we find him already - as a lieutenant colonel - in officer list of 3rd Chasseur a cheval Regiment.
On 23rd February 1829 he was promoted to colonel and appointed commander of his 3rd Chasseurs.
On 30th October of the same year the King made him Officer of the Legion of Honor.
After the July Revolution of 1830 the 3rd Chasseurs obtained a new commander - Colonel de Grouchy. It seems our comte de Vaudreuil-junior for the next 18 years (until February Revolution of 1848) was only formally reckoned in army and was chiefly active as a politician (he was then still Pair de France). In July 1850 he resigned from military service (his apply was officially confirmed on 2nd January 1851).
He died at the age of 93, unmarried, without issues, and was buried in the family tomb at Cimetiere du Calvaire by Church Saint-Pierre de Montmartre (see our image nr.22). He outlived all his close relatives - his younger brother Victor-Louis-Alfred vicomte de Vaudreuil died still in 1834, in Munich, as a French envoy at Bavarian Court.

It is interesting to note that London's "Philip Mould Gallery" also possessed miniature portrait of brother Victor (see our image nr.19). Apparently both miniatures came from the same estate (Victor's descendants?).

Concerning "Philip Mould"'s attribution of their replica to Parisian miniaturist Louis-Francois Aubry, we would say they were absolutely right - our comparison images nr.23-30 fully confirm latter's authorship in all three cases (see above).
Louis-Frainçois Aubry (1767 Paris - 1851 ibidem) was a pupil of Vincent and Isabey. From 1798 to 1838 he exhibited numerous miniatures in the Salon, and won a second class medal in 1808 and a first class medal in 1828. In 1832 he became a chevalier of the Legion d'Honneur. From 1838 to 1848 Aubry worked as a restorer in the Louvre. Schidlof writes, that in his best pieces Aubry can compete with almost any great artist of his day. He taught the majority of the miniaturists of his period, who became in their turn artists of worth. Among his pupils were Saint, Millet, Le Gros, Delacluze, Meuret, P. d' Aubigny, and his wife Amelie, Gaye, Mlle Voullemier etc.
Condition: good
Creation Year: 1818
Measurements:UNFRAMED:8,2x6,7cm/3,2x2,6in FRAMED: 13,4x11,8cm/5,3x4,6in
Object Type:Framed miniature
Style: Portrait miniatures
Technique: watercolor on ivory (oval)
Inscription:-
Creator: Louis-François Aubry
Creator Dates: 1767 Paris-1851 Paris
Nationality:French
We will cover shipping with regular registered mail (delivery between 7-14 days) for this item.

OBS: Austrian mail refunds cases of loss or damage with maximum EUR 500.


Fully insured 2-3 days DHL service available upon request and subject to extra charges: office@wilnitsky.net
Click here for images free of watermark!
Click on images or on

to see larger pictures!