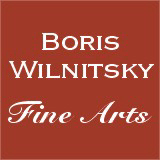 If you have a question about this item,
please contact us at: office@wilnitsky.net
# 43308
Michail Alexandrovich Kichigin (1883-1968) "Chinese opium smokers", large drawing, 1920/30s
Price: 2250 EUR
(please note additional 13% tax applies for transactions concluded within the European Union)
A rare find on the current antique market it is a work of well-known Russian emigré artist of the period between the two World Wars who lived all that time in China - Michail Alexandrovich Kichigin. His red chalk drawings (like presented here one) strongly resemble works of another Russian emigré, who also visited China in that period - Alexander Yakovlev (1887-1938; CLICK HERE).
Michail Alexandrovich Kichigin (1883 Palnikovo, Perm Province - 1968 Yaroslavl) studied at the Moscower Stroganov College of Painting in 1903-1908, then, at the Moscow College of Painting, Sculpture and Architecture (MUZhVZ) in 1908-1916 under A. Arkhipov, A. Vasnetsov and S. Ivanov. Kichigin participated at the exhibitions of "Free Creation" (1912 and 1915), "Moscower Salon" (1917), etc. In 1918, he became a member of the Moscower "Professional Union of Artists". He took part in the decoration of Trubnaya and Sukharevskaya Squares in Moscow for a festive occasion of the 1st of May 1918.
After 1918 he moved to his parents living in Ural region, cutting himself off from Moscow due to the Civil War. In this period, he taught at the Ekaterinburg Art School; from 1920 - at the Art School of the city Chita in Siberia.
In 1920, he traveled to Kharbin (China), where he became active as a landscapist and art teacher. In Kharbin, he also established a close friendship with singer Alexander Vertinski.
In 1928, Kichigin settled in Shanghai, where he opened his own Art School and was also active as a stage designer. He regularly visited Hong Kong, Japan, Korea, exhibiting at numerous locations: Qingdao, Shanghai, Canton, Hong Kong, Korea; participated in the exhibition of the Russian artists in Shanghai (1928). In 1945-46, Kichigin taught at the Art Studio of the Club for Soviet Citizens in Shanghai.
In 1947, together with his wife (and his pupil), V.E. Kichigina-Kuznetsova, the artist returned to the Soviet Union, settling in the city Yaroslavl. There, he taught at the Art College (until 1959); became a member of the Union of Artists of the USSR, regularly exhibited at town and republican exhibitions. His works were also often reproduced in various magazines.
Today, works of M.A. Kichigin belong to collections of Moscower Tretyakov Gallery, the Museum of Yaroslavl, etc.
For his extensive biography CLICK HERE and see our images nr.6-7.

Provenance: French private collection
Condition: good
Creation Year: 1920/30s
Measurements:UNFRAMED:65,0x50,5cm/25,6x19,9in FRAMED: 83,2x69,8cm/32,8x27,5in
Object Type:Framed drawing
Style: Russian Art of the 20th century
Technique: red chalk and charcoal on paper
Inscription:signed in French: M. Kitchiguin
Creator: Michail Alexandrovich Kichigin
Creator Dates: 1883 Palnikovo-1968 Yaroslavl
Nationality:Russian
SHIPPING COSTS UPON REQUEST:
office@wilnitsky.net
Click here for images free of watermark!
Click on images or on

to see larger pictures!