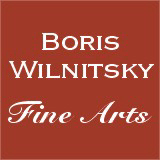 If you have a question about this item,
please contact us at: office@wilnitsky.net
# 43256
Mlle Aimée Thibault "Evelina, comtesse de Monbadon", superior quality large miniature on ivory, 1838
Price: 4500 EUR
(please note additional 13% tax applies for transactions concluded within the European Union)
THE SELLER WILL COVER SHIPPING WITH REGULAR MAIL FOR THIS ITEM!

We are dealing with a 1st-class quality work of well-known Parisian female miniaturist Mlle Aimée Thibault executed in 1838. It is a portrait of 35-year-old Evelina, comtesse de Monbadon, nee d'Abbadie d'Ithorrotz. As show our images nr. 7-10 with information about her we found online she was born on 18th August 1803, in Saint-Loup, department Deux-Sevres and died in April of 1864 in Angers. She was a daughter of Laurent d'Abbadie d'Ithorrotz (1776-1851), Chevalier of Legion of Honor (since 1811 mayor of Saint-Loup) and his wife Anne Amelie Ferrand de Vernay (d. 1824).
In 1823 Evelina married 23 years her senior, her paternal uncle, Christophe d'Abbadie d'Ithorrotz. After latter's death she married in 1833 her cousin, 7 years her senior Julien-Casimir-Amedee de Lafaurie, comte de Monbadon (1796-1860). With latter she had one child - daughter Amelie de Lafaurie de Monbadon, married Las Casas (d. 1859).
Mlle Aimée Thibault (1780 Paris - 1868 Paris) first was a pupil of Augustin, then Le Guay and Saint. She debuted at the Salon de Paris in 1804 showing her miniatures there until 1810 (among others, an important miniature of the King of Rome painted from life).
She was very famous in the periods of the 1st Empire and Restoration. Percier, the architect of the Louvre, drew the frames of several of her miniatures (among others, for the portraits of Ferdinand VII, King of Spain and his wife, Maria Isabella Françoise). It is undoubtedly thanks to these two miniatures that Aimée Thibault was appointed miniature painter to the King of Spain in 1819.
Schidlof says further: "She was undoubtedly a miniaturist of quality, influenced by her master Saint…".
Works of this lady can be seen today at the Louvre, Museum of Army (Paris), Chateau Fontainebleau, museums of Bordeaux, Geneva, etc.
For another large miniature by Mlle Thibault see our image nr.11.
CLICK HERE FOR OTHER WORKS OF THIS ARTIST IN OUR POSSESSION

Provenance: private collection, Paris
Condition: good; in original frame
Creation Year: 1838
Measurements:UNFRAMED:14,0x10,0cm/5,5x3,9in FRAMED: 25,6x19,4cm/10,1x7,6in
Object Type:Framed miniature
Style: Portrait miniatures
Technique: watercolor on ivory (oval)
Inscription:signed and dated: Thibault 1838; on verso: old legend
Creator: Mlle Aimée Thibault
Creator Dates: 1780 Paris-1868 Paris
Nationality:French
We will cover shipping with regular registered mail (delivery between 7-14 days) for this item.

OBS: Austrian mail refunds cases of loss or damage with maximum EUR 500.


Fully insured 2-3 days DHL service available upon request and subject to extra charges: office@wilnitsky.net
Click here for images free of watermark!
Click on images or on

to see larger pictures!