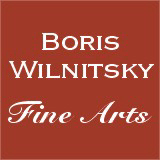 If you have a question about this item,
please contact us at: office@wilnitsky.net
# 43248
Domenico Bossi (1767-1853) "Mme Lovisa Pettersson", important miniature on ivory!!, 1799
Price: 6900 EUR
(please note additional 13% tax applies for transactions concluded within the European Union)
THE SELLER WILL COVER SHIPPING WITH REGULAR MAIL FOR THIS ITEM!

This miniature was executed in Stockholm in 1799 by the Italo-born artist Domenico Bossi during his stay in Sweden (1796-1802). It is probably a wedding portrait of the then 18-year-old (her wedding took place in that year) Lovisa Reimers. Her identity is confirmed through a corresponding record in Swedish Portrait Archive (see also our image nr.7).

Lovisa Reimers was born in 1781, in Stockholm as daughter of very wealthy hatter, alderman and state councillor Andres Reimers (1727-1816; CLICK HERE for latter's biography). One of Stockholm streets bears today her father's name: Andres Reimers Väg. As said above Lovisa married in 1799. Her husband, Henrik Pettersson (also Peterson) was a Stockholm lawyer. They had only one child - daughter Johana Lovisa, married Aspelin.

Mme Lovisa Pettersson died in 1812 being only 31.
Domenico (Gian Domenico or Giovanni Domenico) Bossi was, according to the latest information, born in 1767 (and not in 1765, as it was previously believed) in Triest and died in 1853 in Munich.
In the 1780's, Bossi attended the Academy of Venice. Later, in 1794-96, he was active in Hamburg, and - in 1796-1802 - in Stockholm (in 1799 Bossi became a member of the Swedish Academy and a Court Portrait Miniature Painter). The following ten years between 1802-1812 he spent (apart from short breaks) in St. Petersburg; 1812-1813/14 - in Paris, and from 1814/15 ? - in Vienna, where in 1818 the artist became a member of the Vienna Academy, and where he exhibited in the years 1816, 1822, 1824, and 1826. At last, from 1840, Bossi settled in Munich.
Domenico Bossi belongs to the best miniaturists of his time. He worked in the late Neoclassical style and produced a large number of miniatures with portraits of European royalties and members of high aristocracy.
Two of his portrait miniatures - one of Tsar Alexander I (1807) and one of M.A. Naryshkina (1808) - are on display in the St. Petersburger Hermitage. The Rijksmuseum in Amsterdam houses another portrait of Alexander I by Bossi. Similarly, various others of his works belong to museum collections in St. Petersburg (Russian Museum), Berlin, Stockholm, Vienna, etc.
See other works of this artist in our possession.

Provenance: Stockholm antique trade
Condition: good; in original (golden?) frame
Creation Year: 1799
Measurements:UNFRAMED:6,0x6,0cm/2,4x2,4in FRAMED: 6,7x6,7cm/2,6x2,6in
Object Type:Framed miniature
Style: Portrait miniatures
Technique: watercolor on ivory (round)
Inscription:signed and dated: D. Bossi pinxit 1799
Creator: Domenico Bossi
Creator Dates: 1767 Triest-1853 Munich
Nationality:Italian
We will cover shipping with regular registered mail (delivery between 7-14 days) for this item.

OBS: Austrian mail refunds cases of loss or damage with maximum EUR 500.


Fully insured 2-3 days DHL service available upon request and subject to extra charges: office@wilnitsky.net
Click here for images free of watermark!
Click on images or on

to see larger pictures!