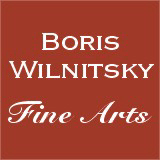 SALE!!! SAVE MONEY !! 1 EUR = 1 USD
# 43222
Louis-Leopold Boilly (1761-1845)-Attrib. "Little Congratulator", oil on panel, 1810s
6000 EUR - 25% DISCOUNT = 4500,00 EUR
FINAL DISCOUNT PRICE= 4500,00 USD
( for EUR price see date rate )
Please note: Shipping and insurance costs are not included in this promotion, ONLY ITEM PRICES!
(please note additional 13% tax applies for transactions concluded within the European Union)
Before this charming painting resurfaced at the sale of the French auction house "Piasa", Paris (28 November 2012, lot 209) for the last time in reference literature it was mentioned in 1927 - in the sale catalogue of auctioneers "Mes. Baudoin et Tartavel" (sale took place in Parisian "Hotel Druot" on 29 -30 June 1927, this painting was offered under lot 43 as "Louis-Leopold Boilly").
And truely - besides typical for portrait works of Boilly size of 22,2 x 17,3 cm the painting shows absolutely all stylistic criteria of latter's similar creations (for comparison see our images nr.6-14).
Moreover, in published in late 2019 first catalogue raisonee of Boilly we see this painting (or author's own replica-?) with notice "whereabouts unknown" (see our image nr.15).
Louis-Leopold Boilly (1761 La Bassée - 1845) was a French painter. A number of his paintings vividly document the French middle-class social life of his time.
Boilly was born in La Bassée in northern France but moved to Arras at the age of seventeen to receive instruction in "trompe l'oeil" painting from Dominique Doncre (1743-1820). Seven years later Boilly moved to Paris where he exhibited in the Salon between 1791 and 1824 - receiving a gold medal in 1804.
In 1794, Boilly was condemned by the Comite de Salut Public, at the height of Terror, for the erotic undertones of his work. This offence was remedied by an eleventh-hour discovery in his home of the more patriotic Triumph of Marat (Musee des Beaux Arts, Lille) which saved him from serious penalties.
Boilly's early works tended towards a preference for amorous and moralising subjects. The Suitor's Gift is comparable to much of his work in the 1790's. His small-scale paintings with carefully mannered colouring and precise detailing recalled the work of Dutch seventeenth-century genre painters such as Gabriel Metsu (1629-1667), Willem van Mieris and Gerard ter Borch (1617-1681), of whose work Boilly owned an important collection. After 1794, Boilly began to produce far more crowded compositions that which serve as social chronicals. Boilly was also well respected for his portraiture, producing many portraits of the middle classes and other famous contemporaries.
le14feb13
Condition: good
Creation Year: 1810s
Measurements: UNFRAMED:22,2x17,3cm/8,7x6,8in FRAMED: 34,6x29,3cm/13,6x11,5in
Object Type: Framed oil painting
Style: 19th century paintings
Technique: oil on panel
Inscription: -
Creator: Louis-Leopold Boilly
To see other works by this artist click on the name above!
Creator Dates: 1761 La Bassée-1845
Nationality: French
2-3 days door-to-door shipment, professionally packed by Mail Boxes Etc and shipped with DHL (calculated for US): 137,66 EUR + insurance 1,8% of item price
Shipping cost to other destinations (worldwide) on request
Shipping price may be reduced if you dispense with the frame


Cheaper alternative (may be further reduced if you dispense with the frame): professionally packed by Mail Boxes Etc and shipped with regular Austrian mail - upon request under office@wilnitsky.net (OBS: In this case maximal refunded insurance value is EUR 500 if shipping destination was the US. In Europe sometimes more, depending on destination.)
Click here for images free of watermark!
Click on images or on

to see larger pictures!