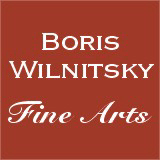 If you have a question about this item,
please contact us at: office@wilnitsky.net
# 43190
Johann Friedrich August Tischbein (1750-1812) "Lady in brown gown", fine pastel, ca. 1785
Price: 3900 EUR
(please note additional 13% tax applies for transactions concluded within the European Union)
As convincingly demonstrates the comparison with other works of this artist (CLICK HERE) this high quality pastel portrait of a young lady from the mid 1780s (according to her dress and hairstyle) is a very typical and absolutely authentic work of well-known German late 18th century portraitist Johann Friedrich August Tischbein.
Johann Friedrich August Tischbein (1750 Maastricht - 1812 Heidelberg) was a pupil of his father, Johann Valentin Tischbein in Hildburghausen. After the latter's death (1768), Tischbein became a pupil of his uncle, Johann Heinrich Tischbein the Elder in Kassel. Already in 1771-72, he was mentioned in this town as a "dessinateur". In 1772, his sponsor, Prince Friedrich von Waldeck, sent him on a study trip to Paris. In 1777, after a five-year-long stay there, Tischbein moved to Rome, where he soon made acquaintances with (living there at the time) Jacques Louis David, Anton Raphael Mengs, several English portraitists, and especially - with Heinrich Friedrich Fueger, who strongly influenced him. In 1779, he moved to Naples and remained there until 1780 - a year, in which he travelled to Vienna to deliver his portrait of Queen of Naples Maria Karoline to her mother, Empress Marie Theresia of Austria. In May 1780, he went (via Munich, Stuttgart and Kassel) to Arolsen, where for a few years he occupied position of his sponsor Prince von Waldeck's court artist. In 1785, he was in Weimar; in 1786 and 1788/89 - in Den Haag; in 1791/94 - in Amsterdam. In 1795, he retired from his service at Prince von Waldeck's court and moved to Dessau, where he then became court portraitist of Prince Leopold III von Anhalt-Dessau. He lived there (with brief interruptions for trips to Berlin, Weimar and Dresden) for the most part of his later years. Johann Friedrich August Tischbein died in 1812 in Heidelberg, during a visit to his daughter.
*CLICK HERE FOR OTHER WORKS OF THIS ARTIST IN OUR POSSESSION
Condition: fairly good,
Creation Year: ca 1785
Measurements:UNFRAMED:75,5x62,5cm/29,7x24,6in FRAMED: 80,5x65,7cm/31,7x25,9in
Object Type:Framed pastel
Style: Old master drawings
Technique: pastel on vellum (mounted by artist on stretcher)
Inscription:-
Creator: Johann Friedrich August Tischbein
Creator Dates: 1750 Maastricht-1812 Heidelberg
Nationality:German
2-3 days door-to-door shipment, professionally packed by Mail Boxes Etc and shipped with DHL (calculated for US): 299,81 EUR + insurance 1,8% of item price
Shipping cost to other destinations (worldwide) on request
Shipping price may be reduced if you dispense with the frame


Cheaper alternative (may be further reduced if you dispense with the frame): professionally packed by Mail Boxes Etc and shipped with regular Austrian mail - upon request under office@wilnitsky.net (OBS: In this case maximal refunded insurance value is EUR 500 if shipping destination was the US. In Europe sometimes more, depending on destination.)
Click here for images free of watermark!
Click on images or on

to see larger pictures!