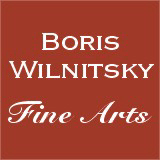 If you have a question about this item,
please contact us at: office@wilnitsky.net
# 43134
Villers-? "Young lady in alpine landscape", fine miniature on ivory, ca.1795
Price: 2000 EUR
(please note additional Austrian VAT (Value Added Tax) applies for transactions concluded within the European Union)
THE SELLER WILL COVER SHIPPING WITH REGULAR MAIL FOR THIS ITEM!

This miniature portrait of a young lady from the period of French Directory, depicted in alpine landscape strongly resembles works of Parisian miniaturist Villers (for comparison see our image nr.9).
Portrait miniatures by late 18th century, French artist Villers (some of them signed "Villers", some also with accompanying date from 1780/1790s) one sees in collections of Louvre, Museum Celle (Tansey Collection), Museum Cognacq-Jay (Paris) etc. Also at the current antique market we regularly come across works of this 1st-class artist - either signed or attributed to him.
Until recently a big uncertainty ruled concerning artist's real identity.
His works, dated by him himself (or estimated by experts on base of sitter's dresses) before (!) 1794 were traditionally attributed to Maximilien (Michel-Jean-Maximilien) Villers (ca. 1768-1839). Being an architect and garden designer, this gentleman is never mentioned in 18th/19th century sources as portrait miniaturist. The same situation is with works dated beginning 1794 - they are often ascribed to Maximilien Villers' wife (since 1794), female portraitist (in oils!) Marie-Denise (Nisa) Lemoine - Mme Villers. She is also never mentioned in old sources as author of portrait miniatures!
We are absolutely sure to deal in all "Villers" cases with another person. Definetely a man (he is repeatedly called in old literature "M.(onsieur) Villers" he is also often mentioned as a great art collector - "M. Villers, peintre en miniature" (sic! not "architect"). As an owner of important paintings by old masters he is mentioned beginning 1785. Sometime he is even called "de Villers".
Paul Mantz in his article "Les Miniaturistes du XVIII Siecle" (in "L'Artiste", Paris, 1858) says the following:
"Villers, tres-amateur de tableaux, doit aussi etre compte parmi les peintres de Marie-Antoinette: il a donne d'elle un petit portrait qui figurait dans le cabinet Dedbruge-Dumenil...".
We are strongly convinced exactly this, belonging to close circle of Marie-Antoinette's fauvorite ones) artist was author of all (!) "Villers" miniatures. Some of modern experts don't exclude the possibility that he is ident with certain Nicolas Villers (born in 1753, in Paris) who is recorded in the students rergisters of the Academie Royale, mentioned as a protege of Halle.
On another side, the famous, turn of 20th century, British specialist in portrait miniatures, Williamson says he personally saw miniature signed "L. Villers 1791"...
Provenance: private collection, France

mijul2016
Condition: good
Creation Year: ca 1795
Measurements:UNFRAMED:7,7x7,7cm/3,0x3,0in FRAMED: 13,7x13,7cm/5,4x5,4in
Object Type:Framed miniature
Style: Portrait Miniatures
Technique: watercolor on ivory
Inscription:-
Creator: Villers
Creator Dates: active 1780/90s-in Paris
Nationality:French
We will cover shipping with regular registered mail (delivery between 7-14 days) for this item.

OBS: Austrian mail refunds cases of loss or damage with maximum EUR 500.


Fully insured 2-3 days DHL service available upon request and subject to extra charges: office@wilnitsky.net
Click here for images free of watermark!
Click on images or on

to see larger pictures!