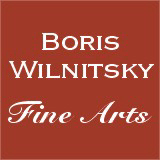 If you have a question about this item,
please contact us at: office@wilnitsky.net
# 43120
Josef Grassi "Princess Maria Theresia of Saxony, Archduchess of Austria", superb miniature!!, ca.1815
Price: 4900 EUR
(please note additional 13% tax applies for transactions concluded within the European Union)
THE SELLER WILL COVER SHIPPING WITH REGULAR MAIL FOR THIS ITEM!

Executed in the mid 1810s (according to the sitter's dress and hairstyle) this miniature of superior quality shows an adult high-aristocratic lady, who is decorated with the badge of Austrian Ladies Order of Star Cross and insignia (sash and dangling on it cross) of a Honor Grand Cross Lady of the Maltese (St.John) Order.

Our comparison image nr.9 provides a better known portrait of this lady, which shows her 12/14 years later - in the year of her death - in 1827. So on our portrait she is no other than 45/48-year-old Princess Maria Theresia of Saxony (wife of future King Anton of Saxony), nee Archduchess of Austria (for her extensive biography see our image nr.10).

Due to the stylistic typical for this artist this miniature is (as we are 100% convinced) an important creation of working in aforementioned period in Dresden, Professor of local Academy of Fine Art and court portraitist (also miniaturist - see for example our web # 40254 , # 42638 , # 40589 , # 37047 ) Josef Grassi.
Josef (Maria Giuseppe) Grassi was born in Vienna on 22. April 1757, as the younger brother to the sculptor and porcelain modeller Anton Grassi. Their father, Ottilio, was a goldsmith from Udine, Italy. In 1768, aged 11 (!), he began studying at the Vienna Academy of Fine Arts, and very soon achieved great success, especially among women, as a skilled portraitist, miniaturist and later as painter of larger portraits in oil. Nevertheless, at the end of his studies, in 1791, he felt that he was being treated unfairly at the Academy when he lost a competition for a travel scholarship; hence he took the advice of some friends who were Polish nationalists and moved to Warsaw. There he became a teacher of Teresa Jablonowska and established himself as a successful portrait painter. On the recommendation of Jean-Baptiste Lampi, he even got the vacancy of a painter at the court of the Polish King Stanislaus August II and advanced to the favourite portraitist of Polish court and high aristocracy.
In 1791 the Vienna Academy elected him member of Academy for his portrait works.
When the Kosciuszko Uprising broke out in 1794, he was able to leave the battle zone through mediation of Kosciuszko, whose portrait he had painted. Together with his pupil Johann Niedermann who also stayed in Poland during that time he returned to Vienna.
1797 was obviously the year of Grassi's first visit in Castle Sagan in Silesia (now Zagan, Poland). Later stays at the castle followed. The Duchess Wilhelmine von Sagan is supposed to be the person who helped Grassi to commissions and to an Academy professor title (1799) in Dresden, where he taught along with Anton Graff. He took two leaves of absence during his stay in Dresden, one to Gotha in 1804 where he decorated a bedroom for Duke August of Saxe-Gotha-Altenburg, painted portraits of the Duke and his wife and scenes illustrating literature works of the Duke, and another to Rome from 1808-1810 as a member of the Accademia di San Luca. From 1816 to 1821 he stayed in Rome again, serving as the "Director of Studies for Saxon Artists in Italy". At that time, however, the Nazarene movement came into vogue, and his work was ignored so he returned to Dresden. Here, he lived a secluded life without any official job, and died on 07. January 1838.
He was a bearer of the Grand Cross of Saxonian Civil Order and had a title of "Geheimer Legationsrat" (Privy Legation Councilor) which he obtained from Duke August of Saxe-Gotha-Altenburg.
Provenance: German private collection
Condition: fairly good; minor vertical crack between 8.30 - 9:00 o'clock
Creation Year: ca 1815
Measurements:UNFRAMED:8,9x7,2cm/3,5x2,8in FRAMED: 17,0x10,8cm/6,7x4,3in
Object Type:Framed miniature
Style: Portrait miniatures
Technique: watercolor on ivory (oval)
Inscription:-
Creator: Josef Grassi
Creator Dates: 1757 Vienna-1838 Dresden
Nationality:Austrian / German
We will cover shipping with regular registered mail (delivery between 7-14 days) for this item.

OBS: Austrian mail refunds cases of loss or damage with maximum EUR 500.


Fully insured 2-3 days DHL service available upon request and subject to extra charges: office@wilnitsky.net
Click here for images free of watermark!
Click on images or on

to see larger pictures!