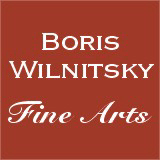 If you have a question about this item,
please contact us at: office@wilnitsky.net
# 43114
Jean-Baptiste Isabey "French ballerina Fanny Bias" superior quality miniature!, unique portrait!, 1810
Price: 4900 EUR
(please note additional 13% tax applies for transactions concluded within the European Union)
THE SELLER WILL COVER SHIPPING WITH REGULAR MAIL FOR THIS ITEM!

Not in perfect condition (several professionally restored cracks) but nevertheless of superior quality, it is a unique (no other painted portrait of her is known) representation of celebrated Parisian danceuse of the 1st Empire and following Bourbon Restoration, grand sujet (first soloist) at Parisian stage - Fanny Bias.

Anne-Francoise (called Fanny) Bias was born in Paris, on the 3rd of June 1789. After training at the Paris Opera Ballet School she joined the company in 1807. She gave her debut on 12 May of that year in "Iphigénie en Aulide". Ten years later she ascended to prima ballerina. She danced in London in 1821, where the director of the King's Theatre, John Ebers, described her "beautiful little half steps, which, more than any other, correspond to the epithet winkling". She fascinated Irish poet Thomas Moore (1779-1852) who immortalized her (together with her colleague Emilie Bigottini (see our web #32643 ) in one of his poems (see our image nr.9).
She is remembered today for being one of the first dancers to be shown on pointe, a historic moment captured in a lithograph from 1821 (see our images nr.10 and 11).
She married Alexis Dupont, singer of the Opéra de Paris, but on 6 September 1825 she died in Paris, being only 36.
Her name was also given to the rose "Fanny Bias" (see our image nr.12).

Our friend, world-best specialist in portrait miniatures Dr. Bodo Hofstetter whom we showed this miniature informed us that it is an absolutely authentic and very important work of the great French artist Jean-Baptiste Isabey. He especially noted the lady's too far apart standing eyes (like frog eyes; see also our comparison images nr.13-15; see also our web # 42707 ) which are typical for works of the latter.
Jean-Baptiste Isabey (1767 Nancy - 1855 Paris) was the most famous of all European portrait miniature painters of the turn of the 19th century. In 1785 he went to Paris to study under David, but the great master had just left for Rome. At first in a tight financial situation, Isabey finally was ordered to paint miniatures of the children of King's brother, Count D'Artois. By means of this commission he came to court, met the Queen Marie-Antoinette and obtained an apartment in Versailles. In 1786 David returned from Rome, accepted Isabey as pupil without payment and favoured him in every way. At the time of the Revolution the artist already acquired significant clientele in Paris. He portrayed most of the Convention members, became one of the intimates of Mme Bonaparte's house. Isabey was a drawing master of Hortense and Eugene de Beauharnais; he controlled the ceremony of Napoleon's coronation and organized festivities for the Empire.
In 1806 Isabey was appointed "Peintre dessinateur du cabinet de S.M. l'Empereur, des ceremonies et des relations exterieurs", and in the following year - "Premier peintre de la Chambre de l'Imperatrice". From 1809 Isabey had a studio in the porcelain factory in Sevres. When in 1810, Napoleon married Marie-Louise, Isabey became drawing master to the latter. In 1812 he went to Vienna to do the portraits of the Imperial Family. He returned there again in 1814 to paint the Congress of Vienna on the order of Talleyrand. He returned to Paris in 1815. With the beginning of Restoration he went to London. On his return in 1820 Louis XVIII appointed him miniature painter and "inspecteur dessinateur, ordonnateur des fetes et spectacles". Charles X gave him the title of royal draughtsman and painter and appointed him officer of the Legion d'honneur in 1825. In 1837 Louis-Philippe appointed him Assistant Keeper of the Royal Museums and gave him an apartment at Versailles. He also had the favours of Napoleon III from whom he obtained a pension of Frs. 6000.
See also other works of Isabey in our possession.

We are very grateful to Dr. Hofstetter for his generous help.

Provenance: French private collection
Condition: fairly good; several tiny cracks; in magnificent original ormolu frame
Creation Year: 1810
Measurements:UNFRAMED:7,0x7,0cm/2,8x2,8in FRAMED: 10,0x10,0cm/3,9x3,9in
Object Type:Framed miniature
Style: Portrait miniatures
Technique: watercolor on ivory (laid on card)
Inscription:on verso: old legend with date 1810
Creator: Jean-Baptiste Isabey
Creator Dates: 1767 Nancy-1855 Paris
Nationality:French
We will cover shipping with regular registered mail (delivery between 7-14 days) for this item.

OBS: Austrian mail refunds cases of loss or damage with maximum EUR 500.


Fully insured 2-3 days DHL service available upon request and subject to extra charges: office@wilnitsky.net
Click here for images free of watermark!
Click on images or on

to see larger pictures!