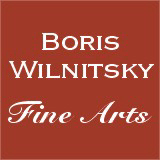 If you have a question about this item,
please contact us at: office@wilnitsky.net
# 43113
Johann Friedrich Tielker "Friederike Luise, Queen of Prussia", important miniature!!, 1794
Price: 4900 EUR
(please note additional 13% tax applies for transactions concluded within the European Union)
THE SELLER WILL COVER SHIPPING WITH REGULAR MAIL FOR THIS ITEM!

This extremely important miniature portrait of Queen-consort Friederike Luise of Prussia was executed in 1794 (either in Berlin or Potsdam) by the young artist Johann Friedrich Tielker who was working then at Prussian Court. The date "(17)94", accompanying latter's signature (see image nr.5) means this work belongs to the same cycle of portraits of the members of Prussian Royal Family as the "pearl" of our collection - Tielker's miniature portrait of our sitter's daughter-in-law - Princess (future Queen) Luise (see our web # 41089 ).
Although not as attractive as latter, the portrait presented here is surely a very authentic representation of Friederike Luise, like her portrait by pastelist Johann Heinrich Schroeder executed in the same period (see our image nr.7).

Friedrike Luise (1751 Prenzlau - 1805 Berlin) was a daughter of Ludwig IX, Landgrave of Hessen-Darmstadt and Caroline von Zweibruecken. In 1769 she married (as his second spouse) Prince Friedrich Wilhelm of Prussia (from 1786 King Friedrich Wilhelm II). Their oldest son (and husband of Princess Luise) succeeded in 1797 his father as King Friedrich Wilhelm III of Prussia.
For extensive biography of Friederike Luise see our image nr.8).
Johann Friedrich Tielker (1763 Brunswick (Braunschweig) - 1832 ibidem) originally made silhouettes but gradually became a miniaturist. He worked in Celle (1784), Münster, Osnabrück, Hanover, Aachen (1768/88), Bremen, Hamburg, Lübeck, etc. In late 1789 he returned to Brunswick but, already in 1790, went back to Frankfurt via Magdeburg, Leipzig and Gotha. Tielker stayed in Frankfurt until 1792 (in that year he was also present at the coronation of Holy Roman Emperor Franz II that took place in this city; there he made acquaintances with many important individuals who were to become his future clients). In late 1792 he was already a court artist in Darmstadt. There he portrayed (among others) Princess Luise of Mecklenburg-Strelitz, who later became Queen of Prussia, and her sister, Princess Friederike. In 1793 he was in Mainz during its occupation by the French. In the same year, by invitation of (then already) Prussian Crown Princess Luise (née Mecklenburg-Strelitz) Tielker came to work at Berlin Court, where he remained for several years.
In 1802, he travelled to Riga via Königsberg. In March 1804 he arrived in St. Petersburg, where he soon received numerous portrait commissions. There he became especially celebrated for his panoramic view of the Russian capital produced by him in watercolour.
From Russia Tielker moved (he was attached to diplomatic delegation as panoramic draughtsman) to China but already in 1806 could be traced as travelling to Moscow from Mitau and Riga. In Moscow he similarly went on to produce a panoramic view of the city. In 1810 he left Russia for a short while and returned to Berlin. Briefly afterwards he went back to Riga, where he made a project of a building and interior decorations for the local theatre. In 1813 the artist settled in St. Petersburg from where he occasionally visited Berlin and other German places. He also made trips to Moscow, Prague, Vienna and Carlsbad (1823).
In 1826 he returned to his native Brunswick and remained there (with an exception of a brief sojourn in Riga in 1828) up until his death.
Works of Johann Friedrich Tielker can be seen in museums of Brunswick, Riga, Berlin, as well as various museums of Russia.
Provenance:
Collection of architect Kurt Jahn (1903-1978), Darmstadt
Christie's London, June 10, 2008, Lot 89 (see our image nr.9)
German private collection

Exhubitions: Darmstadt, Residenzschloss, Schlossmuseum, 1974-2007, inv. No. 21066
Condition: good
Creation Year: 1794
Measurements:UNFRAMED:7,6x6,3cm/3,0x2,5in FRAMED: 8,5x7,4cm/3,3x2,9in
Object Type:Framed miniature
Style: Portrait miniatures
Technique: watercolor on ivory
Inscription:signed and dated: Tielker / pinx (17)94
Creator: Johann Friedrich Tielker
Creator Dates: 1763 Brunswick-1832 Brunswick
Nationality:German
We will cover shipping with regular registered mail (delivery between 7-14 days) for this item.

OBS: Austrian mail refunds cases of loss or damage with maximum EUR 500.


Fully insured 2-3 days DHL service available upon request and subject to extra charges: office@wilnitsky.net
Click here for images free of watermark!
Click on images or on

to see larger pictures!