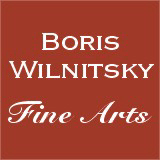 If you have a question about this item,
please contact us at: office@wilnitsky.net
# 43105
"Count Janos Keglevich-Buzin as Adjutant of Archduke Ferdinand", important miniature on ivory, 1809/13
Price: 2900 EUR
(please note additional 13% tax applies for transactions concluded within the European Union)
THE SELLER WILL COVER SHIPPING WITH REGULAR MAIL FOR THIS ITEM!

Portrait of a young Austrian high-ranking officer from the time of the Napoleonic Wars keeping a letter with inscription (address) in Italian: "a /Altesse Royale /Duc Ferdinand". The sitter wears an uniform of a colonel, adjutant of an Austrian general, and this uniform corresponds regulation of 1809-1813. Obviously with Duc Ferdinand was meant Ferdinand III, Grand Duke of Toscana (1769 Florence - 1824 ibidem; CLICK HERE), and our sitter was consequently latter's adjutant. To that period the name of Duke Ferdinand's adjutant was Colonel Count Janos Keglevich-Buzin (1786-1856). And in reality, comparison with latter's known portraits (see our images nr.7-9) immediately confirms our sitter as this person.

Janos (Johann) Graf Keglevich-Buzin was born on 13th May 1786 in Pest as son of Graf Karoly Keglevich-Buzin (1739-1804) and died on 15th October 1856 in Kis-Tapolcsany by Neutra, Hungary. He was the owner of estates Sajo-Vamos, Enes, Visoly, Sztropko, Kis-Tapolcsan and Nagy-Ugrocz. He was Austrial Imperial chamberlain and after Napoleonic Wars privy councillor and "Obersthofmeister" of the Kiungdom Hungary (part of Austro-Hungarian Empire). Since 1813 he possessed an important collection of paintings which also contained works of famous Old Masters. Still on 12th November 1805 he married Gräfin (Countess) Adelheid Zichy von Vasonykeö (d. in January 1839). On 3rd February 1840 he married his second wife, Gräfin Victoria Eugenia Folliot de Crenneville (1816-1900).
mifeb0812
Condition: good
Creation Year: 1809/13
Measurements:UNFRAMED:6,3x4,8cm/2,5x1,9in FRAMED: 6,8x5,3cm/2,7x2,1in
Object Type:Framed miniature
Style: Portrait Miniatures
Technique: watercolor on ivory
Inscription:-
Creator: Austrian School
Creator Dates: -
Nationality:Austrian
We will cover shipping with regular registered mail (delivery between 7-14 days) for this item.

OBS: Austrian mail refunds cases of loss or damage with maximum EUR 500.


Fully insured 2-3 days DHL service available upon request and subject to extra charges: office@wilnitsky.net
Click here for images free of watermark!
Click on images or on

to see larger pictures!