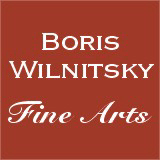 If you have a question about this item,
please contact us at: office@wilnitsky.net
# 43095
N. Koellisch (fl. 1805/10) "Napoleonic soldiers in Austrian monastery", rare watercolor!!, 1809
Price: 2500 EUR
(please note additional 13% tax applies for transactions concluded within the European Union)
It is an extremely rare (only one other (now in Vienna museum "Albertina") is known - see our image nr.13) work of Vienna artist of the early 19th century N. (Nikolaus? Norbert?) Koellisch (Köllisch). The latter was since 1808 gate keeper at the Vienna palace of Archduke Albert (Albert Kasimir von Saxe-Teschen; CLICK HERE); now it is the world-known "Albertina".

The depicted scene (eyewitness of which could be the artist himself) takes place in a wine cellar of a Cistercian (due to monks' dress - see image nr.10) monastery. With a great possibility it is the situated in suburb of Vienna Heiligenkreuz Abbey (CLICK HERE). It is the so-called Second (the first one was in 1805) Occupation of Vienna (summer of 1809) through Napoleonic troops (CLICK HERE). During these several months Köllisch obviosly lost his job and have not lived in Duke's palace - his master together with other Habsburgs left the capital, and palace became residence of Napoleon's stepson, Viceroy of Italy, Prince Eugene de Beauharnais.. One can suppose that Köllisch spent these months in Heiligenkreuz...
Provenance: private collection, Graz, Austria
Condition: fairly good; in magnificent frame
Creation Year: 1809
Measurements:UNFRAMED:32,0x50,0cm/12,6x19,7in FRAMED: 50,5x68,0cm/19,9x26,8in
Object Type:Framed watercolor
Style: Napoleonica
Technique: watercolor with whitening on paper
Inscription:signed: Köllisch
Creator: N. Koellisch
Creator Dates: fl 1805/-10
Nationality:Austrian
2-3 days door-to-door shipment, professionally packed by Mail Boxes Etc and shipped with DHL (calculated for US): 240,9 EUR + insurance 1,8% of item price
Shipping cost to other destinations (worldwide) on request
Shipping price may be reduced if you dispense with the frame


Cheaper alternative (may be further reduced if you dispense with the frame): professionally packed by Mail Boxes Etc and shipped with regular Austrian mail - upon request under office@wilnitsky.net (OBS: In this case maximal refunded insurance value is EUR 500 if shipping destination was the US. In Europe sometimes more, depending on destination.)
Click here for images free of watermark!
Click on images or on

to see larger pictures!