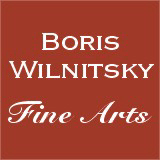 If you have a question about this item,
please contact us at: office@wilnitsky.net
# 43094
Etienne Charles Le Guay-Attrib. "French ballerina Fanny Bias", unique miniature portrait!!, 1810
Price: 3500 EUR
(please note additional 13% tax applies for transactions concluded within the European Union)
THE SELLER WILL COVER SHIPPING WITH REGULAR MAIL FOR THIS ITEM!

Not in perfect condition (several professionally restored cracks) but nevertheless of superior quality, it is a unique (no other painted portrait of her is known) representation of celebrated Parisian danceuse of the 1st Empire and following Bourbon Restoration, grand sujet (first soloist) at Parisian stage - Fanny Bias.

Anne-Francoise (called Fanny) Bias was born in Paris, on the 3rd of June 1789. After training at the Paris Opera Ballet School she joined the company in 1807. She gave her debut on 12 May of that year in "Iphigénie en Aulide". Ten years later she ascended to prima ballerina. She danced in London in 1821, where the director of the King's Theatre, John Ebers, described her "beautiful little half steps, which, more than any other, correspond to the epithet winkling". She fascinated Irish poet Thomas Moore (1779-1852) who immortalized her (together with her colleague Emilie Bigottini (see our web #32643 ) in one of his poems (see our image nr.9).
She is remembered today for being one of the first dancers to be shown on pointe, a historic moment captured in a lithograph from 1821 (see our images nr.10 and 11).
She married Alexis Dupont, singer of the Opéra de Paris, but on 6 September 1825 she died in Paris, being only 36.
Her name was also given to the rose "Fanny Bias" (see our image nr.12).

This miniature seems to be one more work (for other ones in our possession CLICK HERE) of one of the leading, turn of 19th century, French miniaturists - Etienne Charles Le Guay.
Etienne Charles Le Guay or Leguay (1762 Sevres - 1846 Paris) was a son of a porcelain painter and gilder Etienne Henri Leguay. He studied under J.M. Vien and exhibited at the Salon from 1795 to 1819, showing miniatures on ivory and porcelain, as well as some mythological paintings.
From 1778 to 1785 he was a painter at the factory in Sevres, and later, for some time, a manager of the porcelain factory Dihl & Guerhard in Paris. Between 1808 and 1840 he again worked in Sevres. His three successive wives, Marie-Sophie Giguet (d. in 1801), Marie-Victoire Jaquotot (divorced in 1809), and Caroline de Courtin, were all his pupils and painted miniatures.
Schidlof writes:"Le Guay was one of the best miniaturists of his period, particularly good are his works of the beginning of the 19th century" (sic!). Works of Le Guay can be viewed at the Louvre, in Museum Carnavalet in Paris, in Museum of Manufactory Sevres, in Museum Angers, in Museum of Applied Arts in Vienna, etc.
His miniatures achieve very remarkable prices at the art auction market (see our additional images). Another one of our additional images shows a breakfast service decorated by Le Guay (Sevres porcelain).
Provenance: French private collection
Condition: fairly good; several tiny cracks; in magnificent original ormolu frame
Creation Year: 1810
Measurements:UNFRAMED:7,0x7,0cm/2,8x2,8in FRAMED: 10,0x10,0cm/3,9x3,9in
Object Type:Framed miniature
Style: Portrait miniatures
Technique: watercolor on ivory (laid on card)
Inscription:on verso: old legend with date 1810
Creator: Etienne Charles Le Guay
Creator Dates: 1762 Sevres-1846 Paris
Nationality:French
We will cover shipping with regular registered mail (delivery between 7-14 days) for this item.

OBS: Austrian mail refunds cases of loss or damage with maximum EUR 500.


Fully insured 2-3 days DHL service available upon request and subject to extra charges: office@wilnitsky.net
Click here for images free of watermark!
Click on images or on

to see larger pictures!