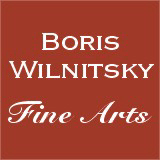 If you have a question about this item,
please contact us at: office@wilnitsky.net
# 43081
"Mme Christine Heimann, nee Martini", fine miniature by Cologne artist, ca.1790
Price: EUR
(please note additional Austrian VAT (Value Added Tax) applies for transactions concluded within the European Union)
THE SELLER WILL COVER SHIPPING WITH REGULAR MAIL FOR THIS ITEM!

SOLD!!!

This miniature was acquired from the same private collection as our web # 42867 . It is a portrait of Mme Christine Heimann, wife of the sitter of web # 42867 .
She was born in 1761, in Cologne, Germany as a daughter of a local businessman (fabrics trader and forwarder and colleague of her future husband) - Johann Philipp Martini and his wife Anna Huels. Her father (like her future husband) converted before his wedding from Protestant to Catholic.
In 1779, aged 28, Christine married wealthy Cologne trader Johann Friedrich Carl Heimann (1757-1835; see again our web # 42867 ). She gave birth to two children - son Johann Philipp (1779-1832; merchant and President of Cologne "Handelsgericht" (Commercial Court)) and daughter Marianne Josephine, who later married Cologne official Franz Xavier Anton Rudler (see image nr.7 with authentic legend on verso of this miniature).
Mme Christine Heimann died in 1803. Three years later her husband remarried Marie Suzanne Trombetta (1779-1854).

According to the sitter's dress and hairstyle this miniature (surely a work of one of the leading Cologne artists of the time) was executed about 1790.
Provenance: private collection, Tours, France
Condition: good
Creation Year: ca 1790
Measurements:UNFRAMED:6,2x4,4cm/2,4x1,7in FRAMED: 12,0x10,8cm/4,7x4,3in
Object Type:Framed miniature
Style: Portrait miniatures
Technique: watercolor on ivory (octagonal)
Inscription:old legend on verso
Creator: German School
Creator Dates: -
Nationality:German
We will cover shipping with regular registered mail (delivery between 7-14 days) for this item.

OBS: Austrian mail refunds cases of loss or damage with maximum EUR 500.


Fully insured 2-3 days DHL service available upon request and subject to extra charges: office@wilnitsky.net
Click here for images free of watermark!
Click on images or on

to see larger pictures!