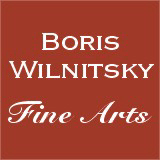 If you have a question about this item,
please contact us at: office@wilnitsky.net
# 43051
Johann Friedrich Leybold "Baron Alexander Friedrich Wilhelm von Seckendorff " unique portrait, 1800/03
Price: 2900 EUR
(please note additional Austrian VAT (Value Added Tax) applies for transactions concluded within the European Union)
THE SELLER WILL COVER SHIPPING WITH REGULAR MAIL FOR THIS ITEM!

It is a miniature portrait of an Austrian general (his uniform and hairstyle speak for early 1800s) who is decorated with insignia of a Knight (Commander?) of Deutscher (Teutonic) Order. On the verso one finds made from gold, ligated monogram "AvS" - clearly initials of his name. Surrounding this monogram is a symbol of heart that was made from a lock of female (?) blond hair.

In an attempt to identify this man we turned to the standard source - "Schematismus der Oesterreichisch-Kaiserlichen Armee" for the year 1805. We searched for an Austrian general (field marshal? feldzeugmeister? lieutenant field marshal? major general?) who had the same initials and who was a Knight (or Commander) of the Teutonic Order. This search was successful - we only found one candidate: retired (since 1800) Lieutenant Field Marshal Alexander Friedrich Wilhelm Freiherr (Baron) von Seckendorff.
Moreover, it turned out that we are dealing with an unique (no other is known!) portrait of his.

Alexander Friedrich Wilhelm Freiherr von Seckendorf-Aberdar was born between 1738 and 1743 (according to diverse sources) in Unter Zehn, Franconia (Bavaria). From 1754 he served as an "Oberleutnant" (1st lieutenant) at Grenadier Guards of Duchy of Wuerttemberg. In 1758 he came to the service of the Holy Roman Empire (Austria) and was an adjutant of his uncle, Generalfeldwachtmeister von Seckendorff for two years.
In early 1763 he was promoted to "Hauptmann" (captain) with an appointment to Infantry Regiment No. 28 ("Wied").
In 1779 he became major .
In June 1780 he is mentioned as an adjutant of Duke Albrecht von Sachsen-Taschen in Pressburg (Bratislava), then in the Netherlands. In 1782 he entered the Teutonic Order (Bailiwick (territorial division of the order) Lower Saxony) as a neophyte. In 1783 he was raised to Knight, in 1801 to "Coadjutor" (and in 1803 to Province Commander) of the Bailwick Hessen.
Still in 1784 he was transferred to General Staff, remaining adjutant of Duke Albrecht. On 22nd January 1785 he was promoted to lieutenant colonel.
On 26th March 1790 he became cavalry colonel of the 1st Carabineer Regiment and general-adjutant of the Duke. In December of the same year he obtained command over this regiment, but in April of the next year he returned as adjutant to Duke Albrecht.
From 12th November 1792 to 29th June 1793 he was a general-adjutant of Duke von Coburg.
On 30th March 1794 he was promoted to "Generalfeldwachtmeister" (major general) and again became general-adjutant of Duke of Sachsen-Teschen. From 1796 he served in Italy where he obtained the command over a corps in 1797. Later he became Commander of the Vienna Volunteer Corps.
On 26th January 1798 he became commander of the cavalry division in Graz, but from April 1799 was in Italy again (as commander of brigade, then of a corps). On 17th September 1799, at Foscano he was seriously wounded. Twelve days later, on 29th September 1799 he was promoted to lieutenant fieldmarshal and one year later, on 6th November 1800 he was sent to retirement.
Next mentioned we find him in 1813. At this time he lived (unmarried) at his estate Sugenheim in Middle Franconia (see our image nr.16), together with his sisters and their children. He died there on 11th June 1814 (see also our images nr.11-15).

Signed "Le˙bold Fec."(it) it is a work of German-Austrian portrait miniaturist, Johann Friedrich Leybold, relatively rare on the current antique market.
Johann Friedrich Leybold (1755 Stuttgart - 1838 Vienna) attended Stuttgart art college "Karlsschule"; later on, he studied drawing under Adam Bauer and - from 1770 to 1772 - under sculptor Johann Valentin Sonnenschein. Finally, he took lessons from painter Nicolas Guibal and engraver G. von Mueller. In 1781, he became a court engraver in Stuttgart and opened his own studio there. Additionally, he earned his living as a portrait miniaturist. In 1789 he was appointed Professor of Karlsschule and, in 1797, became also a court engraver of Prince of Saxe-Coburg. Yet, all of these titles brought no significant advantages for him, so in 1798 he moved to Vienna, where he for five years was active exclusively as portrait miniaturist. Among his clientele of this period were many important persons from Austrian high society, science, literature and the arts.
From 1803, having returned to engraving, Leybold passed miniature painting over to his three sons: Carl, Friedrich and Gustav. In 1812, after the death of Jacob Matthias Schmutzer, Leybold succeeded the latter as court engraver and professor of the Engraving School of Vienna Academy.
For Leybold's extensive biography see our image nr. 17.

Provenance: Viennese antique trade
Condition: good; in original frame (glass with lost segment between 10:30-11:30 o'clock)
Creation Year: 1801/03
Measurements:UNFRAMED:6,7x5,4cm/2,6x2,1in FRAMED: 9,9x8,1cm/3,9x3,2in
Object Type:Framed miniature
Style: Portrait miniatures
Technique: watercolor on ivory (oval)
Inscription:signed "Le˙bold Fec.(it)"; on verso: heart symbol (hairwork) with ligated monogram "AvS" (gold)
Creator: Johann Friedrich Leybold
Creator Dates: 1755 Stuttgart-1838 Vienna
Nationality:German / Austrian
We will cover shipping with regular registered mail (delivery between 7-14 days) for this item.

OBS: Austrian mail refunds cases of loss or damage with maximum EUR 500.


Fully insured 2-3 days DHL service available upon request and subject to extra charges: office@wilnitsky.net
Click here for images free of watermark!
Click on images or on

to see larger pictures!