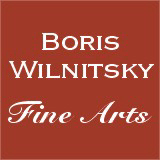 If you have a question about this item,
please contact us at: office@wilnitsky.net
# 43043
Josef Kriehuber (1800-1876) "Portrait of Archduchess Hermine of Austria", important watercolor!!, 1838
Price: 3900 EUR
(please note additional 13% tax applies for transactions concluded within the European Union)
Previously unknown for historians it is a portrait of Archduchess Hermine of Austria (1817-1842), daughter of Archduke Joseph, Palatine of Hungary and his wife, Princess Hermine of Anhalt-Bernburg-Schaumburg-Hoym, executed in 1838 by leading Vienna watercolor artist Josef Kriehuber. Her mother died shortly after giving birth to her and her twin brother, Stephan, future Palatine of Hungary. She was brought up by her stepmother, Duchess Maria Dorothea von Wuerttemberg. She spent much of her childhood in Buda and at the family estate in Alesutdoboz and received an excellent education. Contemporaries described Archduchess Hermine as comely, kind and modest. However, she was a slim young woman, frail body, and prone to diseases.
Hermine was Princess-Abbess of the Theresian Royal and Imperial Ladies Chapter of the Castle of Prague (1835-1842) and she died on 13 February 1842 in Vienna, Austria.

For another portrait of Hermine in our possession see our web # 42345 .
Josef Kriehuber (1800 Vienna - 1876 Vienna) is a very important name in the history of Viennese Art of the 19th century. Already at the age of 7 years he received drawings lessons from his elder brother and with 13 years old (1813) he became a student at the Viennese Academy where he studied until 1818. He lived 4 years in Poland as an art teacher of the family of Prince Sanguszko. In 1822 he came back to Vienna to attend again the Academy in 1823/24. In this time he became one of the best Viennese lithographers. At the beginning the subjects of his lithographs were copies after works of Schwind, Hoechle, Klein etc as well as his own horse studies and military scenes. In 1825 he started dedicating himself to portrait lithograph. In this period he created various portraits of renowned personalities of the aristocracy, musicians, writers, actors and scholars. From ca. 1830 onwards Kriehuber start producing portraits also in watercolor, what made him one of the most requested portraitist of Vienna. In 1860 he became a member of the Viennese Academy of Fine Arts.


CLICK HERE FOR OTHER WORKS OF THIS ARTIST IN OUR POSSESSION

Provenance: English private collection

misept29ap14
Condition: good; in original Biedermeier frame
Creation Year: 1838
Measurements:UNFRAMED:40,7x33,0cm/16,0x13,0in FRAMED: 52,7x44,6cm/20,7x17,6in
Object Type:Framed watercolor
Style: Portrait Miniatures
Technique: watercolor on card
Inscription:signed and dated: Kriehuber /(1)838
Creator: Josef Kriehuber
Creator Dates: 1800 Vienna-1876 Vienna
Nationality:Austrian
2-3 days door-to-door shipment, professionally packed by Mail Boxes Etc and shipped with DHL (calculated for US): 194,88 EUR + insurance 1,8% of item price
Shipping cost to other destinations (worldwide) on request
Shipping price may be reduced if you dispense with the frame


Cheaper alternative (may be further reduced if you dispense with the frame): professionally packed by Mail Boxes Etc and shipped with regular Austrian mail - upon request under office@wilnitsky.net (OBS: In this case maximal refunded insurance value is EUR 500 if shipping destination was the US. In Europe sometimes more, depending on destination.)
Click here for images free of watermark!
Click on images or on

to see larger pictures!