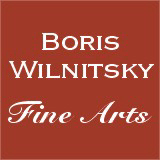 If you have a question about this item,
please contact us at: office@wilnitsky.net
# 43036
Pierre-Louis Bouvier-Attrib. "César Berthier" important miniature from Bernard-Franck Collection, 1804
Price: 6900 EUR
(please note additional 13% tax applies for transactions concluded within the European Union)
THE SELLER WILL COVER SHIPPING WITH REGULAR MAIL FOR THIS ITEM!

Executed (with a very great possibility!) in 1804, just after sitter's awarding (11th January 1804) Commander Cross of Legion of Honor (cross on his chest), it is a very important portrait of César Berthier, Napoleonic brigade general, younger brother of Napoleon's "right hand" - Marshal Louis-Alexandre Berthier (1753-1815; CLICK HERE) - and older brother of General Victor Leopold Berthier (1770-1807; CLICK HERE; our image nr.15 shows three brothers on one of the battlefields of Napoleon's Second Italian Campaign).

César (Louis César Gabriel) Berthier de Berluy was born on 9th November 1765 in Versailles as son of Jean-Baptiste Berthier (1721-1804), engineer and lieutenant-colonel, ennobled by King Louis XV.
After the Coup of 18t Brumaire in the year VIII (9th November 1799) César was appointed inspector of reviews (military intendant). At Marengo, on 25 Prairial in the year VIII (14th June 1800), he was made aide-de-camp to Joachim Murat, commander of cavalry. Promoted to brigade general on 4th September 1802, he succeeded his younger brother Victor Leopold Berthier as Chief of Staff in Paris the following year, the latter being called to leave for Germany.
As said above, on 14th January 1804 he was made Commander of the Order of Legion of Honor. In late 1804 he obtained a corps in Army of Reservation on coast of Holland under his command. In September 1805 he was in Paris again, and on 3rd January 1806 he was raised to division general. On 31st January followed his appointment Chief of Staff of Army of Kingdom of Naples (with Joseph Bonaparte as King).
On 15th April 1807 he became commander of one of the divisions of that army.
From 3rd August 1807 to 28th March 1808 he was Governor of the Ionian Islands (CLICK HERE).
On 17th May 1808 he became Commander of 27th Military District in Turin and remained in that function until 10th April 1811. Thereafter (until 1814) he commanded the 23rd Military District on Corsica.
Still in Italy he was a head of the house of Pope Pius VII who in 1809-1814 was being held prisoner in Savona by Napoleon.
Also in Turin he replaced General Jacques-Francois Menou as Governor of Piedmont.
On 13th February 1813 Napoleon ennobled him to Count of Empire.
He rallied to the Bourbons in 1814 and was awarded the Cross of St.Louis on 24th October 1814.
In 1819 he was assigned the rank of lieutenant-general in the infantry's General Inspectorate.
On 17th August of the same 1819, while visiting the Castle of Grosbois (acquired by his late brother Louis-Alexandre), he died accidentally (by drowning or struck of apoplexy) in a pond on the grounds of the castle (see our image nr.16). He was buried at the Parisian cemetery Père Lachaise (see our image nr.17).

Like our web # 40888 this miniature strongly resembles works of well-known Swiss-French artist of the early 19th century, Pierre-Louis Bouvier (see also our comparison images nr.18-23).
Pierre Louis Bouvier (1765 Geneva - 1836 Geneva) began by studying enamel painting in Geneva with Louis-Andre Fabre. From 1778, he attended Ecole de Dessin in the same city; from 1785 to 1788, was a pupil of Antoine Vestier at the Academy of Fine Arts in Paris. Subsequently, Bouvier produced mainly miniatures on ivory, as well as a number of oil portraits. In 1797-1801, he lived in Hamburg, in 1804-12, 1822 and 1827 - in Paris. Otherwise, the artist lived in his native city of Geneva, where, in 1828-36, he directed the Painting School of Museum Rath. Bouvier exhibited at the Salon of Paris in years 1804, 1806 and 1808; in 1808 - a miniature of Empress Josephine that belonged to her daughter, the Queen of Holland. In 1816, he painted the portrait of Mme de Stael, which he engraved himself: it is the only known engraving by him. In 1827, he published a "Manuel des jeunes artistes et amateurs en peintre ", which was translated into English and German.
Schidlof says that "Bouvier can be considered as one of the best miniaturists from Geneva at the beginning of the 19th century".
Works of this artist belong to collections of Louvre, the museums of Bordeaux, Geneva, Hamburg, etc.
Provenance:
On the frame's back cover we see typical labels of the famous collection of Napoleonica completed at the turn of 20th century by Parisian industrialist Bernard-Franck (see our image nr.24). We are in possession of ca. 40 miniatures from this collection.
Condition: good; in original ormolu, 1st Empire frame
Creation Year: 1804
Measurements:UNFRAMED:6,3x6,3cm/2,5x2,5in FRAMED: 8,9x8,9cm/3,5x3,5in
Object Type:Framed miniature
Style: Portrait miniatures
Technique: watercolor on ivory
Inscription:old legend on verso
Creator: Pierre Louis Bouvier
Creator Dates: 1765 Geneva-1836 Geneva
Nationality:Swiss / French
We will cover shipping with regular registered mail (delivery between 7-14 days) for this item.

OBS: Austrian mail refunds cases of loss or damage with maximum EUR 500.


Fully insured 2-3 days DHL service available upon request and subject to extra charges: office@wilnitsky.net
Click here for images free of watermark!
Click on images or on

to see larger pictures!